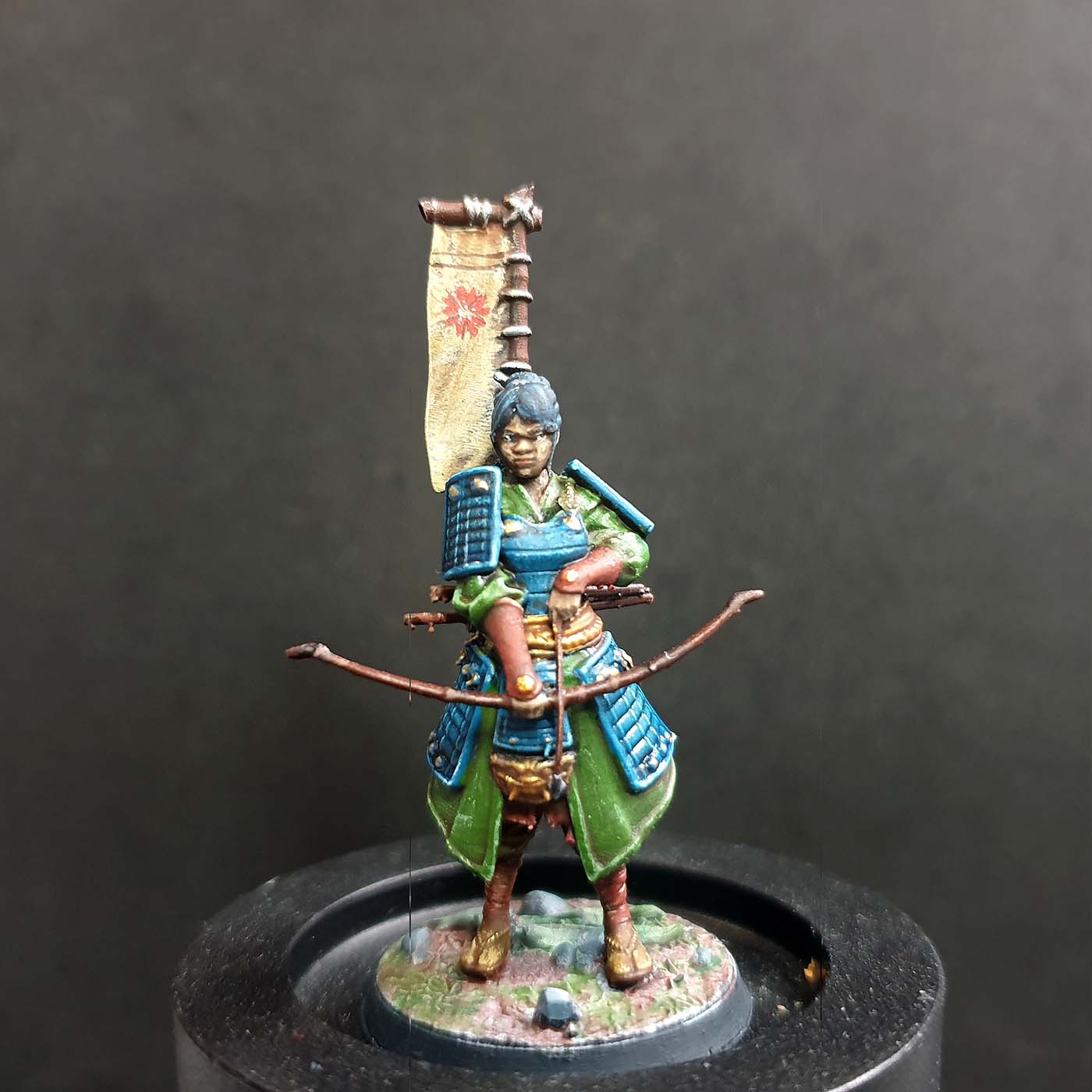 Hello! Using the 'Sakura' model from our friends at Dragon Trappers Lodge, we are going to look at painting Samurai. Their modes of warfare and unique aesthetic have captured imaginations for centuries, but painting them can be fast and effective!
How To Paint Samurai Miniatures: GETTING STARTED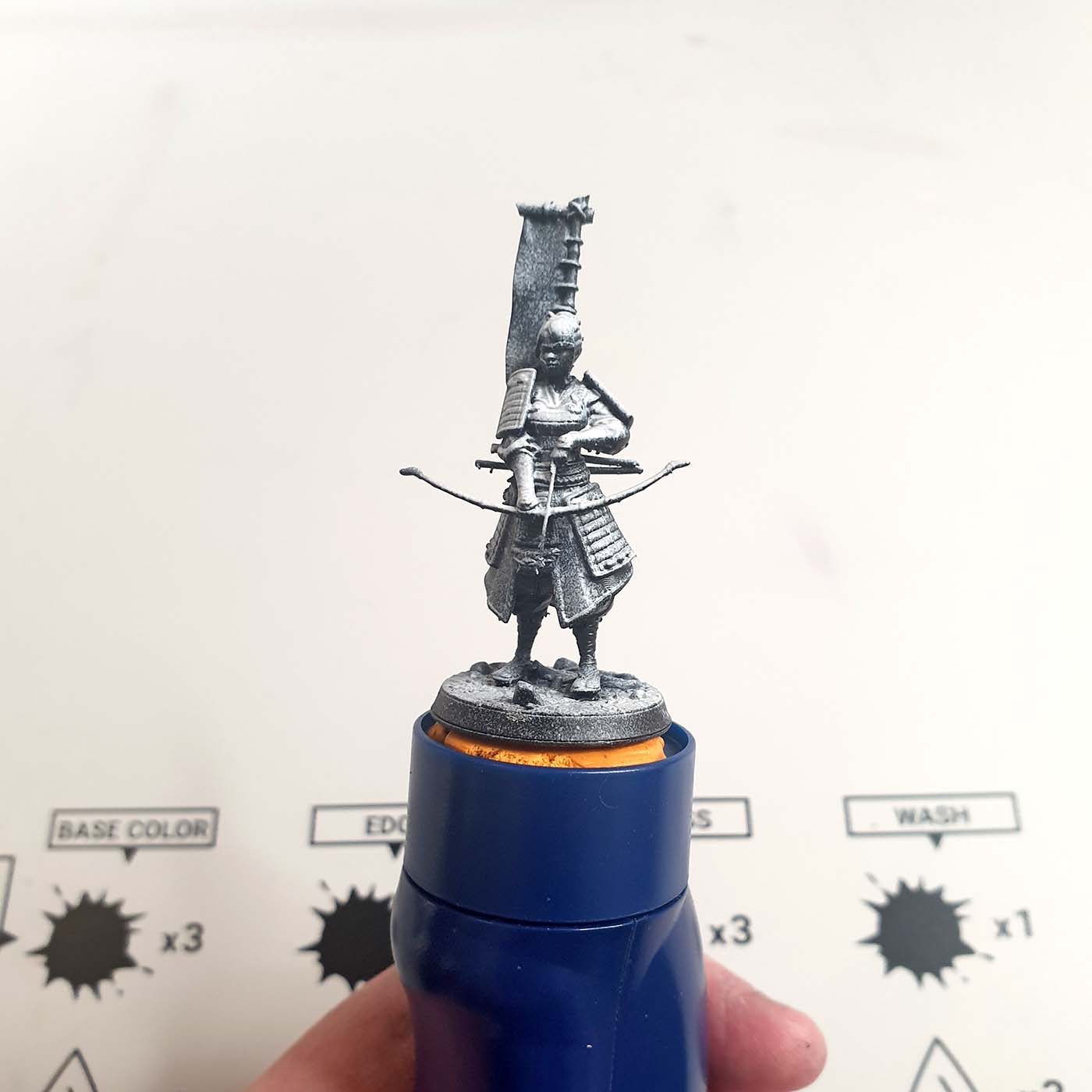 Here is Sakura, fresh off the printer! I spray-primed the model with black primer.  This is important in painting miniatures to help the subsequent layers of acrylic paint stick to the model. Spray priming or airbrush priming will also make this a quick and painless process. But of course you can prime your models with a brush. And if you do I would recommend the RGG brush size 2.
Next, and this stage is optional, I sprayed the model with white from directly overhead. This helps show where all the highlights should go, whilst keeping all the shadows black from the primer. You might have heard of this technique being called 'Zenithal Priming', and it can be really useful! As a pro tip, I would suggest keeping a photo of the model at this stage, so you can use it as a reference for where to place your highlights and shadows, later.
WHAT DO I WANT TO ACHIEVE WITH THIS MINIATURE?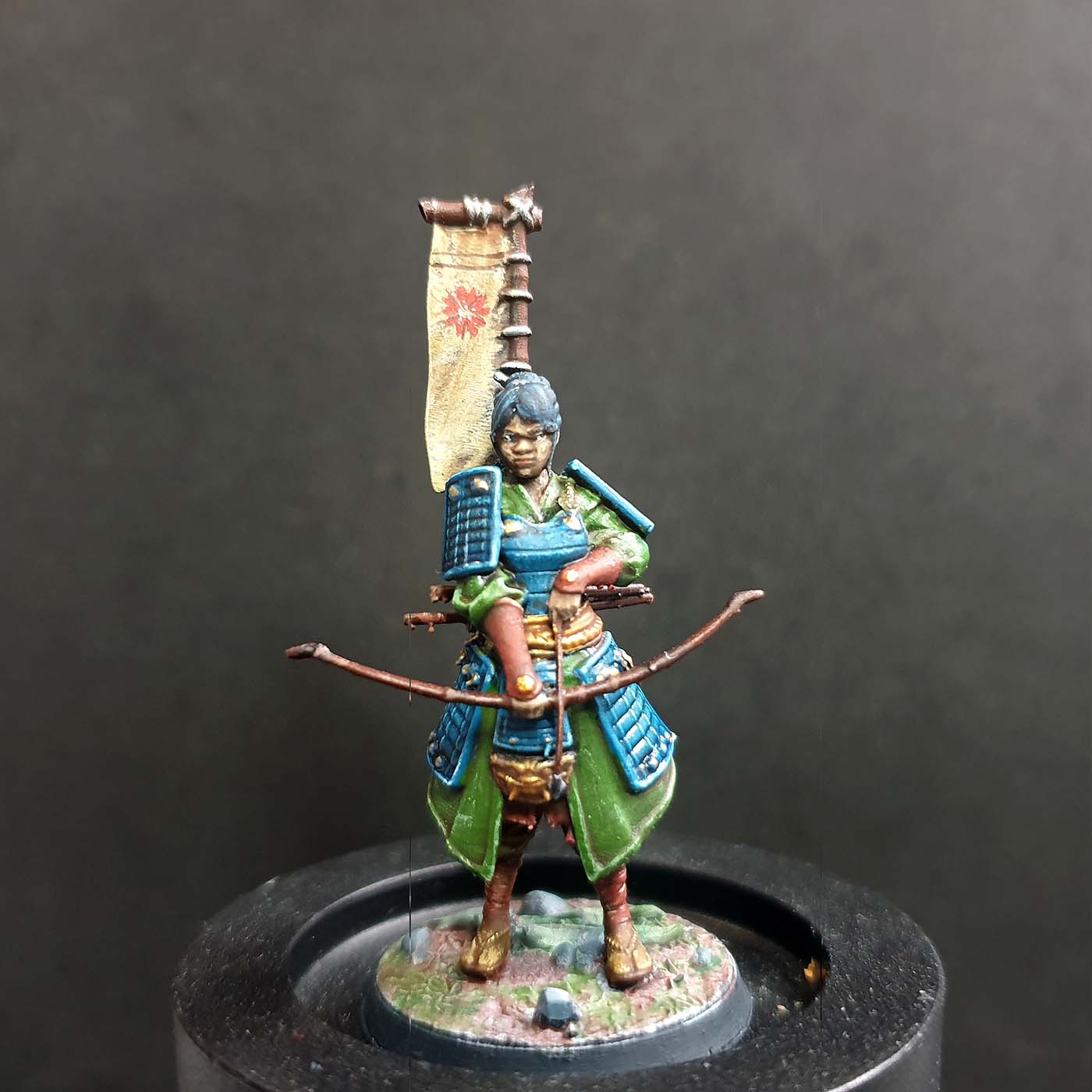 I had not really painted a model like this before, so this was a good opportunity to try new things and explore new ideas. I felt it was important to research aspects of Japanese culture and history. Google images, too, can be a great source of inspiration in coming up with a good color scheme. As a fantasy piece, however, you still have artistic license if you wish!
What is going to be the thing that draws the viewer's eye? Here the face of course is important, as it is with most models. However, I also felt that on this model the distinctive Samurai-inspired armor plates, and the back banner, would also draw focus. So I felt it important to also expend effort on those.
How To Paint Samurai Miniatures: ARMOR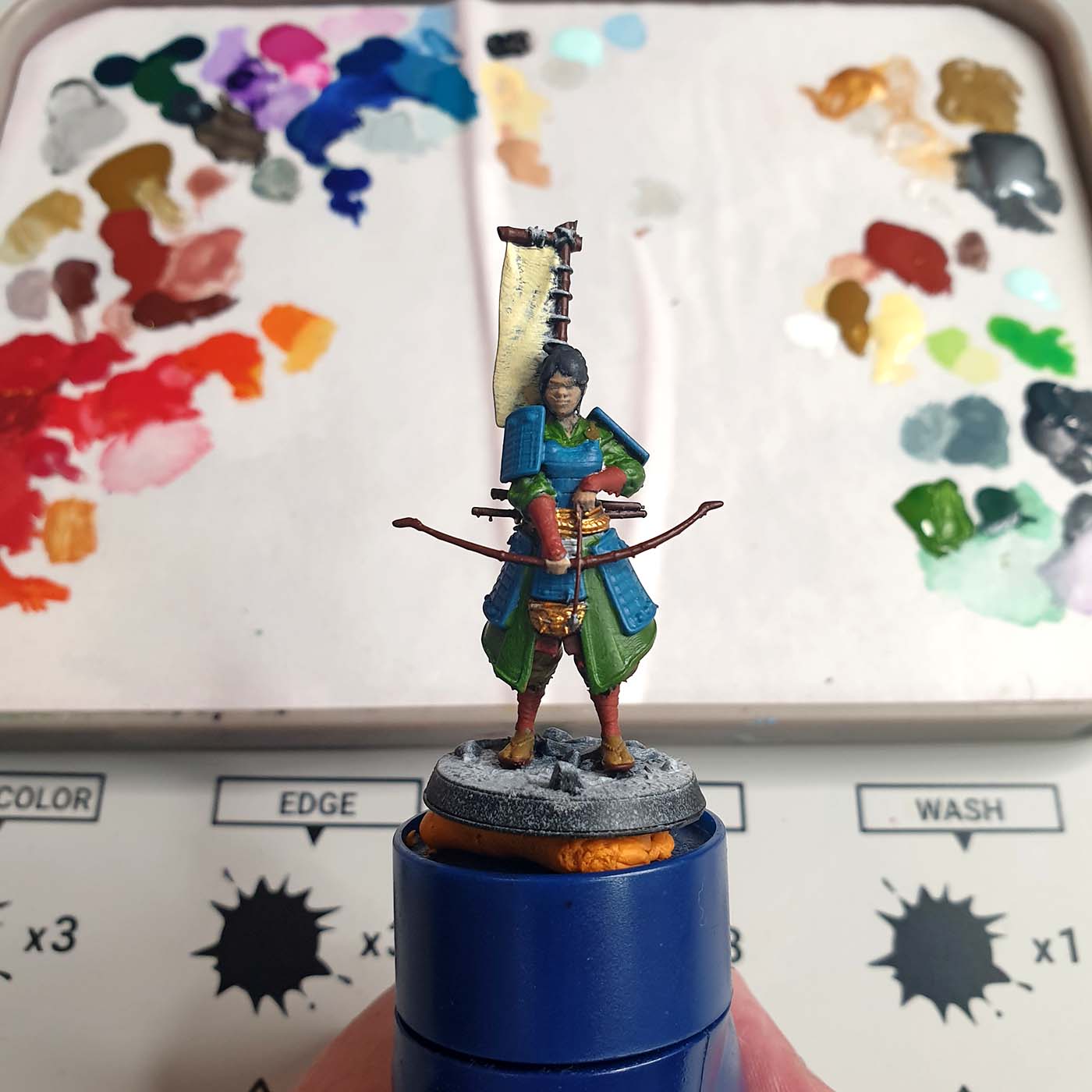 Online, I found a really nice set of Samurai armor that had a distinctive blue patterning to it, with gold details. That inspired me, so I wanted to replicate that as best I could to the scale model I was painting. For the arm guards and shin guards, too, I looked to historical examples. In contrast to the turquoise of the armor, I used a red-brown base here. I think it has really given the impression of hardened leather strips.
It wasn't all plane sailing, however. I had to think about how to get the lacquered effect on the armor panels, as this would surely be a key idea to get across to the viewer, and show it's Japanese-inspired roots.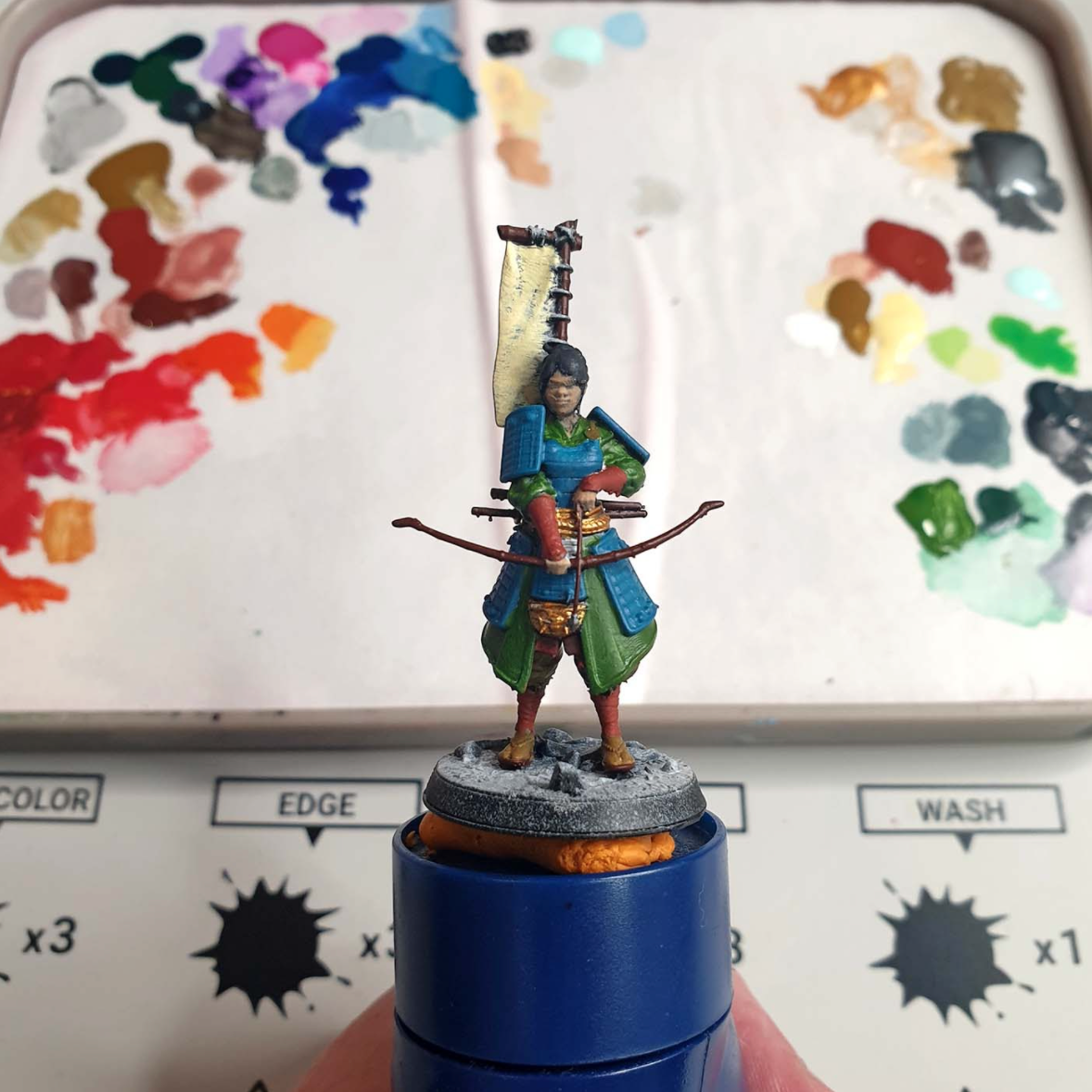 I chose an olive green for the textiles underneath the armor, as I felt this was historically and thematically a good choice. Sakura is a hunter, and green is long-associated with hunters and archers. The scale made freehanding the textile a little too time-consuming at this scale, but I added gold details to compensate. The bow and other wooden elements were basecoated with a rich umber brown, whilst the hair and face got a blue-black and flesh shade respectively.
I used mostly the Redgrass size 00  for this model, as it was very small and had lots of fine details I wanted to define. The back banner I painted with a pale tan color, so it looked like faded and textured cloth. This was the perfect space to freehand on later.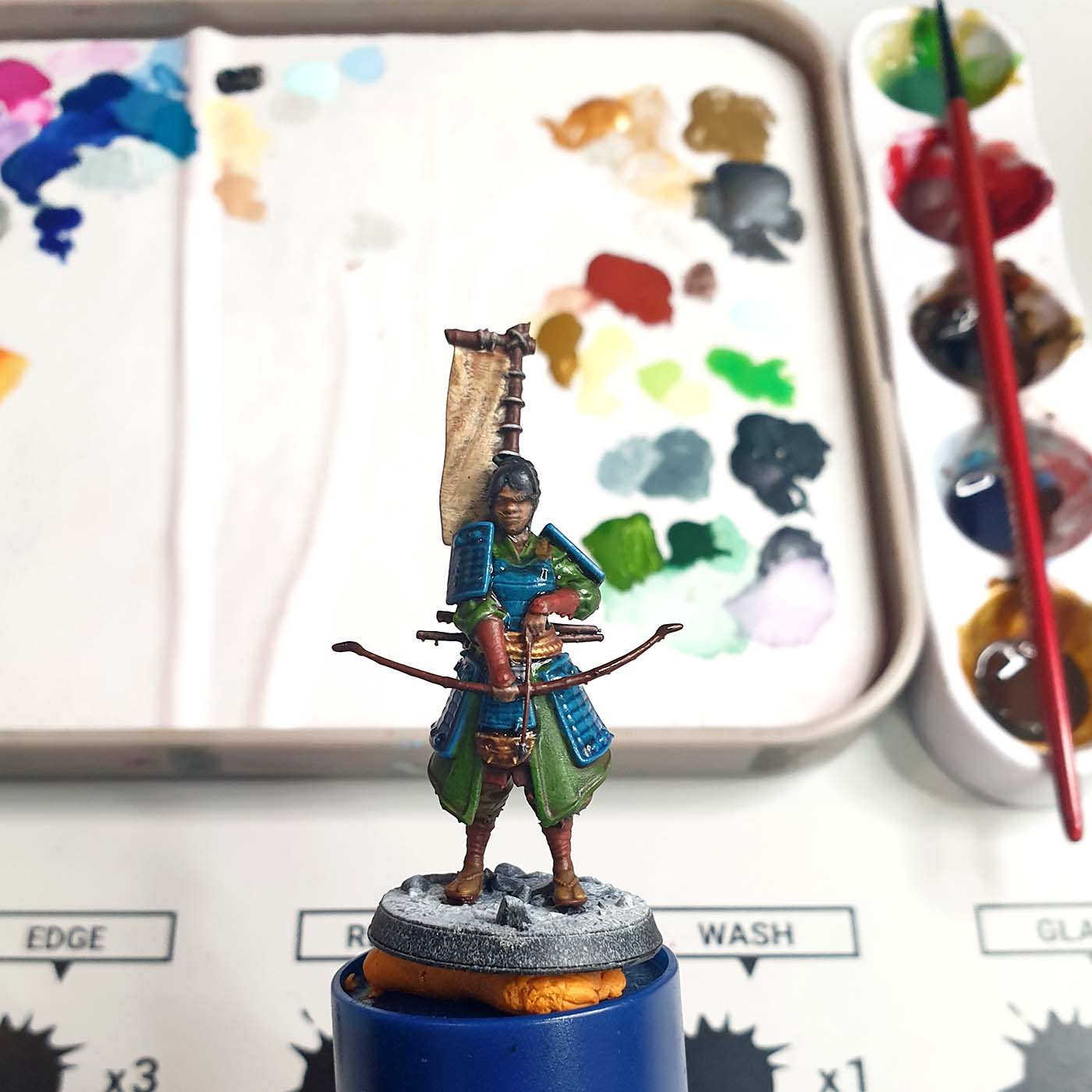 Recess shading is an effective and painless way to bring back details and stop areas looking so flat. It was also how I could make the armor look more like authentic Samurai lacquered panels. I applied several thinned washes of black wash to the turquoise, which helped bring back the definition of the armor sculpt, but also give it that glossy weatherproofed look so distinct to this kind of armor. My RGG wet palette 'wavy' accessory was very useful for these washes! To push the contrast, I made a mix with the turquoise and sky blue, and highlighted all the edges. It worked really well, I think!
The gold and green cloth were both given a red-brown wash. But on Sakura's tunic I think this has had an especially nice outcome of suggesting the subtle accumulation of dirt during her hunt. I added some of the wash to her base to help tie them both together. The face, shoes and banner I gave a sepia wash for a more subtle effect. With the face then, I highlighted 'the triangle' and added definition to the eyes and lips.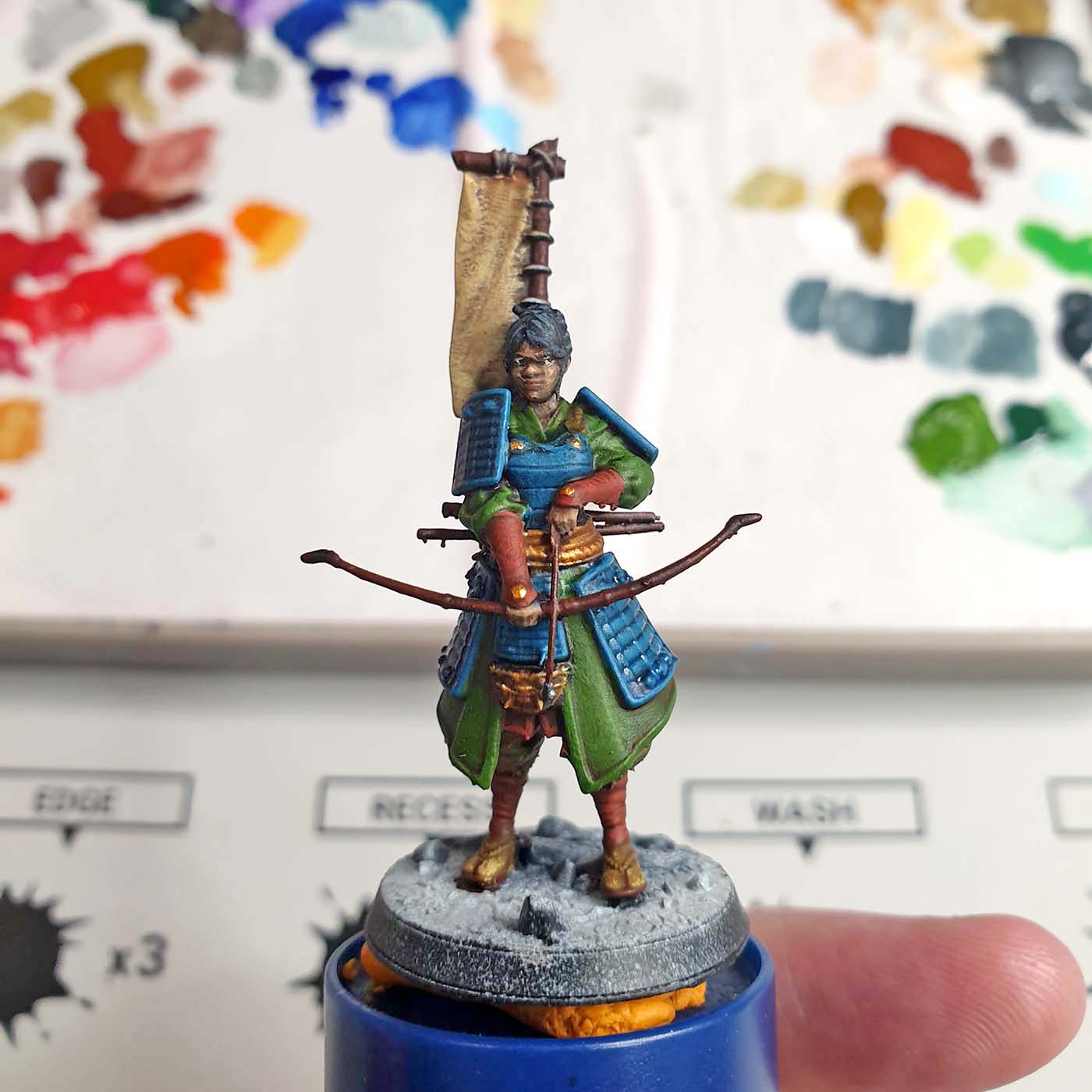 We mustn't forget some of the final details!
The olive green mix for the cloth was mixed with a little pale yellow for the hightlight. I edged this inconsistently around the hems of the garment, to make it look more worn in places. I did a similar thing with the leather strips and arm guards, which I think has been effective. The hair was highlighted with a paler mix of the blue-black from before.
Finally, after doing some research, I decided to freehand a simple cherry blossom on the front of Sakura's banner. 'Sakura' is Japanese for cherry, and as a symbol was used throughout Japanese military history. Importantly for painters freehanding on a small area, it is not too hard to try compared to other designs. So, I painted five red arrows pointing in on each other with thinned red paint, then filled them in and added highlighting details. That was it! Simple but effective. More painters should try freehand, I think, and something like this is the perfect introduction in trying.
How To Paint Samurai Miniatures: COMPLETED PIECE!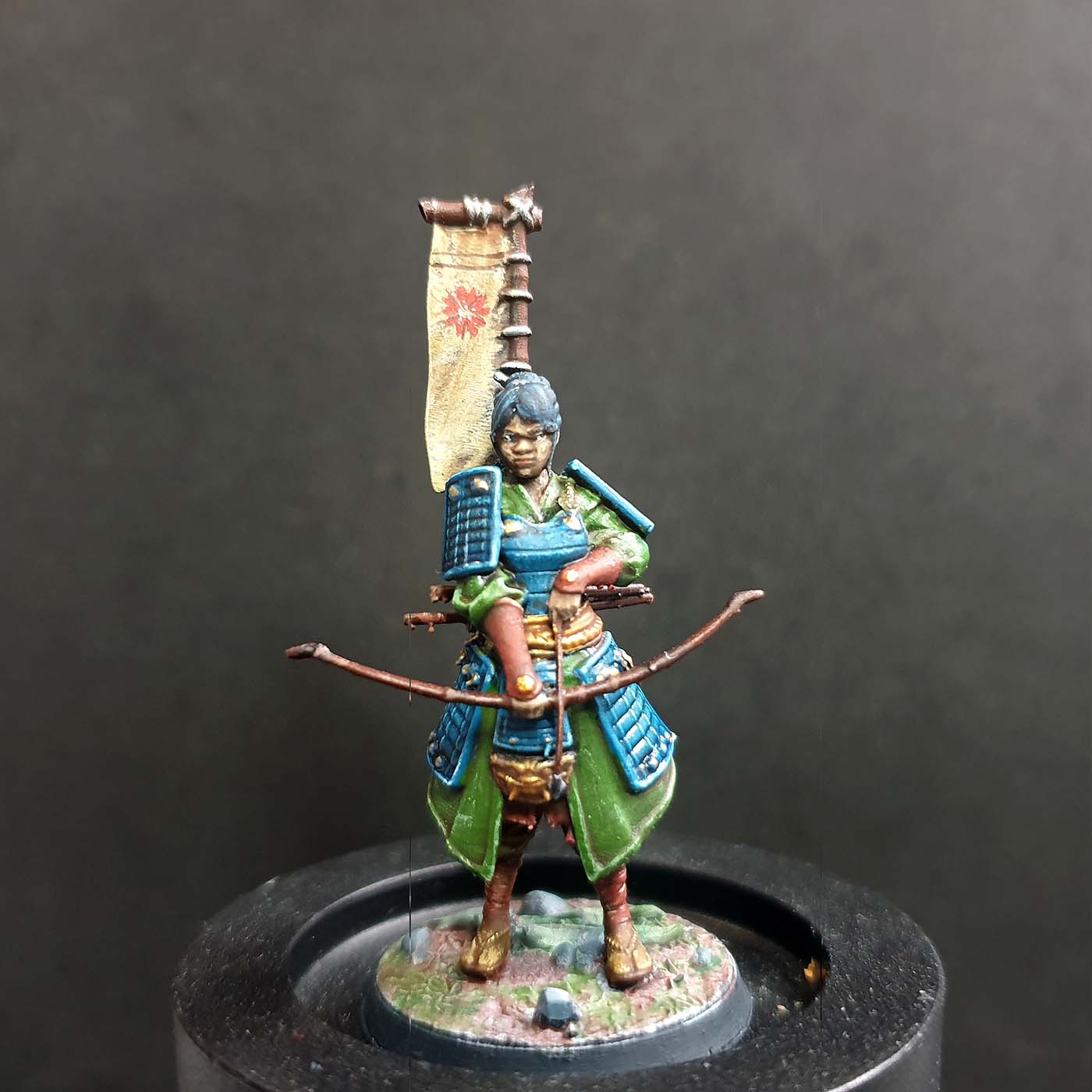 Here you go! Sakura the Archer from Dragon Trappers Lodge, completed and ready for the hunt! I had a lot of fun with this one, even though it was a relatively quick piece. Mostly it was great researching new areas and seeing how they could inspire and guide my painting process. I think it is important not to underestimate the usefulness of researching things like this when you are painting, as they can really help inform your decisions and on this model it proved really valuable to me several times. Happy Painting Everyone! – James.