Interview with David Arroba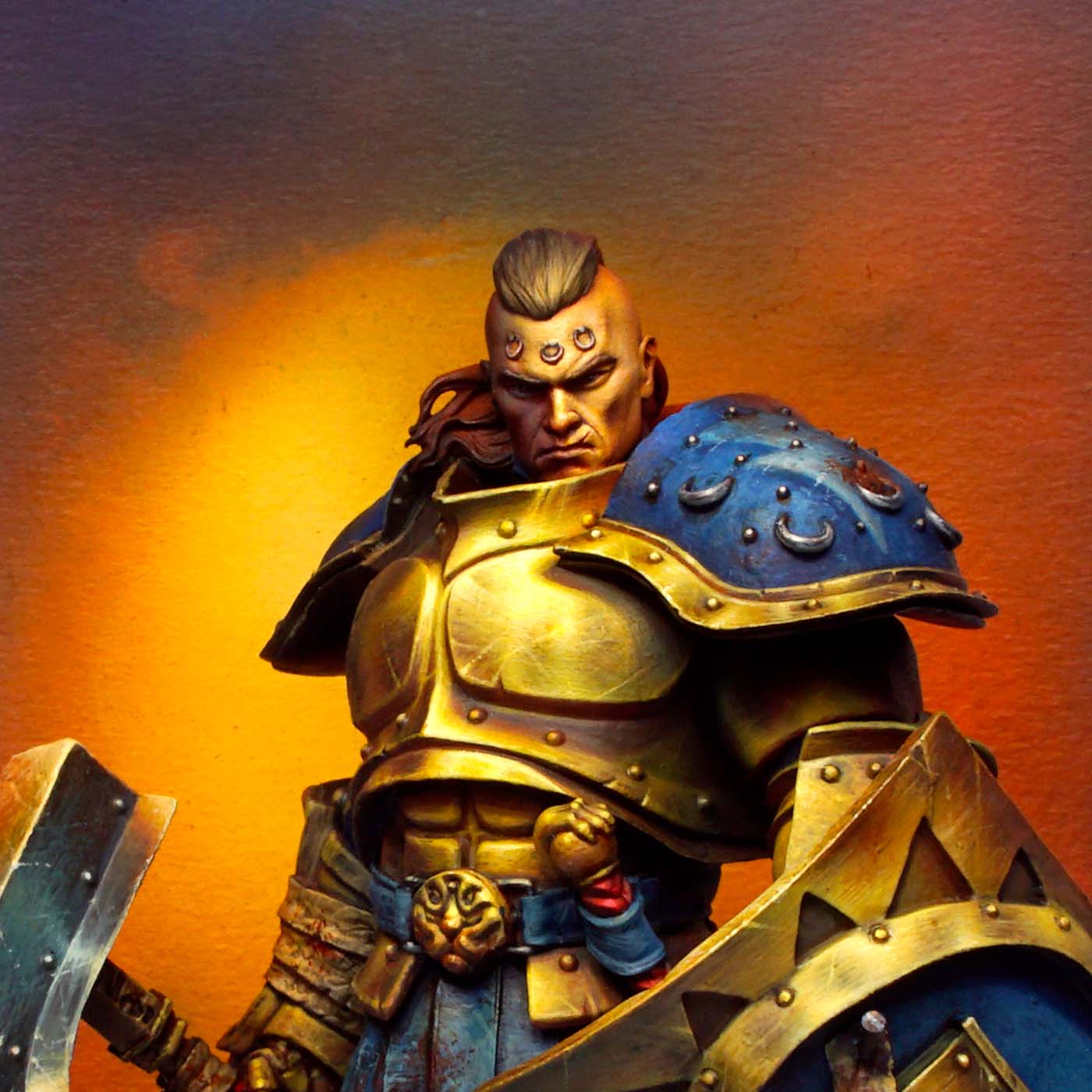 Hello everyone and thank you RedGrass for this interview and for giving people the chance to know me a little bit better or know me if they didn't know me. My name is David Arroba, I'm 29 years old and what started as a hobby became my job and…I love it! With more than 5 years working as a professional painter, I have had the chance to collaborate with the most important brands in the industry. I worked at Big Child Creatives for three years, taking part in some incredible projects for Cool Mini or Not like Zombicide, Song of Ice and Fire, or Marvel United, among many others. Later, I decided to work as a Freelance and found, along with Garbiñe Arroyo, Akelarre Models, our miniature brand. Another aspect that I really like about my job is teaching, which I can develop in many different ways, either by creating online content or in workshops in my painting academy in Madrid.
1. Interview with David Arroba – How did you start miniature painting?
As many of you who are reading this, I started painting miniatures thanks to Warhammer, in particular with the "Battles for Middle Earth" collectibles from "The Lord of the Rings". From that on, I found out that I really liked painting, I never found appealing the idea of playing, and after Warhammer, I saw that there was a whole figure world focused on the painting hobby.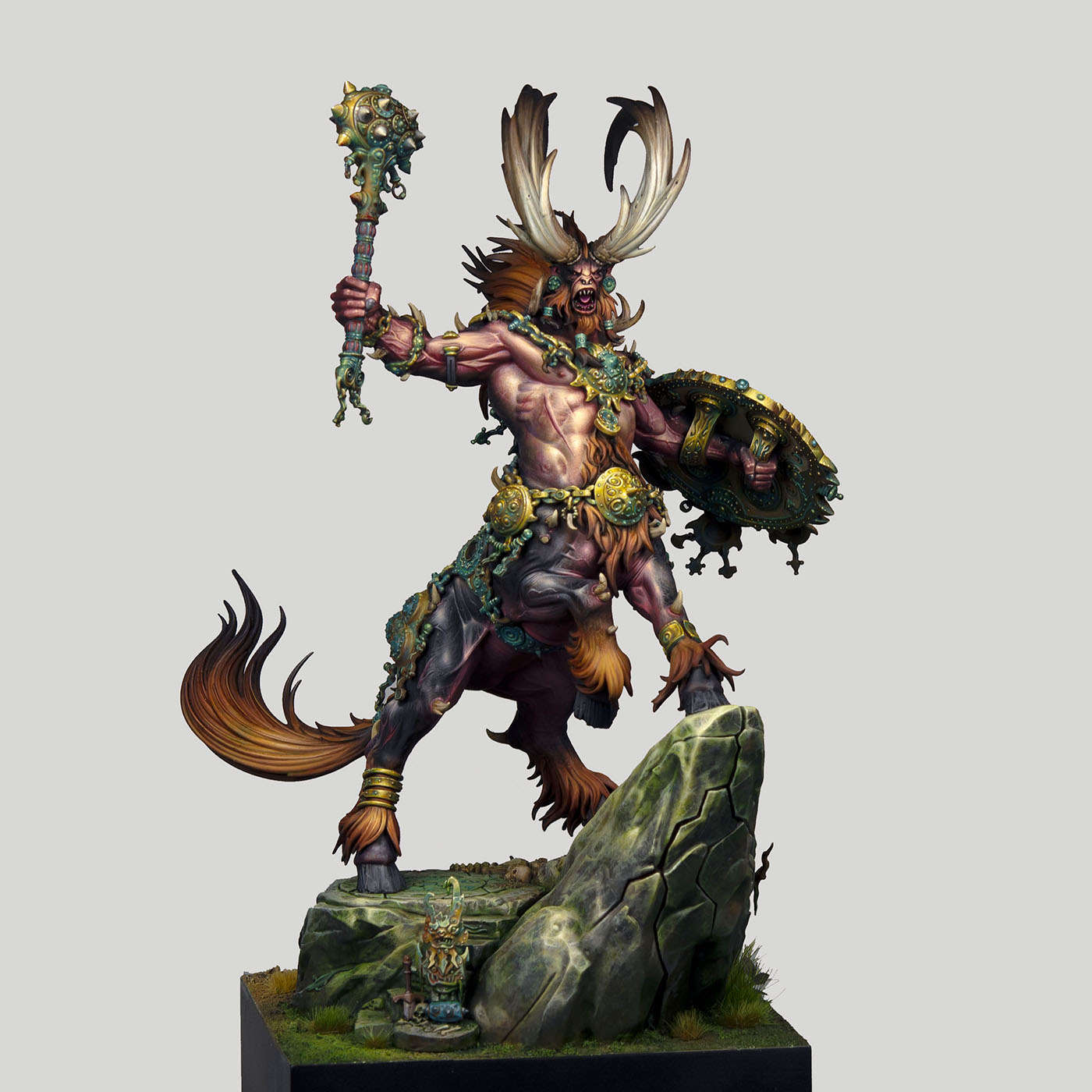 2. Interview with David Arroba – What is your favourite painting technique??
I don't really have a favorite technique, I can say that I have a certain predilection for using very diluted paint and I work with the brush a lot to create a lot of drawing and texture.
3. Interview with David Arroba – What is your proudest achievement to date?
Without a doubt, the achievement I am most proud of is being able to devote myself to this in professional terms and to have my own brand and academy.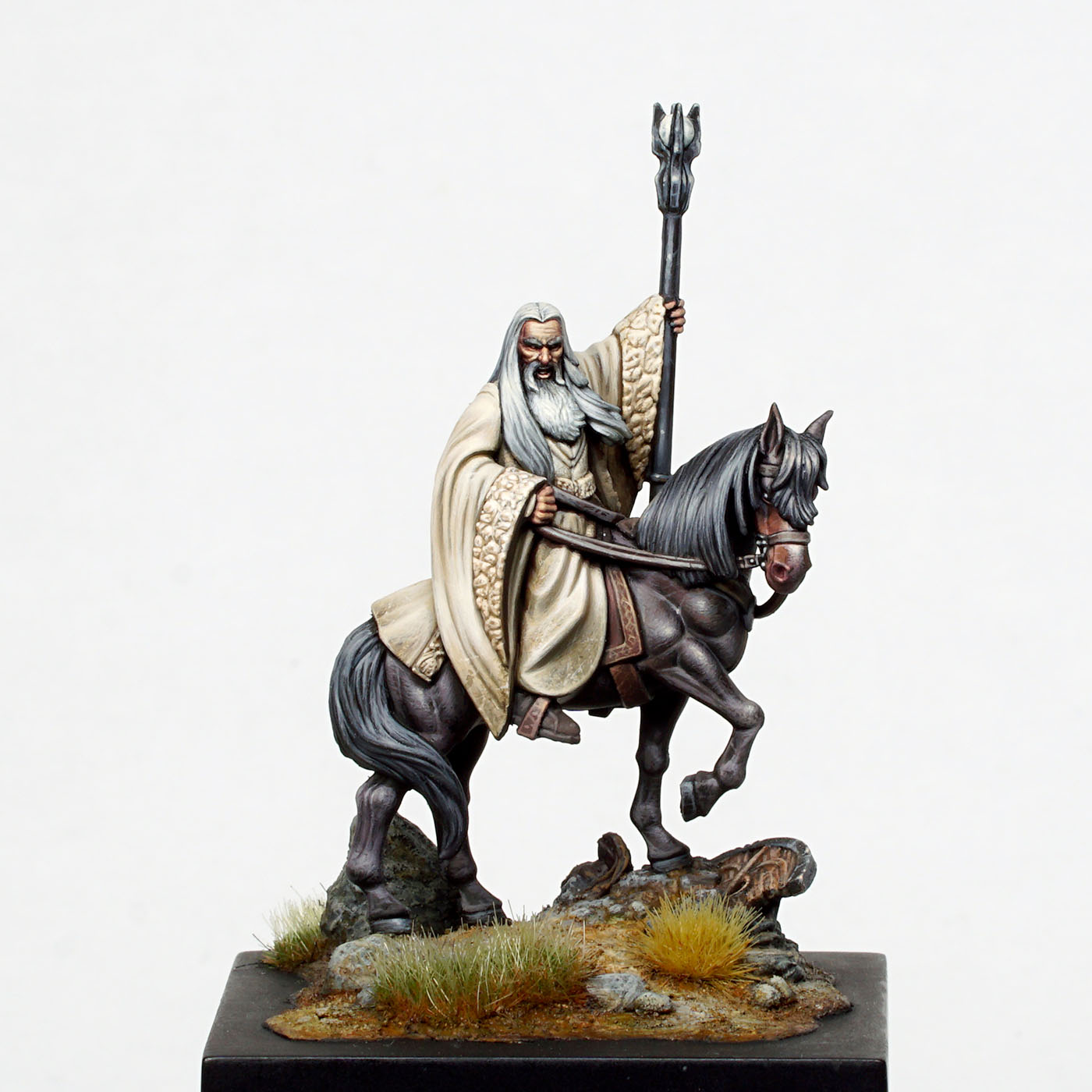 1. What is the key tip you would give to a miniature painter who wants to improve?
I think that the best advice I can give to someone is most of all to study, nowadays is very easy to do that due to all the available learning platforms, and to practice as much as possible. I would also tell them to not be discouraged, to be patient because I sometimes have students that want to obtain results very quickly and that can be quite frustrating.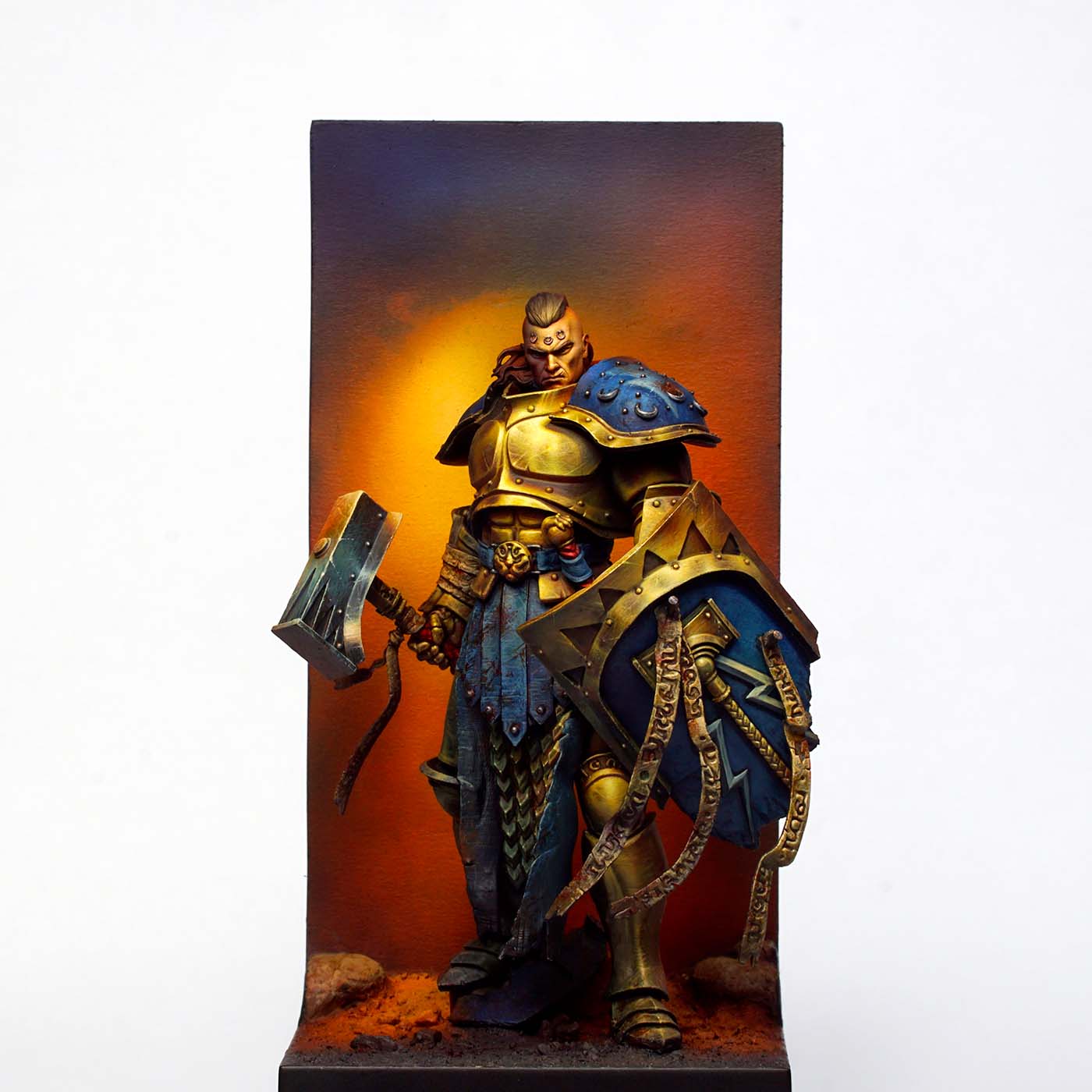 1. Why would you say a wet palette was important for miniature painting?
Wet palettes are very important because we usually work with acrylic paint and maintaining it wet makes it much easier to work with it for more time without having to use more paint.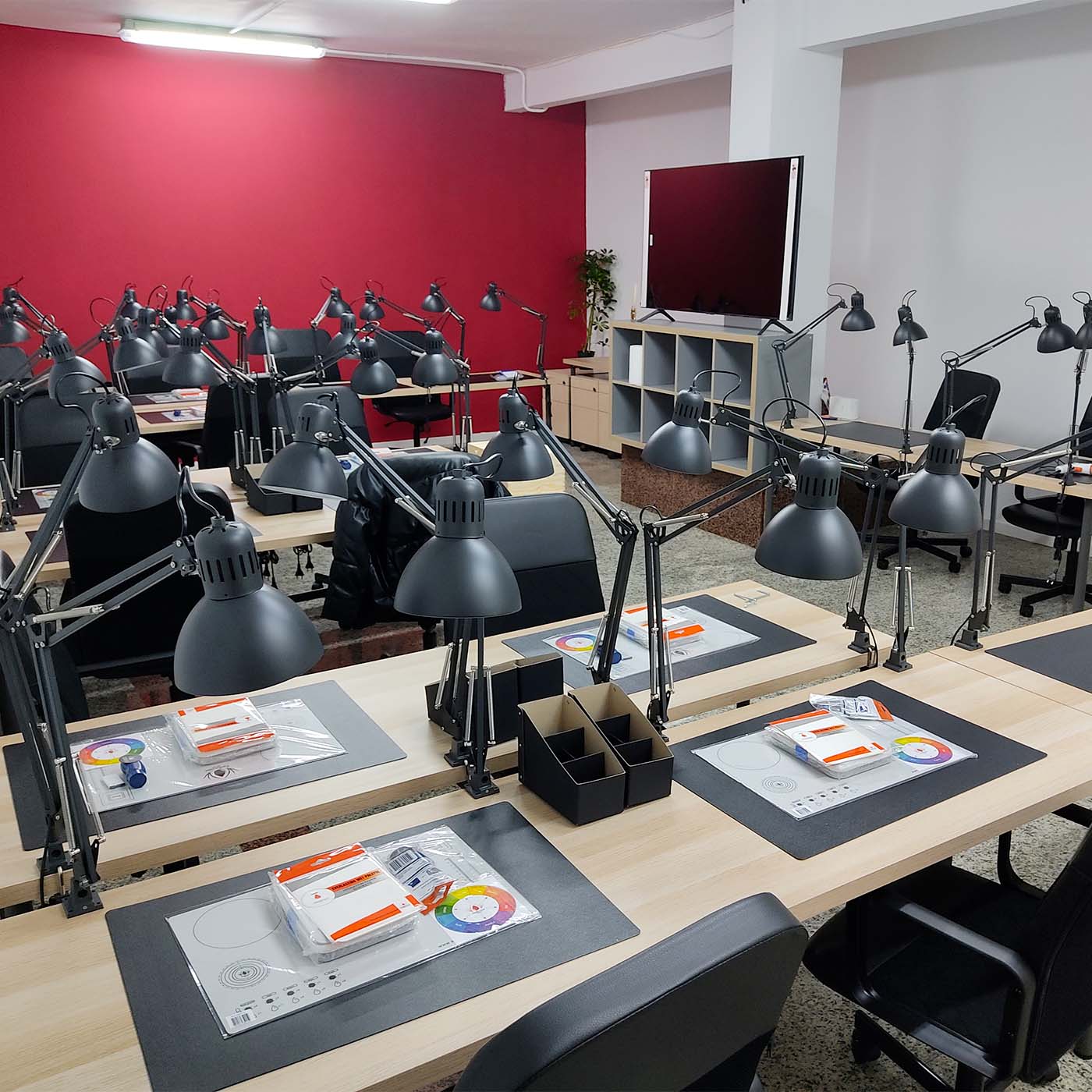 1. David Arroba: Where do you get your inspiration from?
I love fantasy illustration and I buy a lot of art books, I get a lot of ideas from them to paint figures.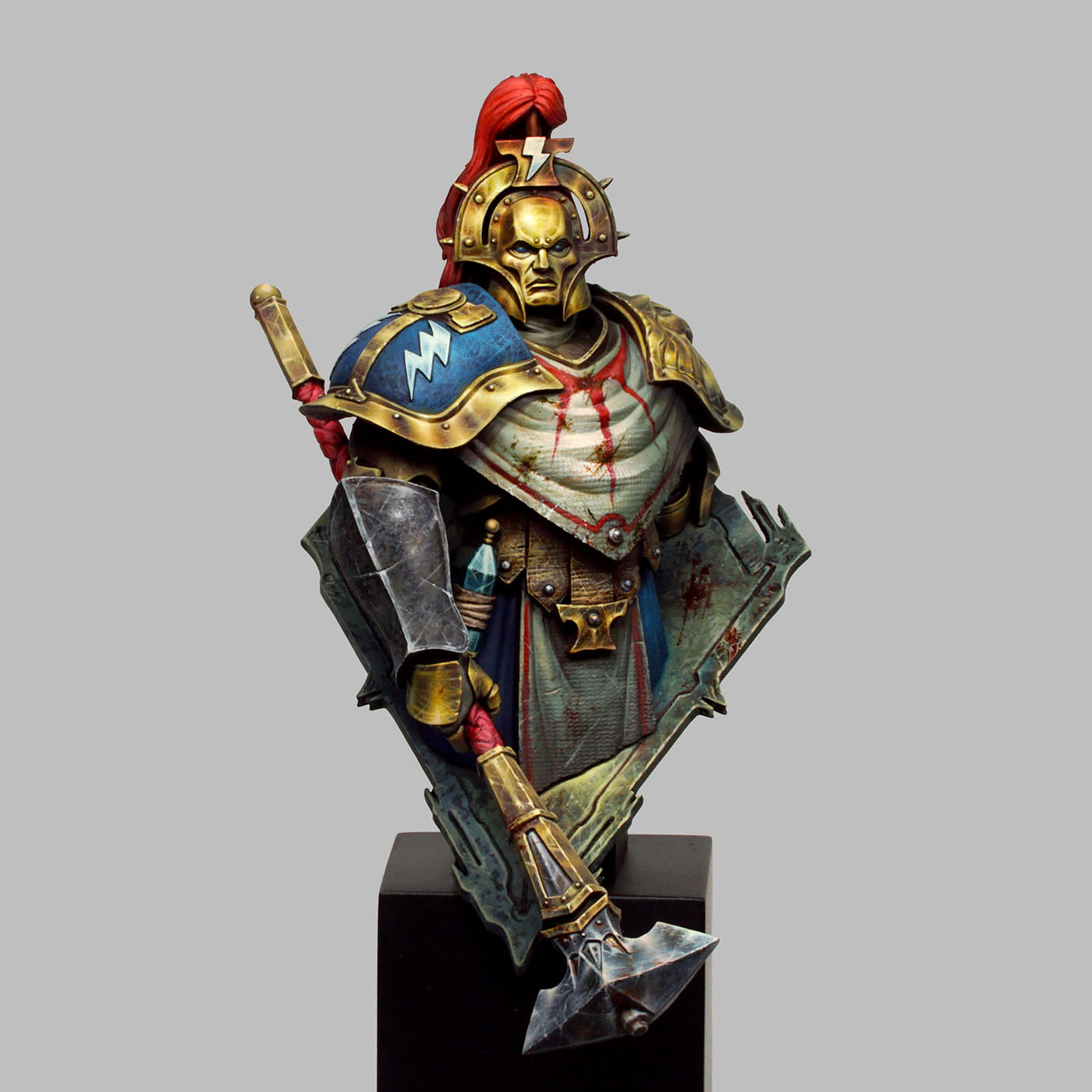 1. Interview with David Arroba – What is one skill you would like to improve?
The use of the airbrush, definitely, because I really like the brush finish and it's true that I don't usually use the airbrush a lot, even if it's a very useful tool.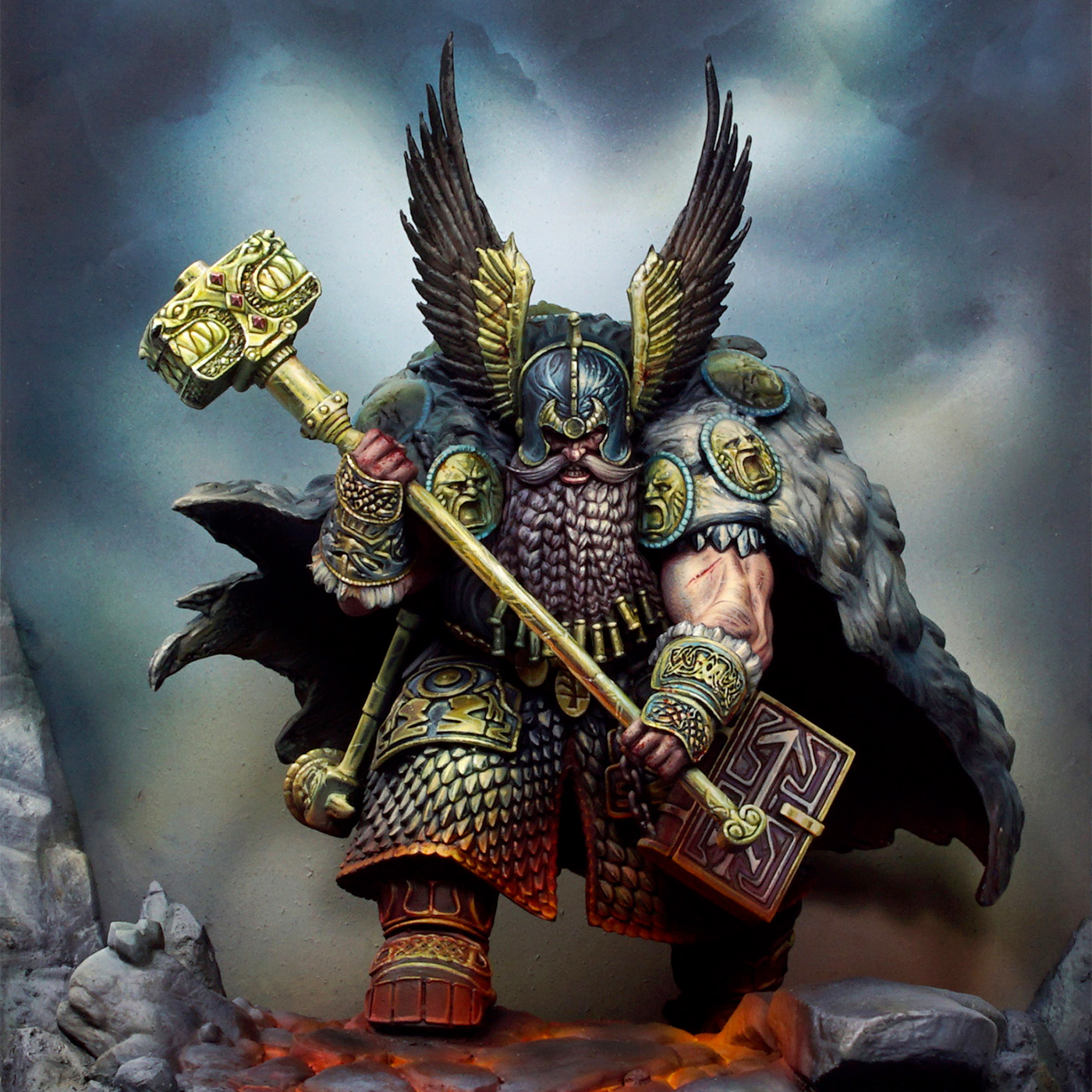 1. Congratulations on your Golden Demon success! Was there anything about the
experience you found surprising?
Thank you very much, it was an incredible experience because it was my first Golden Demon. Most of all, I loved meeting new incredible artists that I didn't have the chance to meet at other events. In addition, because it took place in Warhammer World, I had the chance to visit the Games Workshop facilities and I lived it because I am a huge Warhammer fan.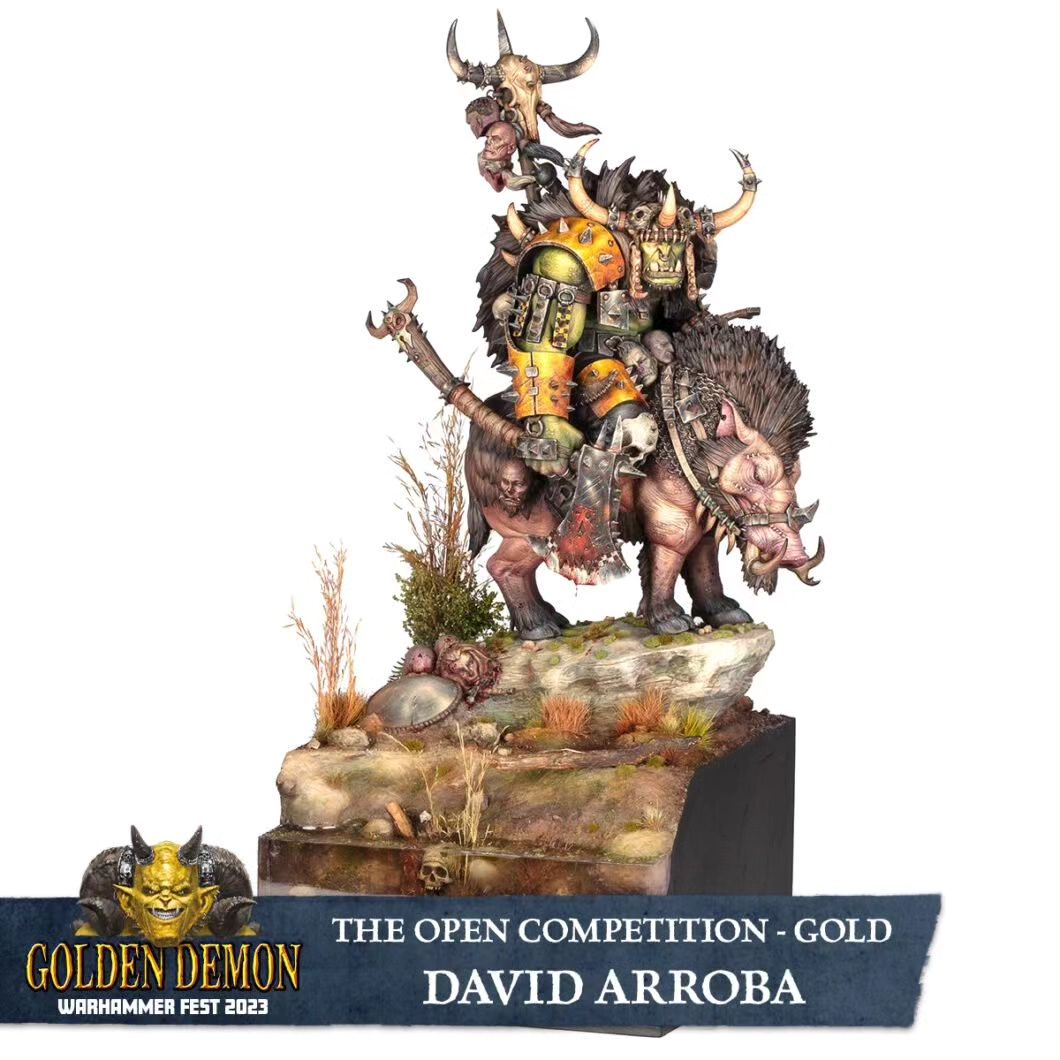 1. Interview with David Arroba – Advice for a Golden Demon newcomer?
I think that the best advice that I could give is to try to paint it as best as possible without taking the contest into account, the most important thing is to enjoy the event and take the chance to paint a figure that they love. Experiencing that first Golden Demon will be very good because they will see live artworks by many very talented artists and that will help them improve and learn.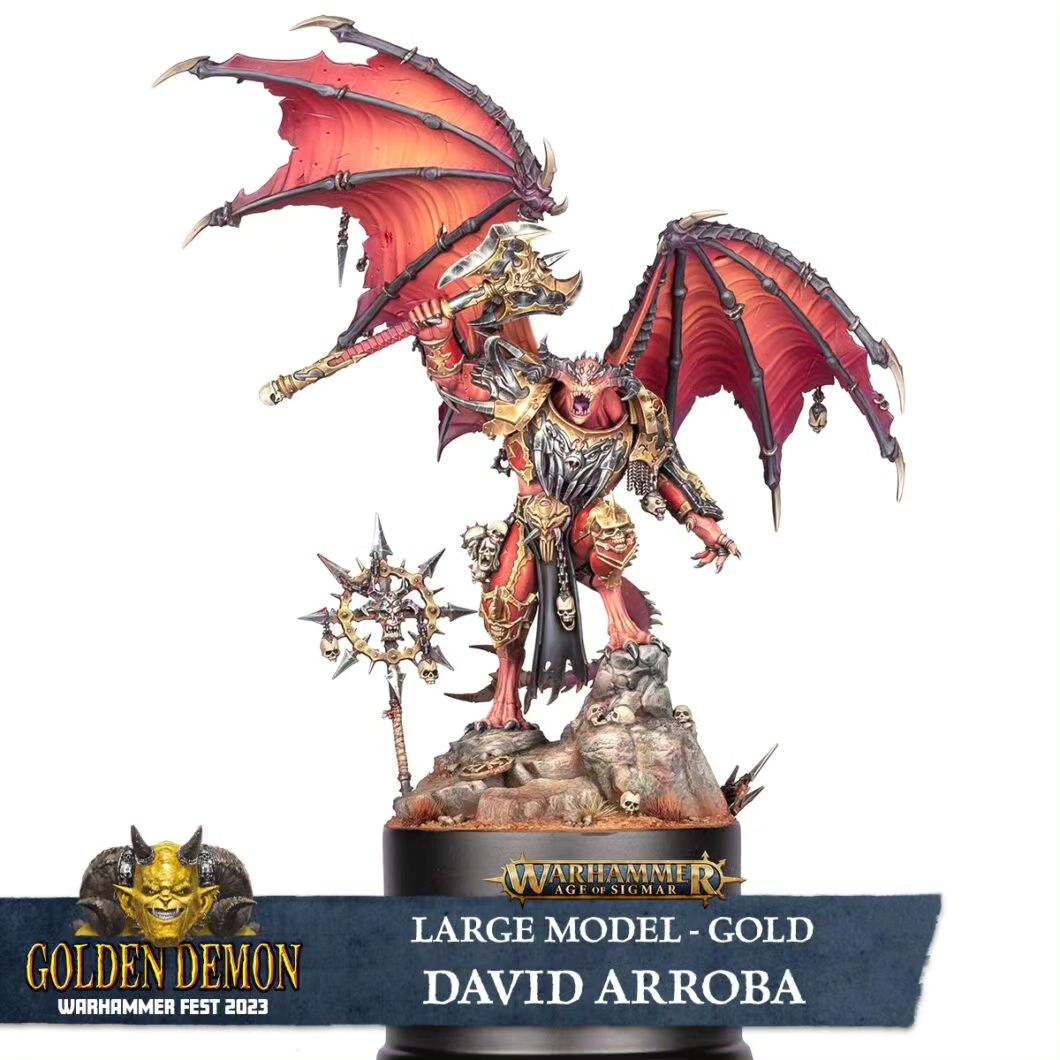 1. Display basing can be difficult to get right – what's a key principle you try to
follow for it?
What I like most is applying the concept of "less is more", show what you want to tell in the most simplified way possible. That will make your base look more elegant and it will fit the project.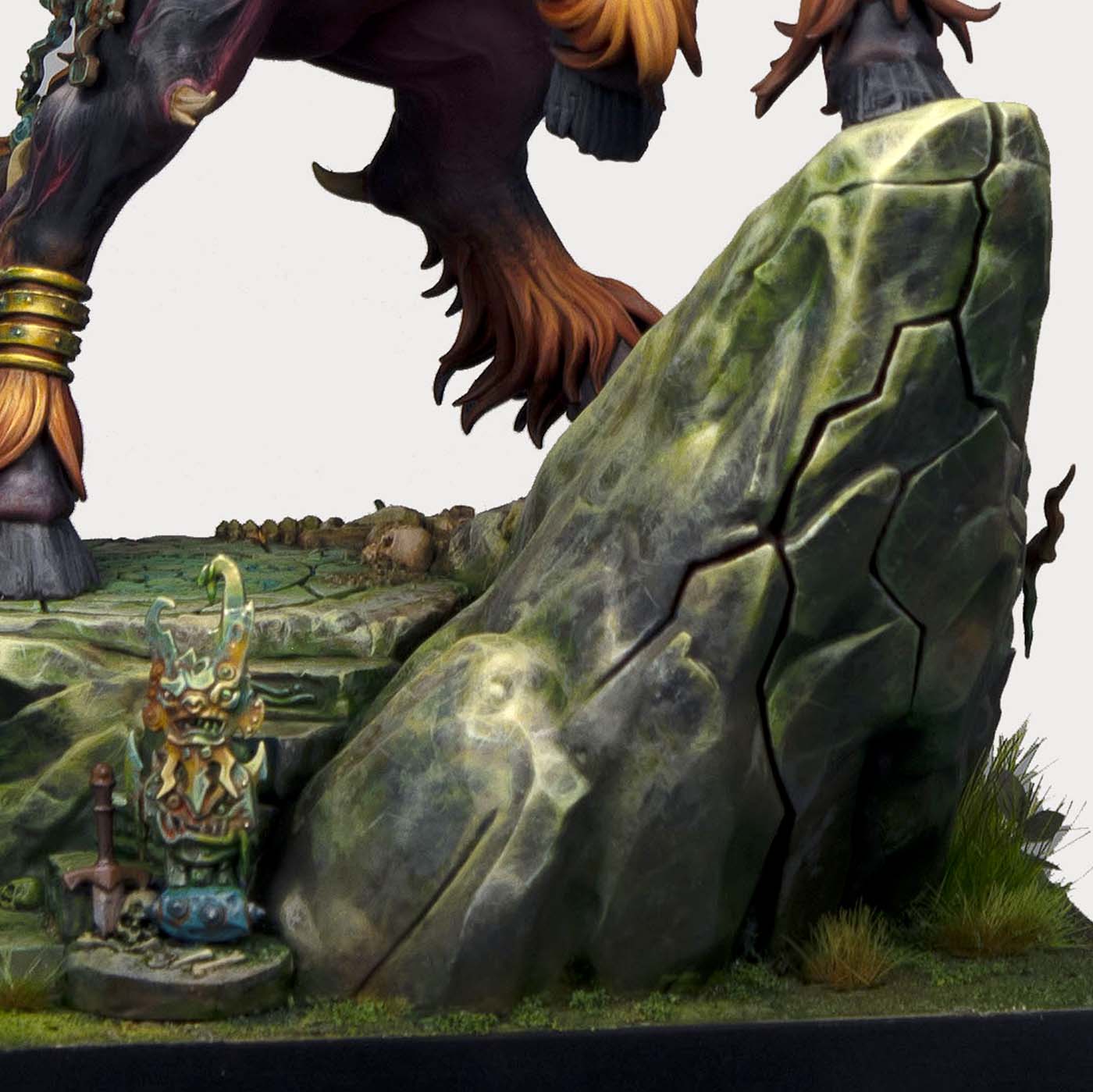 Redgrasscreative In David's studio: