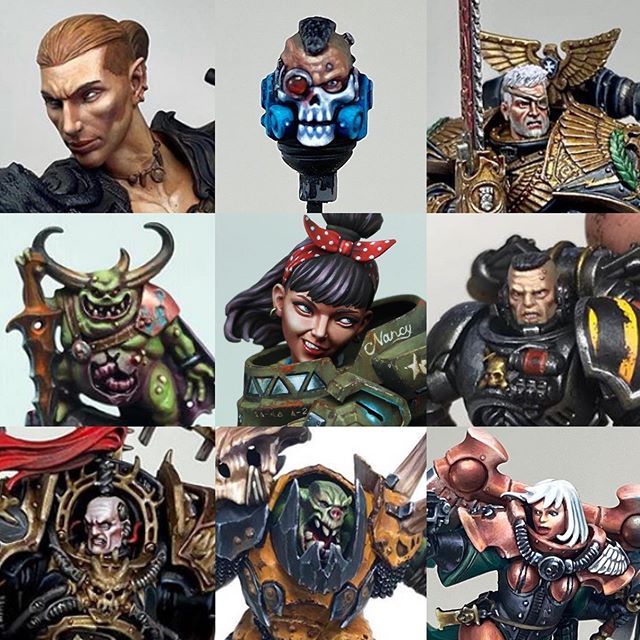 Interview with Will Paints
Will Paints is one of our favorite pro painters at RedGrassGames. Check his instagram to see his amazing work at miniatures painting. You can see how precise his painting is on faces' expressions. Try to guess which miniature he first painted for a competition and find the answer in his interview just right below. You'll also find out why he started painting miniatures! Everybody has a story, here's Will paints'!
When did you start painting miniatures?
I've been painting miniatures now for just a little over three years in total, starting at the age of 22.
How long have you been painting at what you would consider a serious level?
I'd say I've been painting seriously for about 2 years now, I've never been interested in painting armies for playing within fact I've never actually played a game in my life. Competition and display pieces have always been what I've focused on in painting and creating so I found myself working to those more 'serious' standards fairly early on.
This is the first model that I entered into a competition about two years ago, it was only a local Warhammer store competition but somehow I managed to come 1st!
Why have you started miniature paintings? How have you discovered this hobby?
I've always been inspired by Warhammer ever since my older brothers would collect and paint it. I never touched the models myself but I love to look at them in all the White Dwarf magazines as well as reading the books. Later in life, I still would check in on what new models were coming out to scratch that nostalgia itch and at the time due to personal reasons I was having therapy sessions. In one of these sessions, it was suggested that I find a new hobby to focus on so naturally, I knew it was time to get into painting and I haven't looked back since!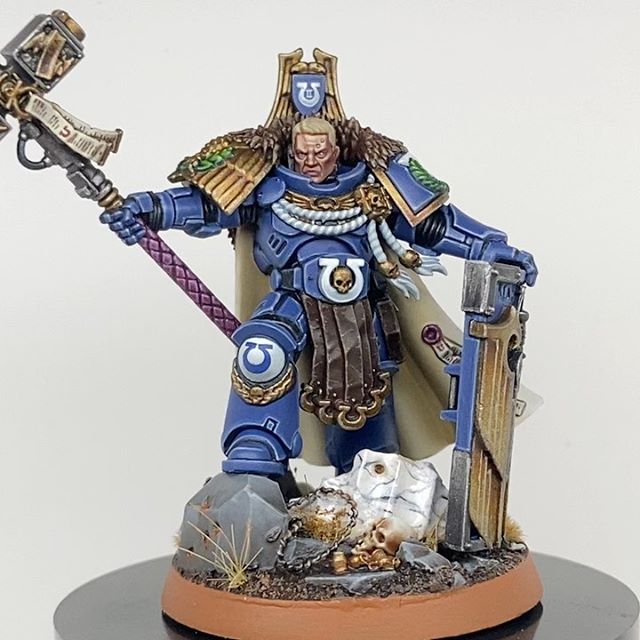 Where do you get the inspiration from?
First and foremost my main source of inspiration is other artists in the world of miniature painting, Andy Wardle was one of the first painters I discovered upon starting Instagram and his work blew my mind, the level of skill and dedication to the art showed me exactly what I wanted to achieve. Of course, there are so many fantastic artists in the community its hard to see their work and not be inspired!
What tips or advice would you give someone just starting out in the hobby?
My first piece of advice would be to do what you enjoy especially if you are looking to improve your painting, suffering through a piece can prove useful but enjoying a piece will always help you improve faster and easier I've found. One of the most important things I think helped me the most is not being afraid to try something new. I've talked to many people who have told me they don't want to try something like NMM because they don't think they are "good enough", but if they don't try it how will they ever be good enough? Diving in at the deep end and pushing yourself is a fantastic way to learn fast and try new things.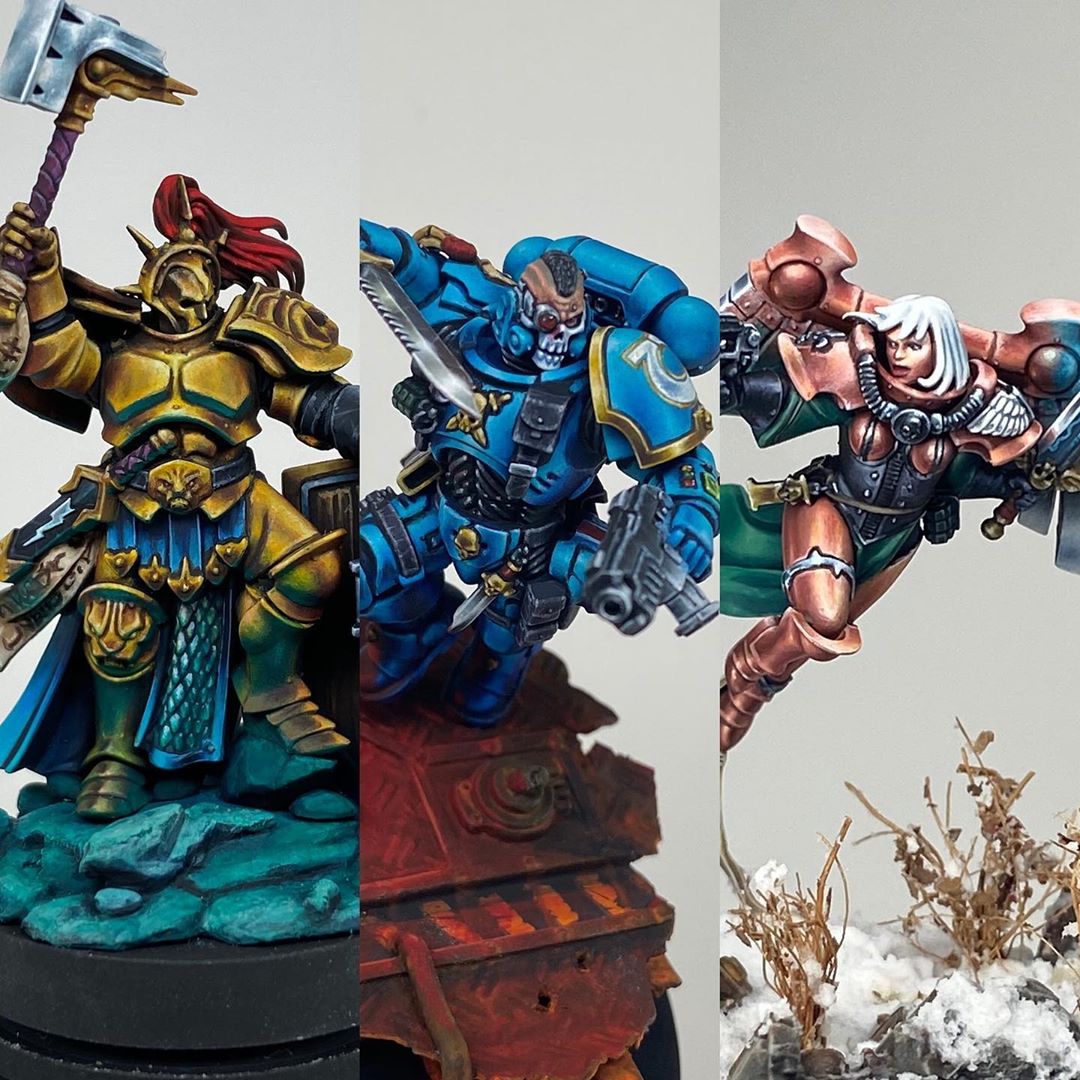 What are the most important techniques a miniature painter should know?
It's hard to think of any 'techniques' that aren't just as useful as the rest! It's not exactly a technique but I think knowing how all of your paints work, by this I mean how it thins and mixes as well as how it dries and applies. Every colour and brand of paint will work slightly differently to others which means some may be more suited to something you are trying to achieve. Knowing these things you will find some paints are better suited to how you work which is incredibly valuable.
Which miniature you painted are you the proudest of?
I have to say my most recent bust of 'Nancy P90' from Neko Galaxy Miniatures is what I am proudest of. I think a large part of why I am proudest of this piece is that it is my most recent, so it makes sense that my skills are tested most on it. Another reason is because of how much I learnt whilst painting it, I had a major personal breakthrough in how I painted female faces that lead to a much more appealing use of light, colour and contrast than how I had achieved beforehand.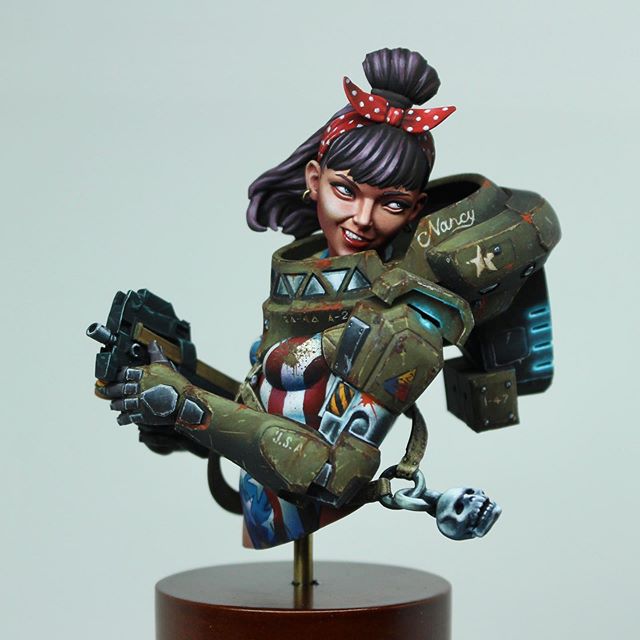 How do you see yourself progress as a painter?
Ultimately I'd love to take part in the painting competitions like Monte San Savino, Crystal Brush and World Model Expo. I've not yet been able to compete at any of these events or any similar to them which is saddening as since I started painting I've wanted to see the incredible works of major artists up close and meet friends in the community in person. I never focus on winning competitions I focus more on enjoying painting something to my highest standard, but winning anything at one of these events would be a dream!
Where to follow him?
His Instagram : https://www.instagram.com/Will_Paints/
His Facebook : Will Paints
Will Paints is using the following Redgrassgames painting tools:
More miniature painting tools at Redrassgames