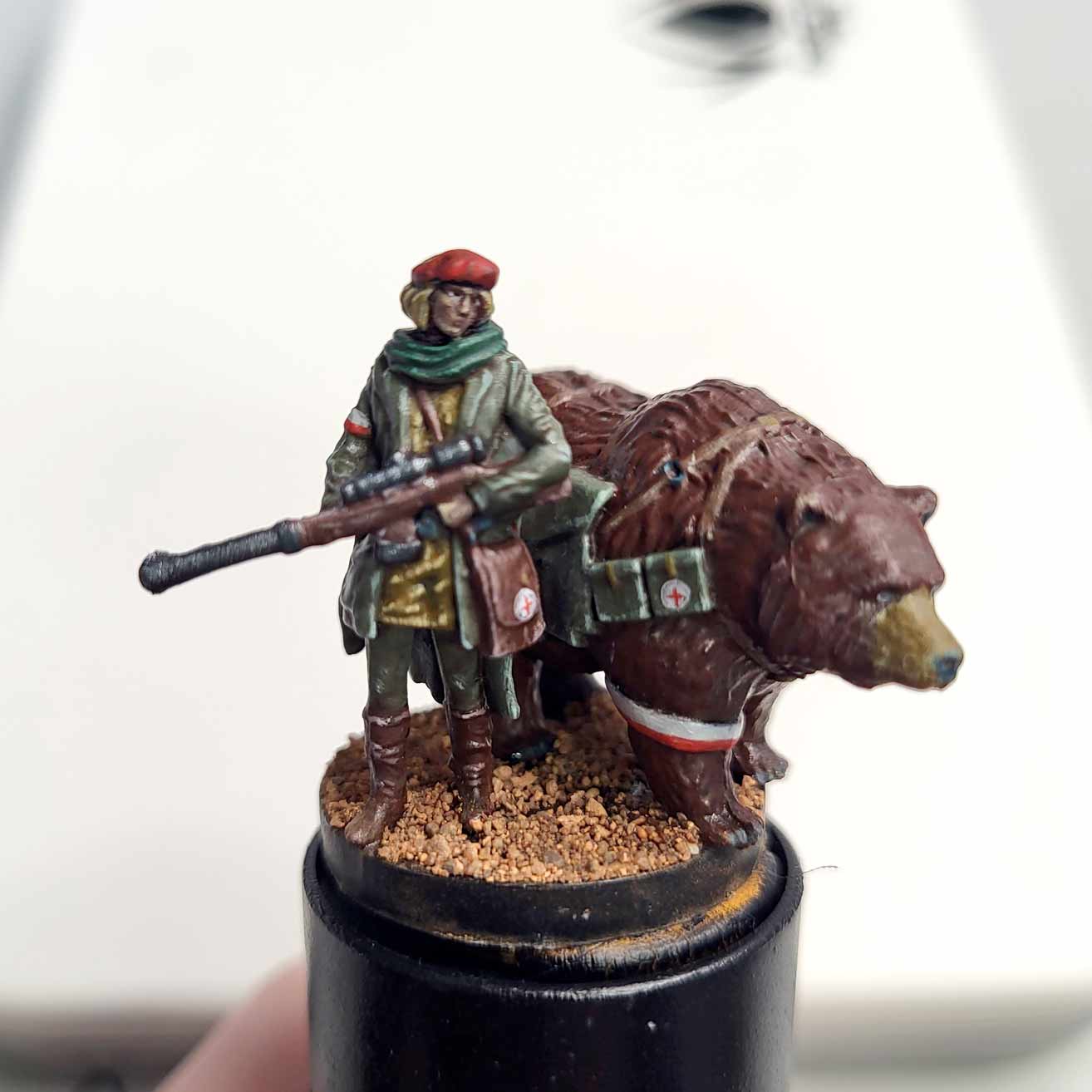 Paint Minis Faster. In this tutorial we are painting 'Anna & Wojtek' from the 'Scythe' boardgame . Unpainted wargame or boardgame miniatures can be quite the chore! The small scale can also be a challenge, even for experienced painters, to get the most out of the sculpts. And there is usually so many of them! How to tackle so many, so quickly? However, and especially for beginner painters, using the core mini painting techniques still helps! Follow our guide for some tips, and master your minis every time. Once you're done, try our other articles, too.
Paint Minis Faster: GETTING STARTED
Step one, no assembly necessary, so you can't really go wrong here! Many boardgame miniatures are one-piece sculpted and ready to play out of the box. Although, for wargamers and painters you may fine the bare plastic figurines need a lick of paint! Any minis you might get in your boardgame can easily be glued with superglue, regardless of what material they are made from! My RGG360 painting handle came in handy to hold Anna & Wotjek during the painting session without having to touch parts I'd painted with my hands.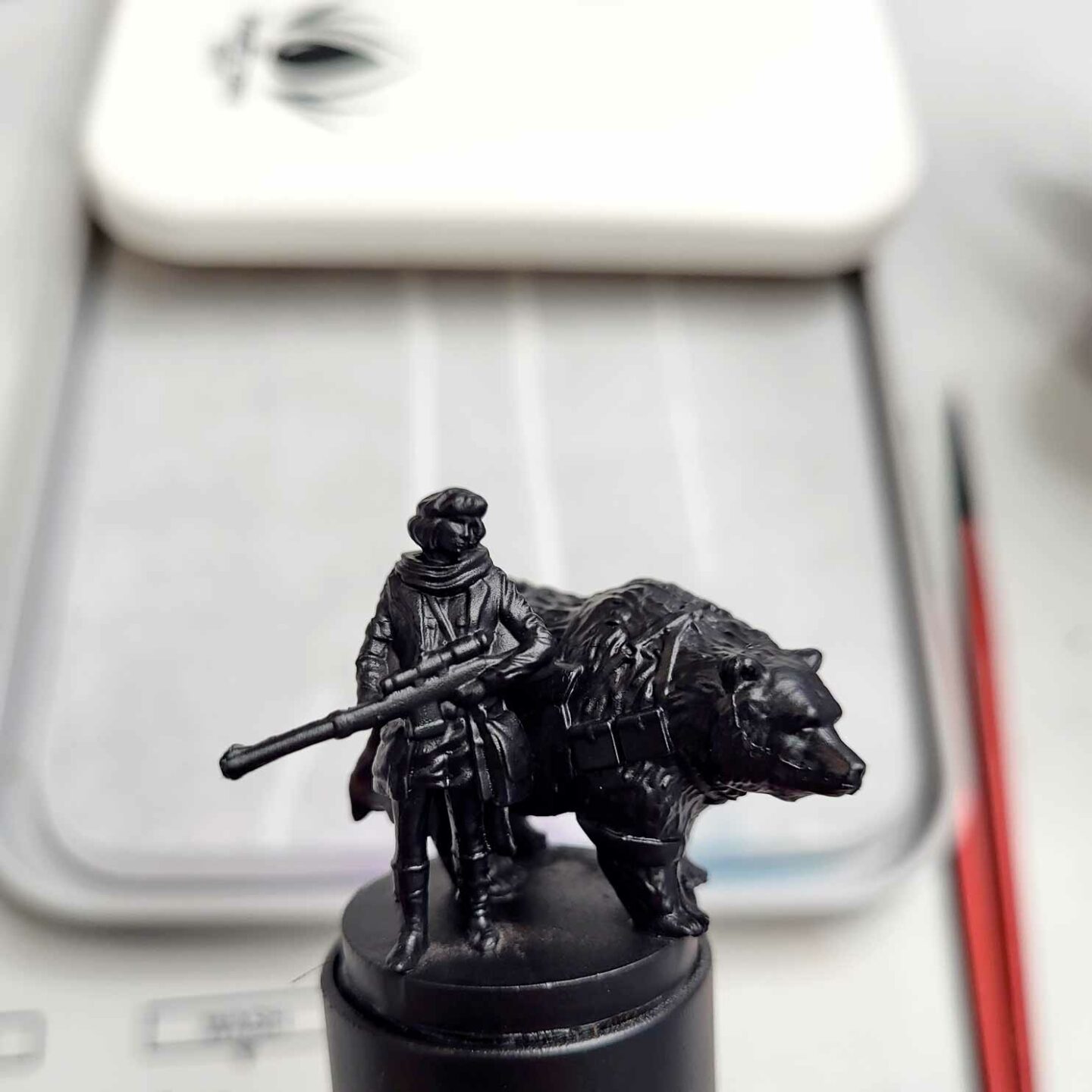 Next, I primed the model. Your ideal priming layer should is thin so details aren't obscured, but helps your following acrylic layers stick to the model. I spray a black primer, but grey primer is good for detailed character models. White primer is good for bold primary color schemes. You can also mix primers! Experiment to find your favourite. Personally wherever possible I like to use 'rattle can' primers as they are quick and easy. They give a thin, consistent coverage which is also fast. If you do prime by brush, try to keep the layer thin, and use a brush like the RGG Size 2 as it has a big belly and covers more model faster. You don't want to get burnout just doing the priming coat! Remember: work smarter, not harder.
WHAT DO I WANT TO ACHIEVE WITH THIS MINIATURE?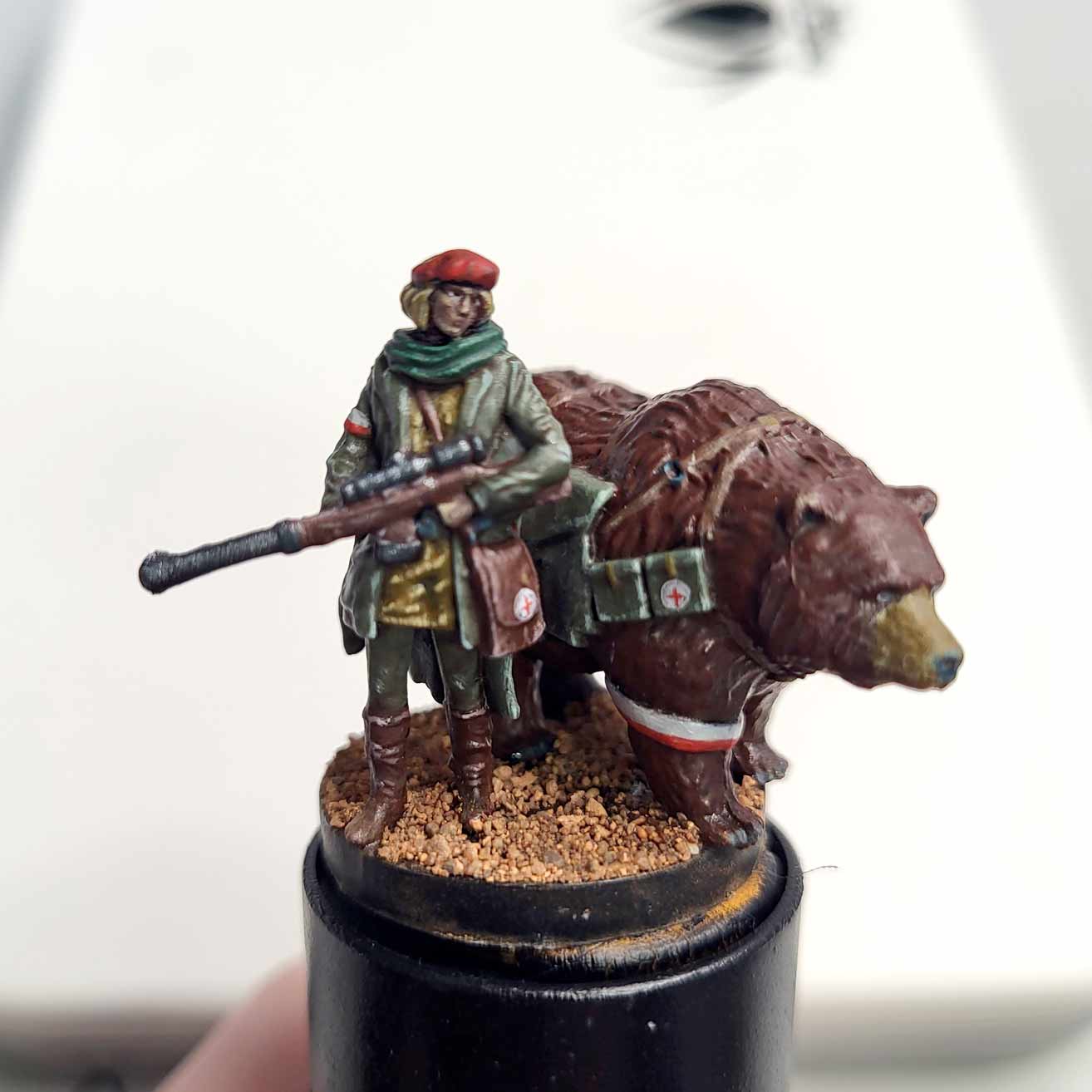 Always start a project by thinking 'what do I want to achieve?' Painting is not just a physical experience, there may be multiple considerations. But there should always be an end-goal (e.g. battle ready). For me, I wanted Anna & Wojtek to stand out on the game board despite the small scale, but whatever scheme I did should be easy for beginner painters to use, too.
Paint Minis Faster:
Basecoats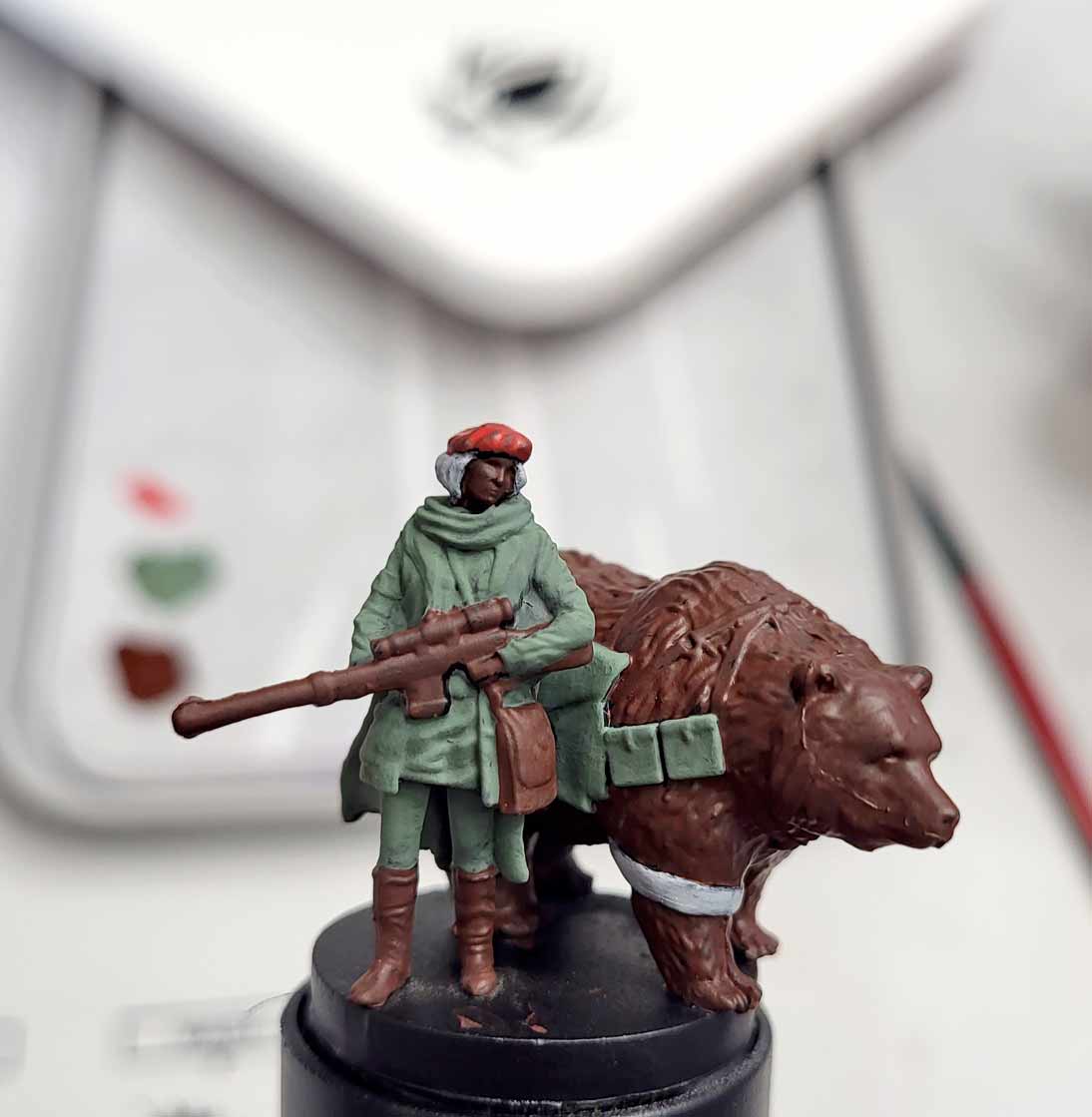 Start by picking a scheme. I went with olive greens and leathery browns here. This is not only game appropriate but also pragmatic. Research online for scythe artwork and you will get loads of inspiration and reference material. The post-WWI military setting also makes these colors very appropriate. As an added bonus the brown of Anna's boots and bag can also serve as Wojtek's fur coat! Again, it is all about working smarter, not harder. 
A Redgrass Games wet palette is also incredibly helpful, regardless of your relative skill level. It helps keep that acrylic paint workable longer whilst out of the pot! I always recommend not painting straight from the pot as the paint needs thinning and mixing. That is especially useful here as we move from darker greens to eventually tans and pale yellows for highlights. We can blend old and new colors together on the palette for better color transitions without having to try (and possibly fail!) on the model itself.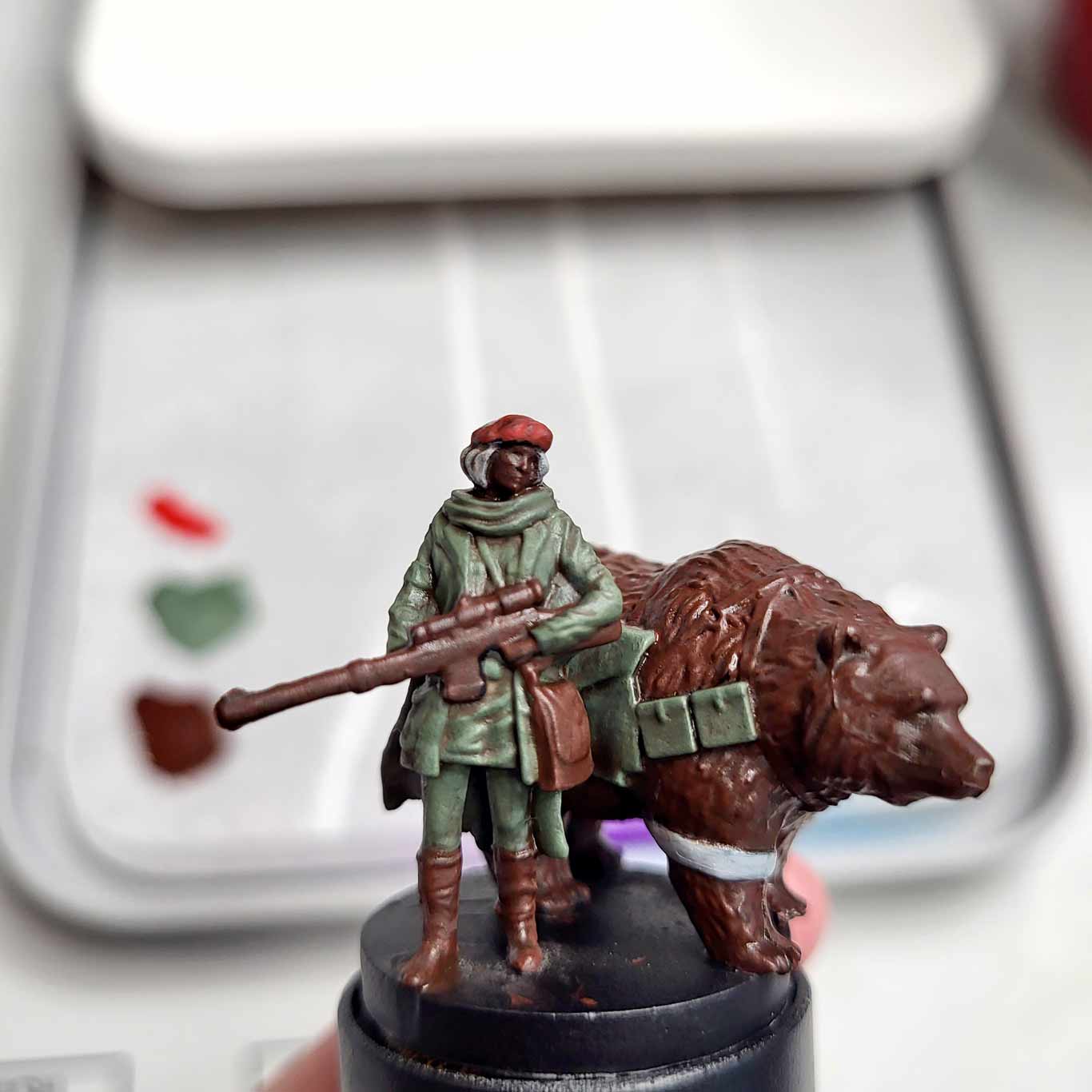 Beginner techniques need not be abandoned once we are more proficient in painting. They're useful to learn first for a reason. Washes and shades teach us about shadows and definition, they make great contrasts and that is so important in miniature painting. Washes also tend to be very beginner friendly, even if you use them years later as a pro! When used correctly, they settle in recesses and panel lines, and can help give an effective 'pop' to the model faster, and that is important when you're on a deadline to a game. You can see the brown wash I have used here has added lots of definition back to Anna's uniform as well as Wojtek's coat. And it took barely any time or skill! You do have to be patient with drying times, though. Let it fully dry, and for best effects, apply two layers of wash over two thinned layers of basecoat. Ordinarily I like to make my own washes from paints, but you can buy pre-mixes from several paint companies, too. A good brown wash is so versatile as it can shade a variety of colors for you. Well worth the investment!
Paint Minis Faster: Highlights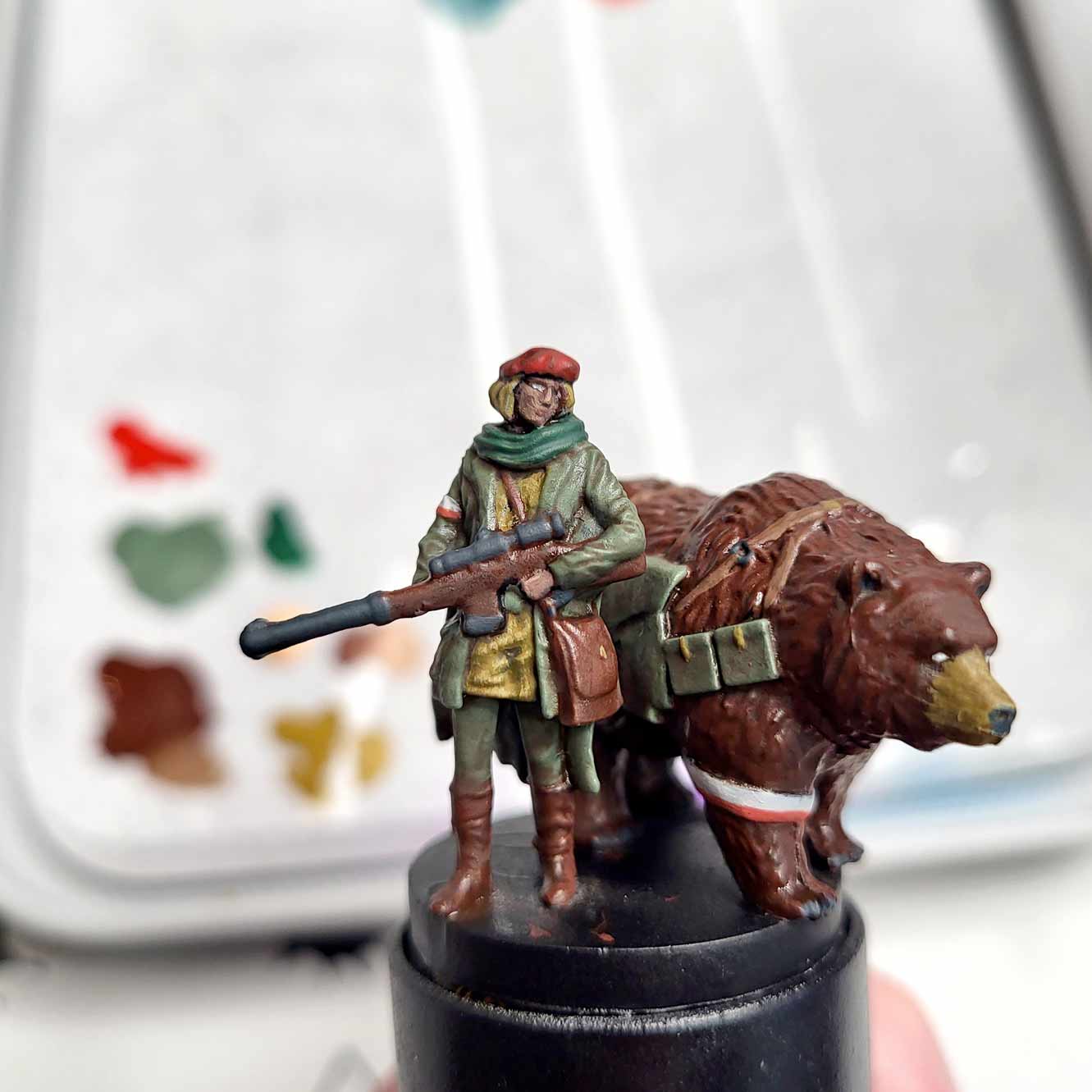 Contrast in miniature painting is important. To contrast the recess shades we need 'pops' of highlights! Contrast is generally a desirable trait on any boardgame table! For Anna & Wojtek, we want pale bright colors as edge highlights to help some of the features stand out better. For instance the lapels of Anna's coat, or the flaps on Wojtek's webbing pouches.
Edge Highlighting can be tricky, but thanks to a few tricks here, it should be easy enough for us to hone that skill.
Angle your brush approach toward the edge you wish to highlight- the more acute, the thinner the edge will be. Thin your paint but only a little, so it flows easily and consistently from your brush strokes onto the edge in question. Finally, apply the highlight with the side of the brush, rather than the tip. This will ensure a more consistent and smoother highlight. Using the side can negate the worst effects of shaky hands, too!
Lastly is the key details that help finish the piece. I used my 00 for all the sharpest edge highlights or spot highlights. For example I used a small dot of pale white and then off-black for the eyes. Also I based the model on some scale-appropriate modelling gravel to give it some realism off the gameboard. For a bit of fun, and because I had the time, I also added some simple freehand details. A white circle with a red cross and there you go, a first aid kit! Simple! I also added Wojtek's name to one of his saddle bags- and promoted him to 'Sgt', like his WWII historical counterpart. These kinds of details aren't necessary, but they do make for a more interesting piece, so they are worth your time doing, I feel.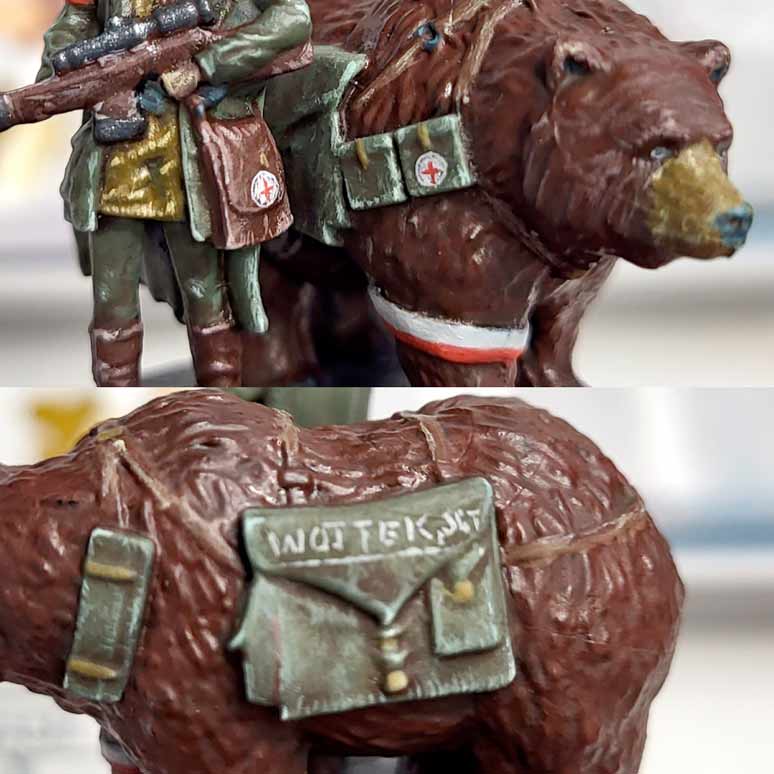 Paint Minis Faster: COMPLETED PIECE!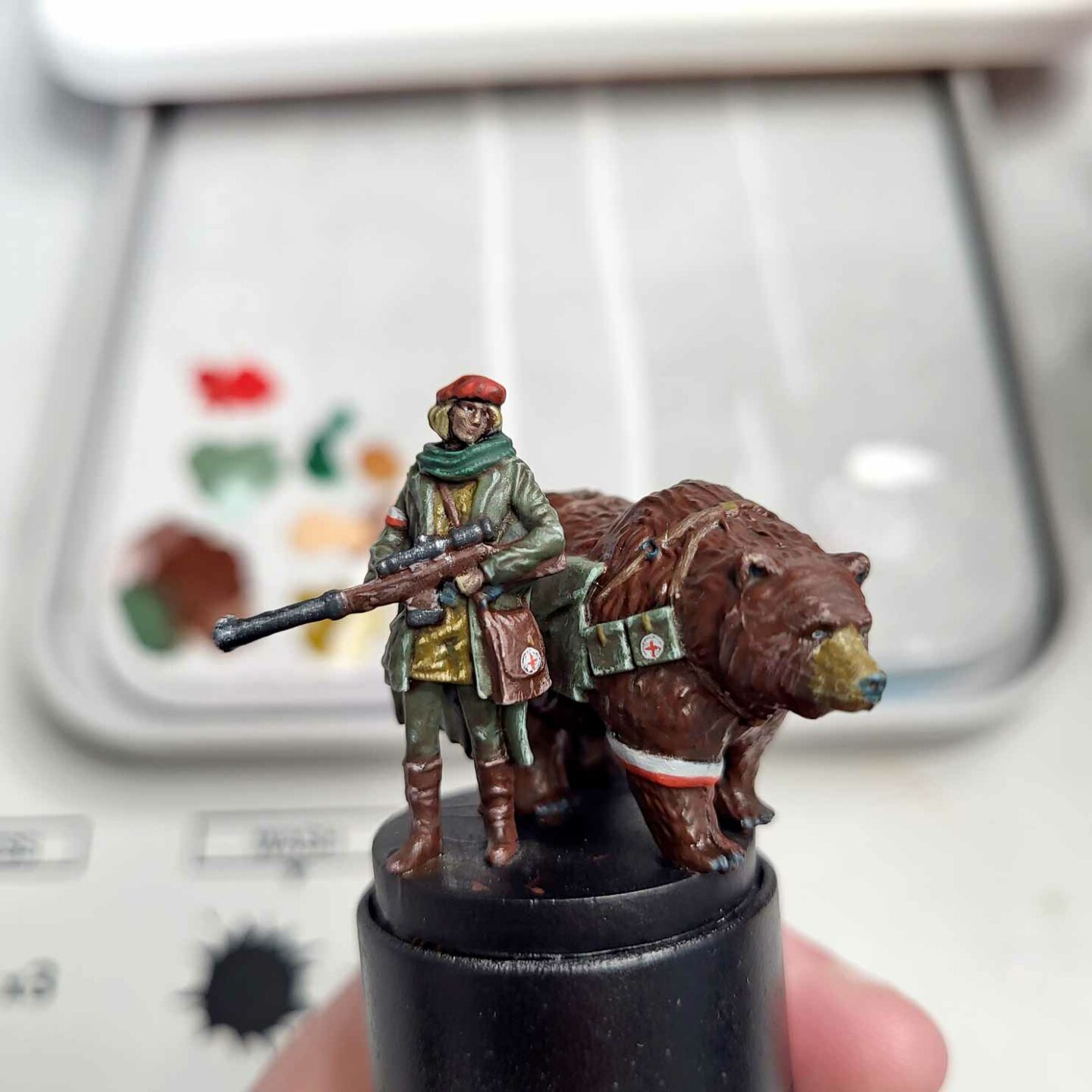 And there you go! Anna & Wojtek are ready to protect Polonia. A lot of today's tips would apply to any and all boardgame models you paint! Master these beginner tips and you're ready to paint the whole box in no time! – James.