PAINTING MINIATURES SPACE ELVES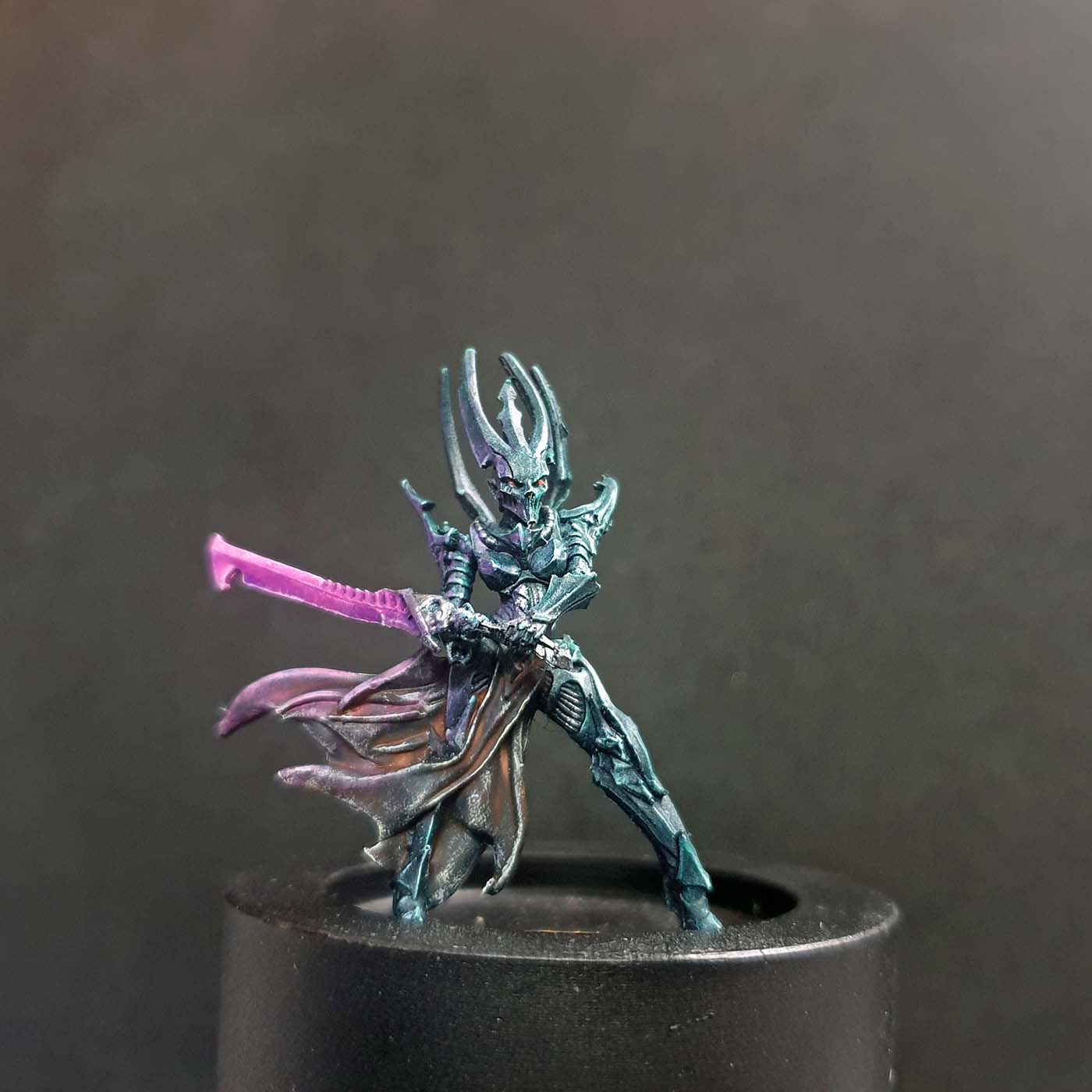 Greetings! In this tutorial " Painting miniatures space elves ", we are looking at the sinister void raider space elves from our friends over at Raging Heroes. Raging Heroes produce all manner of fantastic sculpts suitable for a variety of setttings, and we were particularly taken with these twisted galatic pirates! These miniatures are bustling with detail, so with some canny tips you can paint them effectively.
PAINTING  MINIATURES SPACE ELVES: GETTING STARTED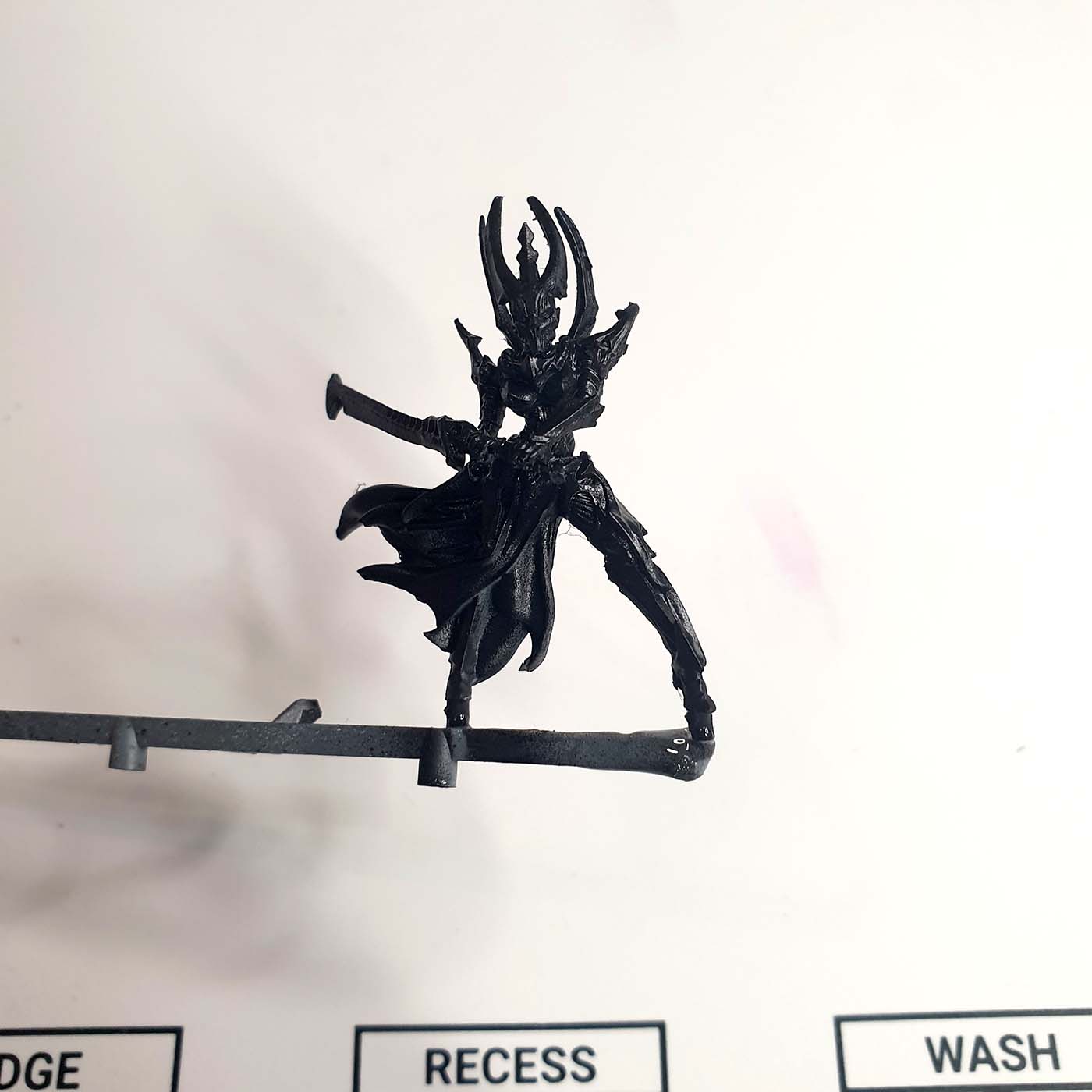 I began by priming the whole miniature in a black spray primer. This is by far the most efficient way to prime a miniature, being both quick and easy to do. Pro-tip: stick intricate models for priming onto a straight piece of old sprue or brass pinning rod. It means I can access all angles of the model with the spraycan without obstruction. Especially useful, too, if you haven't decided on your basing yet or don't have a priming stick! An old wrapping paper tube and some putty can prime multiple models.
WHAT DO I WANT TO ACHIEVE WITH THIS MINIATURE?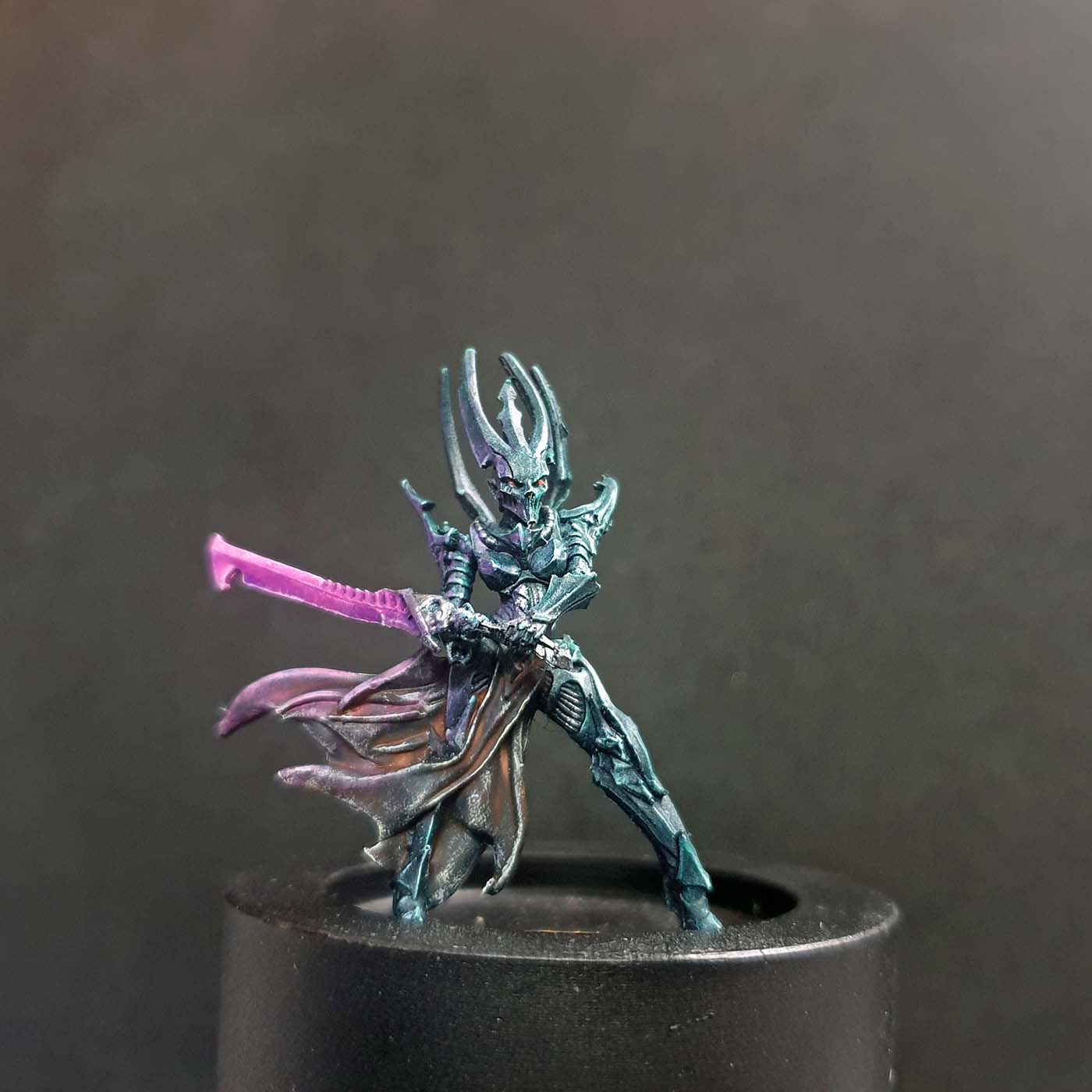 With such a delicate model, it would be very easy to lose those with the wrong paint scheme. Equally, I wanted a paint scheme that echoed the dark and cruel nature of the void raider space elves Raging Heroes had sculpted. I decided to do a dark green armor, but really vibrant, sharp highlights to help define the details. Being predominantly one color meant it was less fatiguing for a whole squad or army, too.
Here I wanted the eye lenses and the two-handed sword to stand out against the rest of the mini. The tattered and dusty cloak would stand in contrast to the bright magenta sword. Magenta was a color I chose for its synthwave and alien connotations perfect for void elves. The lenses would be a dark red, a traditional warning color humans have associated with danger!
PAINTING MINIATURES SPACE ELVES: ARMOR & BASE COLORS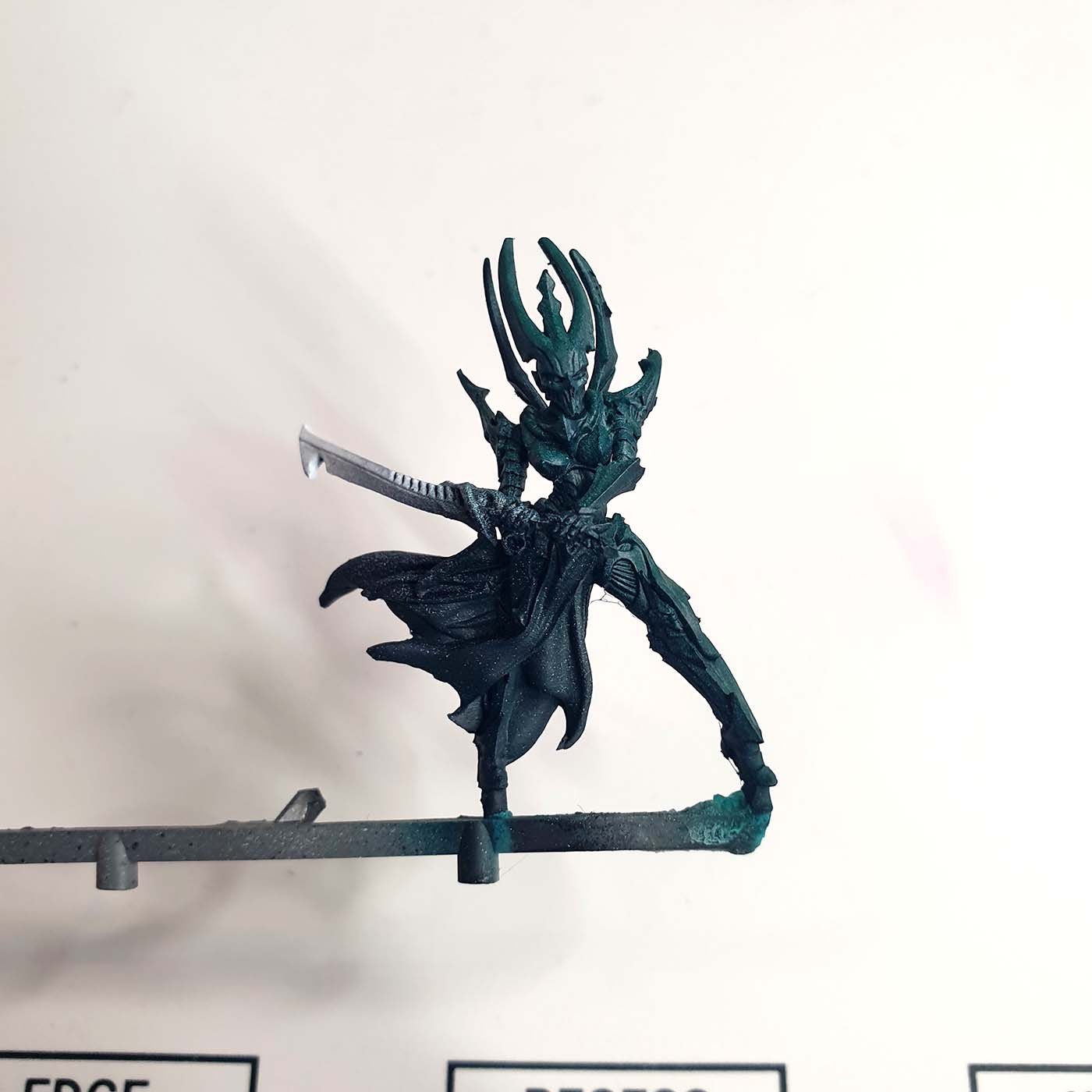 With this scheme I didn't use a zenithal highlight priming method, as the dark armor color would make such a technique a waste of time. Instead I used a dark green-black basecolor, applied in several thin coats. I did however use a white ink mixed 50:50 with flow improver to base the sword. As I would be using a vibrant fluorescent magenta color, it works best over a white basecolor. The process is very similar to the one I did for the plague doctor tutorial here. The tattered robe fluttering behind the raider I painted with a charcoal gray basecoat. I dotted the eyes with a crimson red. For such small precision details a fine-tipped brush is essential, so I recommend dotting the eyes with a size 00 brush!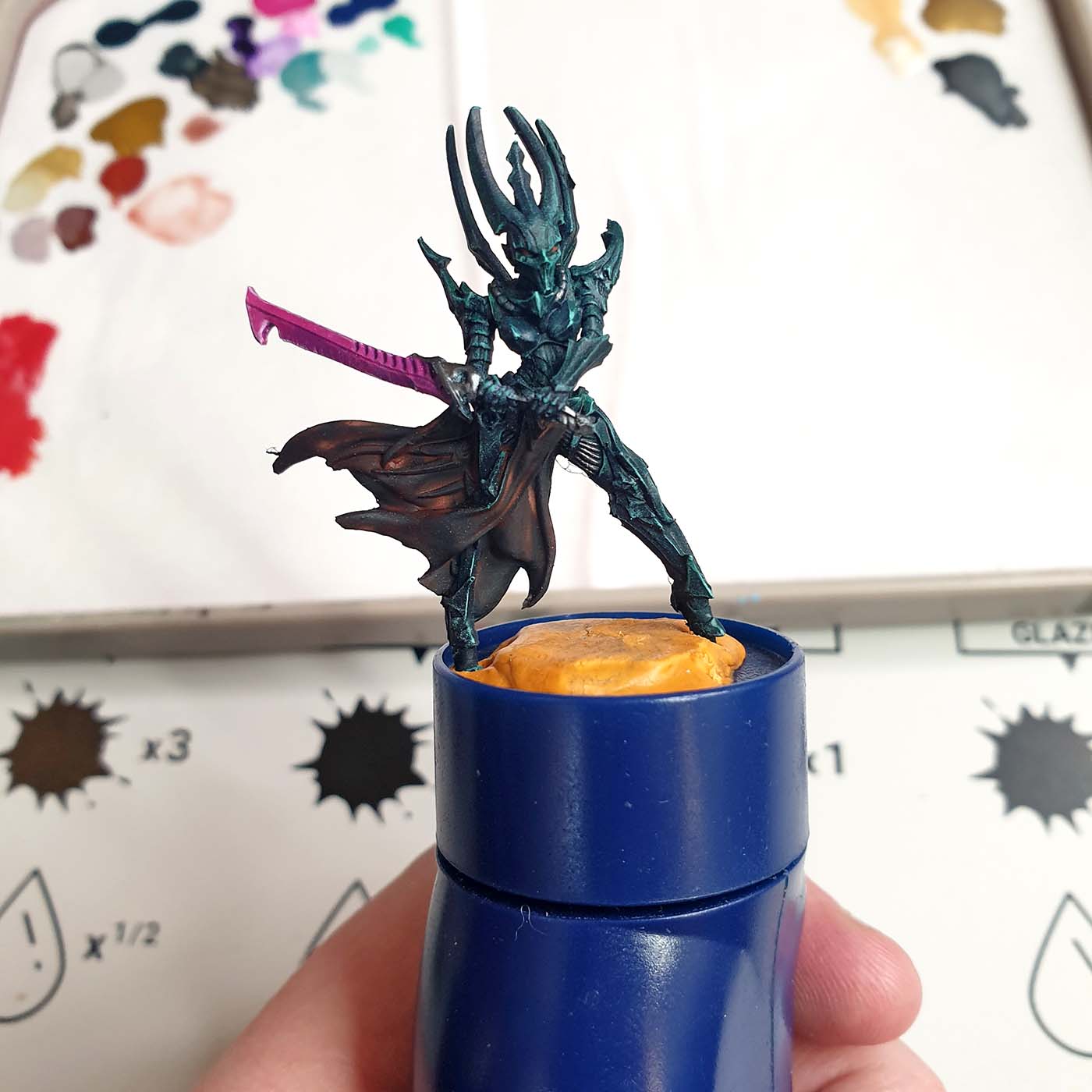 After applying the magenta to the blade, I recessed it and the armor with a purple shade to help deepen the darker areas, and then reapplied the green on some of the bigger armor panels to help the highlight transitions. I used a red-brown wash on the cloth to make it look stained and dusty, in keeping with its torn appearance. With such a limited palette, each step was relatively straightforward, but it was important to ensure each color was doing a good job of 'popping'. Across a squad or army it needs to be simple but effective. I decided to add some 'bare' metal parts so used a silver metallic to help some of the cabling look more distinct, for instance. Using the new reusable membrane on my RGG wet palette stopped the metallics from seeping, which is an added bonus!
Just as it is important to define the recesses with shades, it is important to define the raised areas with highlights. Moreso on a model such as this, which is all spikes and ominous shadows! The armor then was highlighted with a pale mint green. I used the side of my size 00 brush to ensure control over which spiky armor parts were highlighted. I highlighted the lenses with a hot orange 'dot' toward the front, and a white dot at the back as this suggests a reflective lens surface. The blade's sharp edge was given a pink highlight which helped define it and the purple recesses. For the robes I used a pale gray on the extreme edges for that wasteland raider vibe.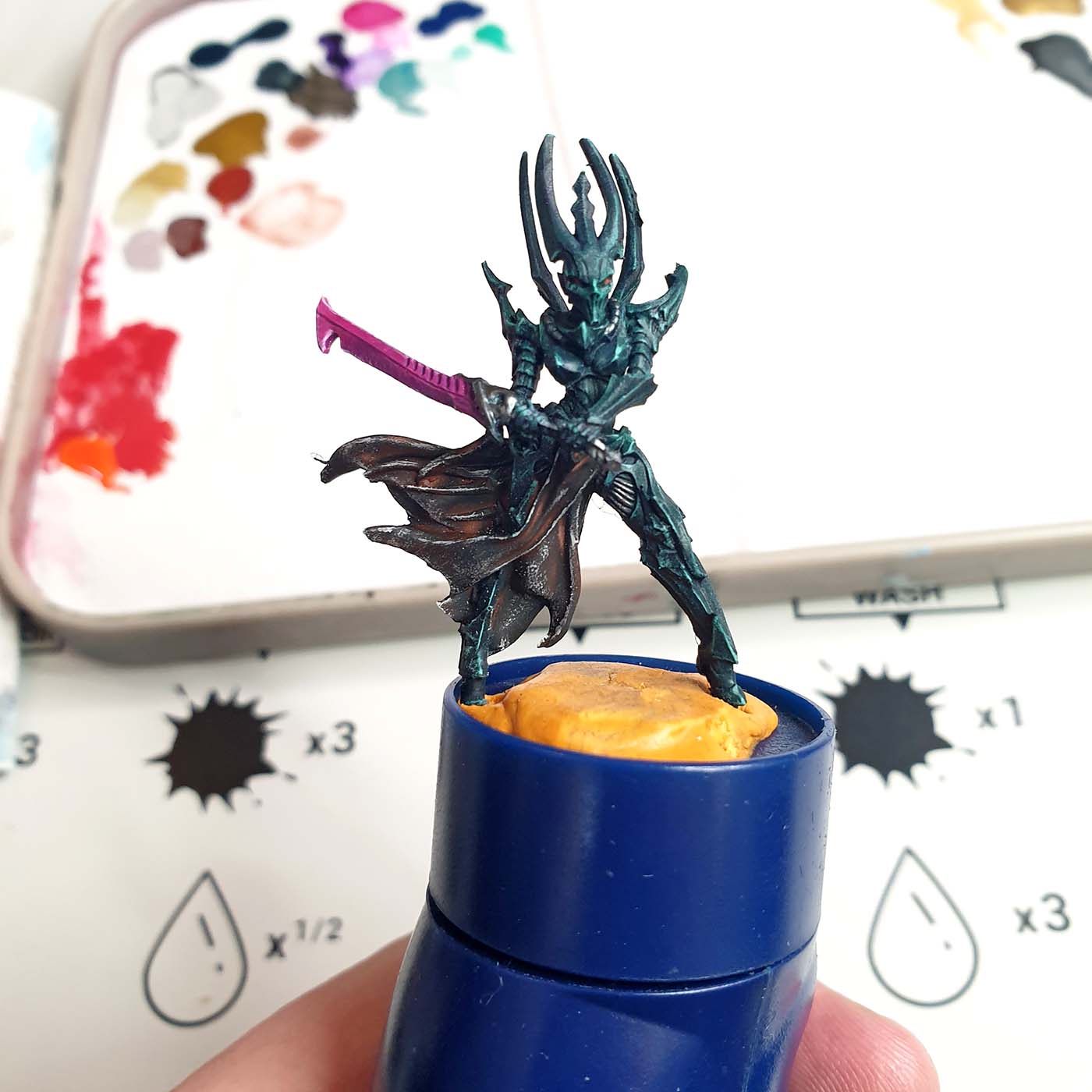 PAINTING MINIATURES SPACE ELVES: FINISHED MODEL!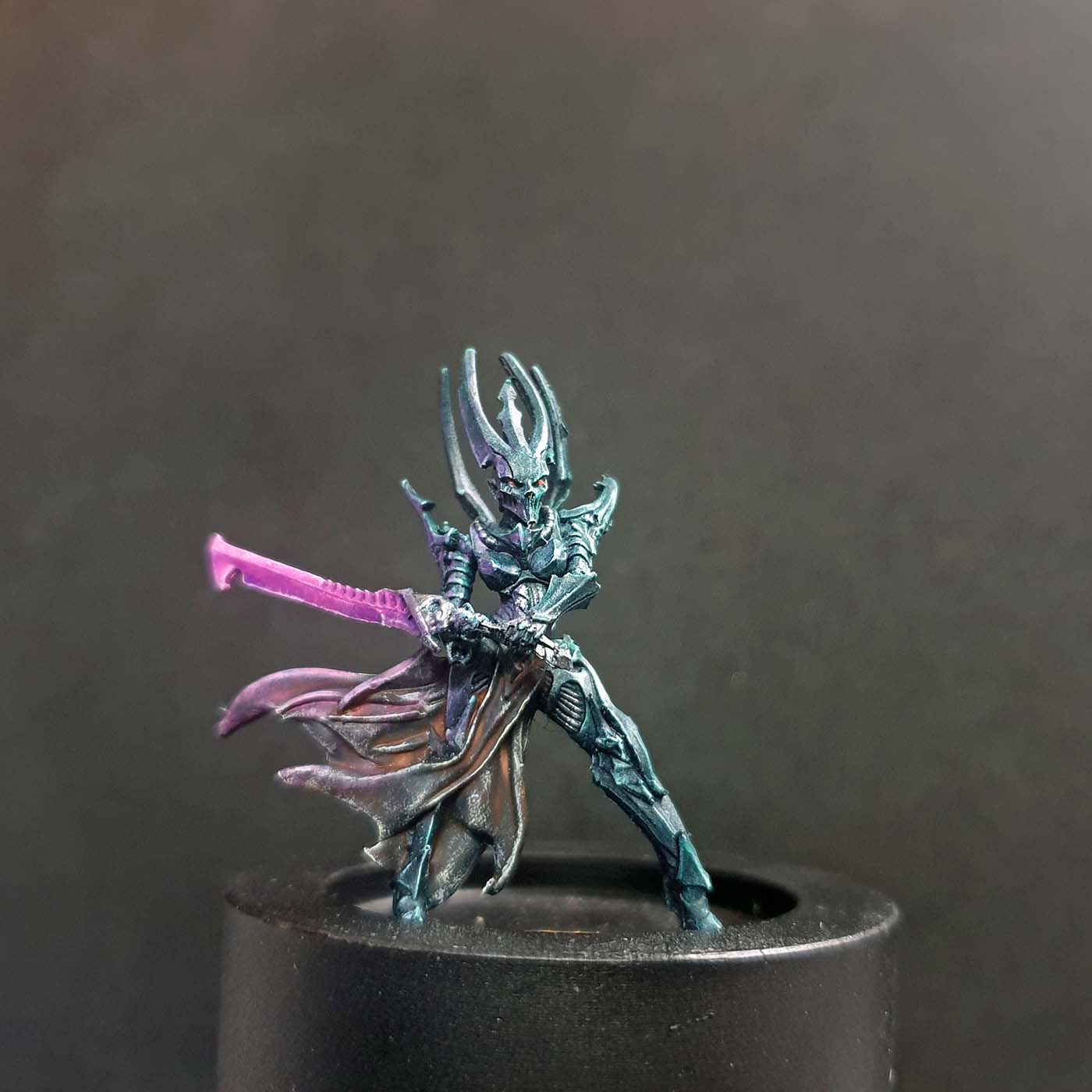 And that is about it! Sometimes a limited color palette can be very effective, especially when utilized as a troop uniform or across a whole army. These void raider space elves from Raging Heroes, with their spiky armor a sinister dark green, contrasting with the highlights, red lenses, and vibrant alien swords, are surely to be a sight on your next battlefield! – James.