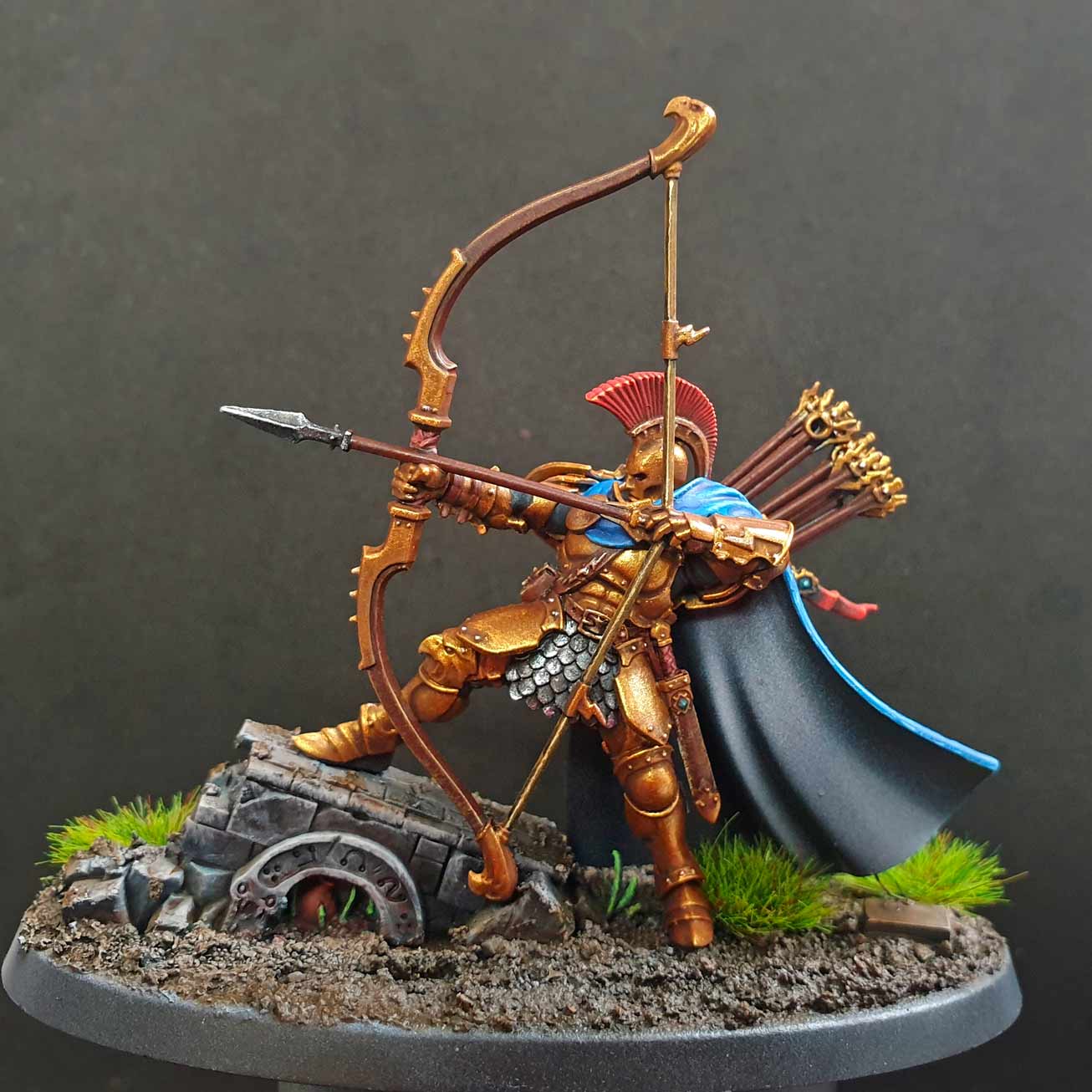 Going for gold with Stormcast Eternals
Hello! Today we are going to be painting miniatures Stormcast Eternals from Games Workshop's 'Age of Sigmar' fantasy skirmish range. Using one of the new models from 2022, the Knight-Judicator, we shall be tackling gold armor. Using metallic paints is certainly faster and more practical than NMM techniques here. Especially if you are painting an entire force! However, just using a gold paint on it's own will not be very interesting. So read on for some tips on how to do something extra special. Don't forget we have other tutorials you can read, here.
PAINTING MINIATURES STORMCAST: GETTING STARTED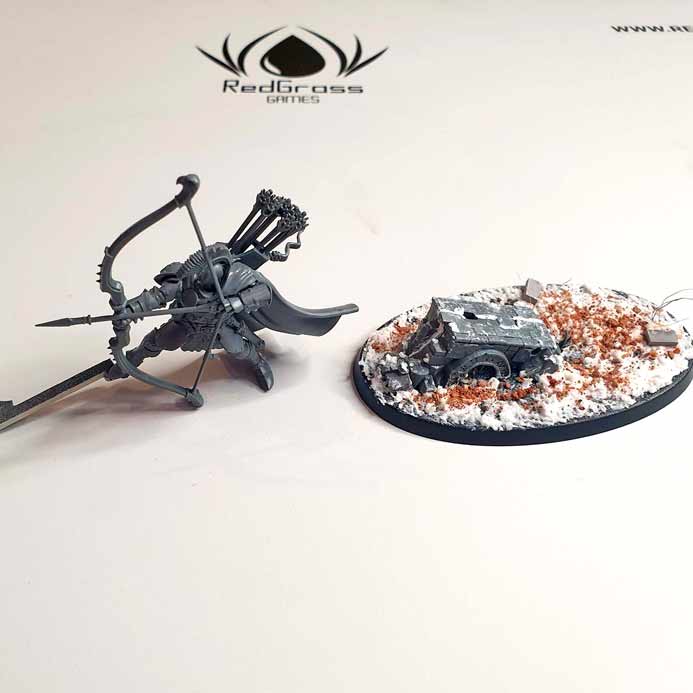 Firstly, I assembled the miniature. There were minimal mould lines to file smooth, which was a bonus! It is a push-fit model, but even so I like to affix everything with plastic cement. I used a piece of old sprue to make a DIY 'priming stick' for the Knight-Judicator. This gives me access to all the model's angles for the spray primer. Sometimes painting in 'sub-assemblies' is easier, too. And at least here, it is helpful if I have full access to the base for my priming sprays. For the base, I added texture paste around the ruin, along with some scale-appropriate gravel. Once set, this can all be primed and painted like the plastic miniature. Where the join was more noticeable between the two halves of rubble, I gap filled with plastic putty. Again, once cured and primed, it is indistinguishable from the plastic miniature.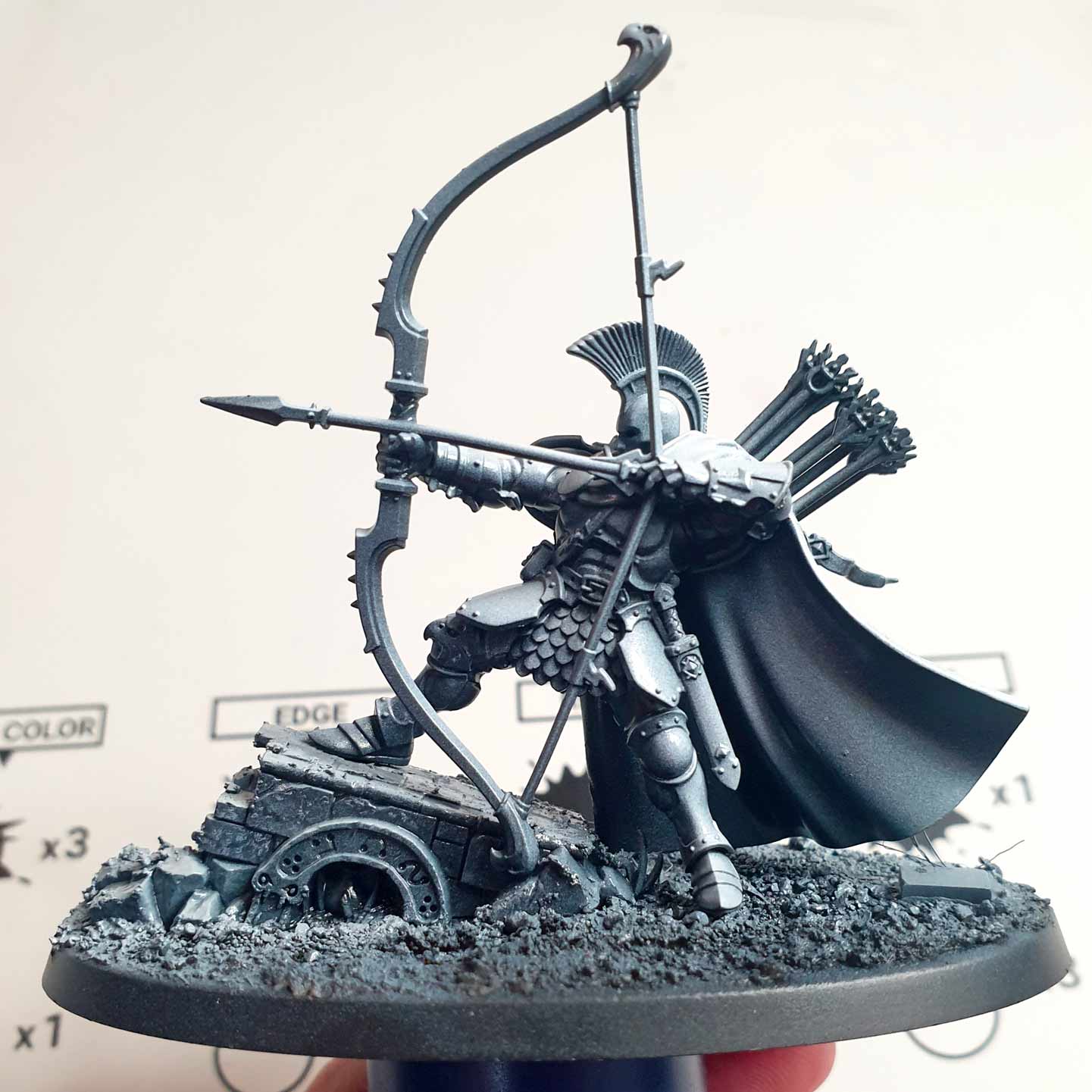 I primed the model with a black primer- using a spray can primer is much faster and easier than any alternative. Especially if you are batch painting an army of Stormcast! As an optional step, I also sprayed the model from directly overhead with white. You might have heard of this technique being called 'Zenithal Priming', and it can be really useful! In seconds you can see the values each surface has, and whether it is in full light, midtone, or shadow. I would recommend taking a photo at this stage, as I have done. You can then use this as a reference throughout your painting process. Not sure where to place a highlight? Your zenithal photo can guide you! Here there is a really obvious 'line' on the back leg showing shadow and light areas, for instance.
If you don't have any spray paint, or if you don't use an airbrush, that's ok! Use a brush like the RGG Size 2 to apply your black/white primer. Take your photo under a light, then edit it on your phone or photo app for maximum contrasts. You should still see where the lightest areas should be. Lastly I sealed the priming layer with a coat of varnish. Between this and the white I was hoping to get a strong gold once I applied that over the top!
WHAT DO I WANT TO ACHIEVE WITH THIS MINIATURE?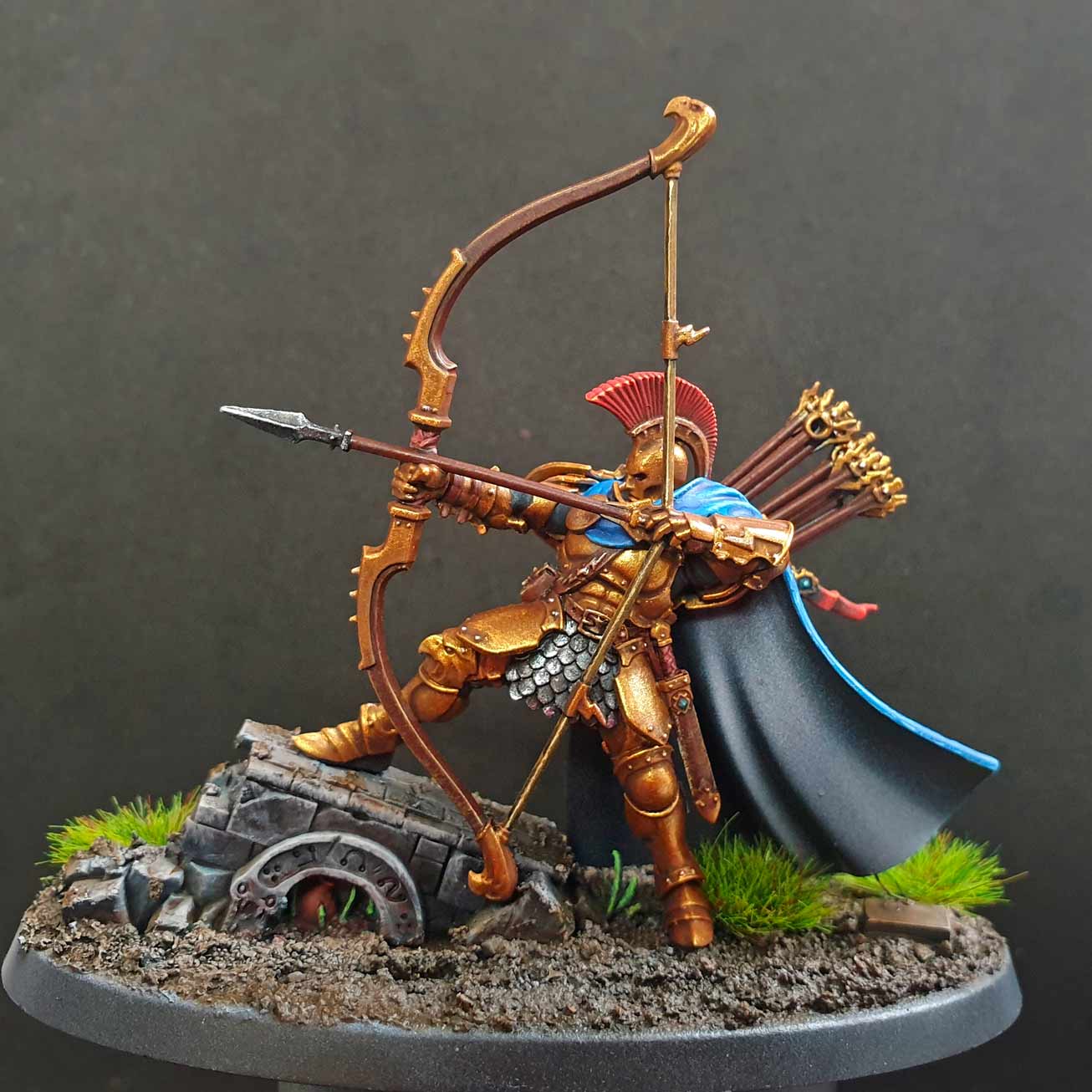 With any painting project, it is important to think ahead and establish what goals we want to aim for. Try to set realistic and ordinary goals for your scale model so it feels good when you achieve them. Here I wanted an effective gold armor that is easy to replicate- either across an army, or by others who want to paint an army of Stormcast! It should also work with other predominantly-gold armies, too, like Custodians.
What is going to be the model's focus? Here there isn't a face, per say, to draw the viewer's eye. However, the model itself has a very dynamic pose, and the armor of Stormcast Eternals is very big feature of their design. Looking at the helmet and cuirass especially reminded me of Ancient Greek hoplites, so I found images of them online to be very inspiring. Movie stills from films like '300' or 'Immortals' can be good reference material. I wanted a rich gold, with things like the helmet crest being a red accent. If you wanted a paler or brighter gold scheme, try using a predominantly yellow-gold basecoat.
PAINTING MINIATURES STORMCAST: ARMOR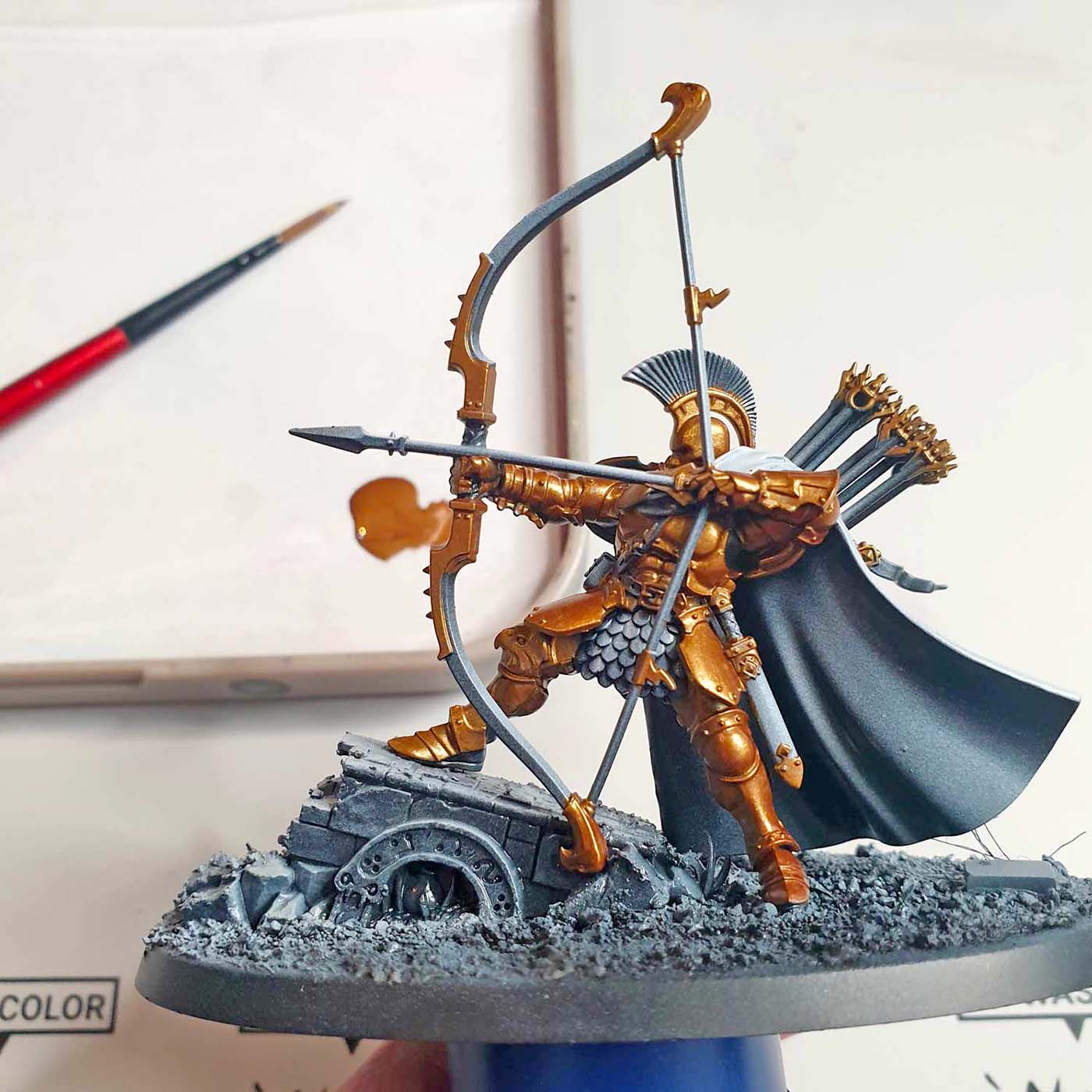 Next, I applied my gold base color. Inspired by my Ancient Greek hoplite searches online, I wanted a rich red-brown gold, almost like bronze. This would be a good choice to work up from with my highlights later. I actually applied 2 thin coats of this as one wasn't quite enough for the smooth & consistent coverage I wanted. 
Just make sure you keep the layers thin! A basecoat metallic like this can be quite thick straight out of the pot. Shake your metallics well, and mix with a thinner on your palette, to ensure this. You can thin this with a little water or glazing medium. Be careful not to obscure details! To help define those, I used a dark brown wash all over the armor panels. This collected in all the recess and shadow areas. It did also matte the areas I didn't want too, but this would be negated later.
I recommend the RGG size 2 brush for basecoating jobs like that, as it has a big reservoir (or 'well') but a good point, which means I have the time and manoeuvrability to reach the hardest spots! And a Redgrass Games wet palette is invaluable to keep that acrylic paint workable whilst out of the pot! With the new membrane, too, using metallics on it is no issue at all!
BLOCKING IN OUR BASECOATS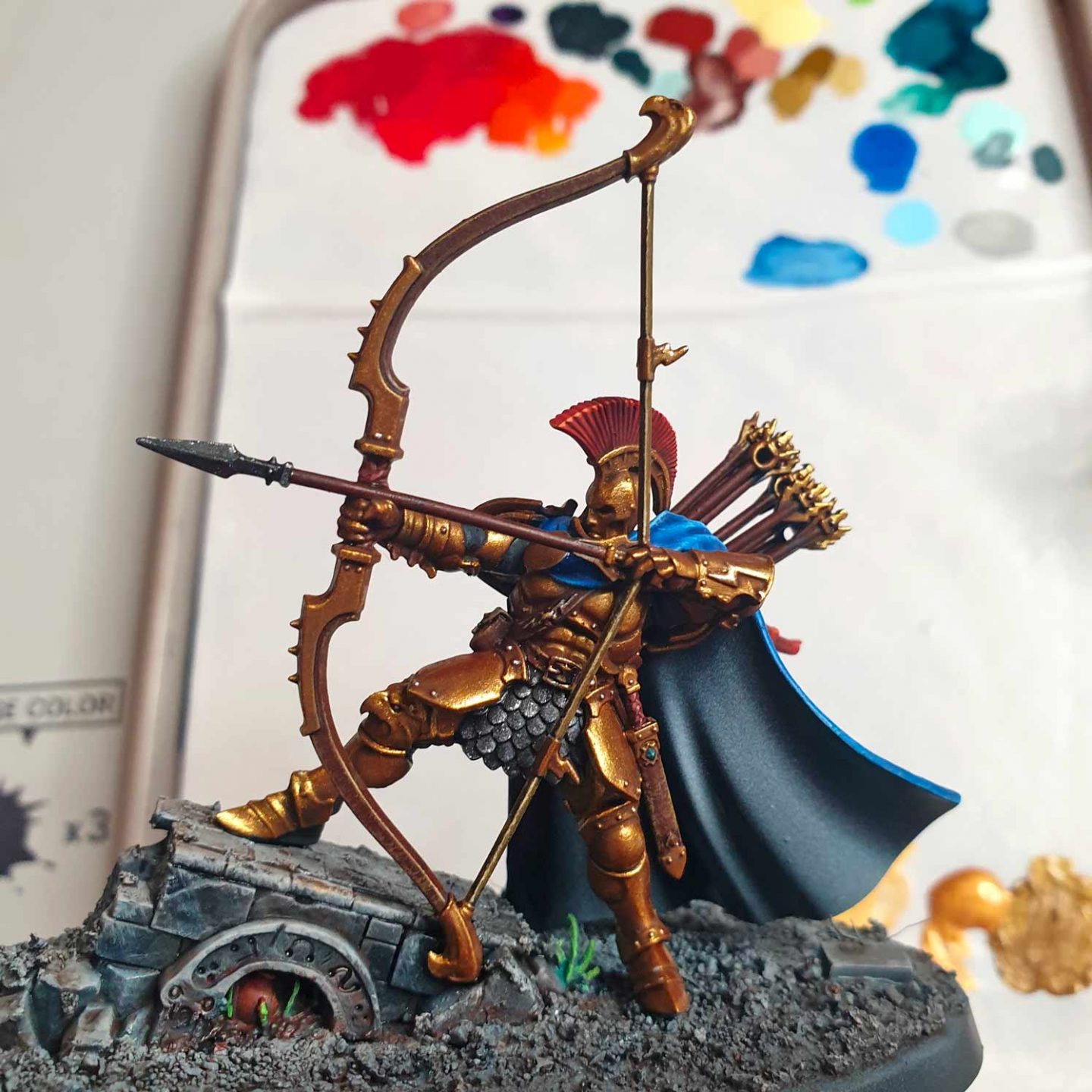 Thinking 'what colours are appropriate?' is a good question to ask at this stage. For the cloak, I chose a mid-tone blue which is regal and cool. And so, it also contrasts with the warm reds and armor. The boxart version also had a blue cloak, and this can provide inspiration. This is true even if you devise your own homebrew schemes, like I normally prefer to do. Cherry pick whatever inspiration you can, from wherever you can, for your projects!
A red-brown for the leathers, and wood, tied-in with the rich earthy gold vibe. To break some of this up, however, I did also use a cold steel for areas like the arrowheads and the scalemail. Concerning visual interest, I put some greenery on the base, and a blue-gray wash for the stones. For smaller parts like the belt details I used the Redgrass size 00, as I wanted finer control. 
PAINTING MINIATURES STORMCAST: DEPTH IN SHADOWS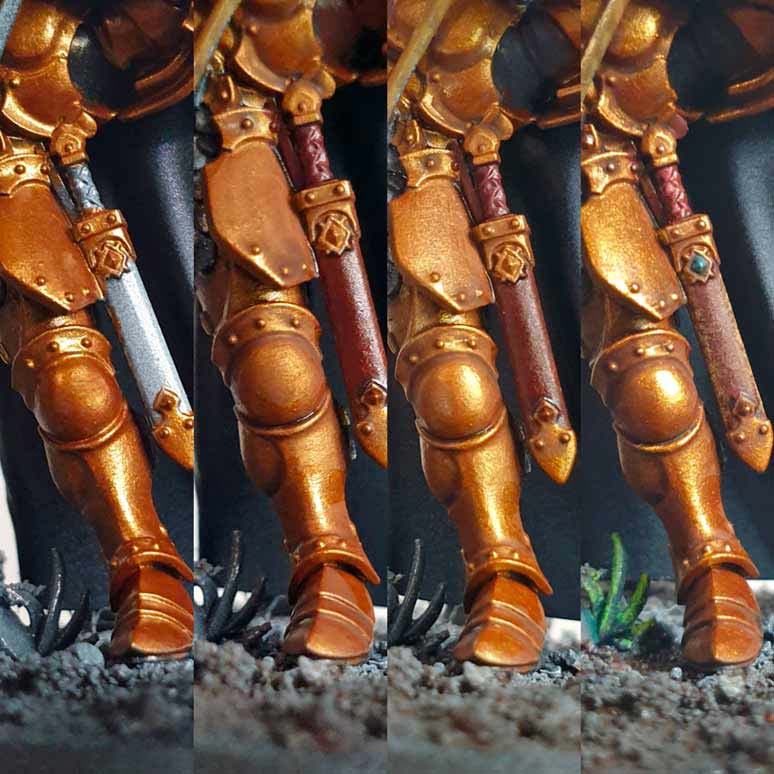 Recess shading is a method to add more depth to a color by exploiting the recesses in a model. For the Knight-Judicator, it is the fluting and panel lines on the armor. The metallic gold on its own is too shiny to offer much definition or shadow, but the umber wash has helped. The downside here is that the wash is matte, so we need to bring back the shine on parts that should be glossier. This is readily done with our first and second highlights. For other parts of the model we have washed, such as the red plume or the cloak, it is less of an issue because of the material we are trying to simulate. A woven cloak or horsehair crest shouldn't have the same shiny finish as godly celestial armor!
Lastly are the key details that need highlights. For all that distinctive metal, I want sharp shiny edges, so I will use my 00 brush. Using the side of the brush, I edge highlighted all the ridges in the armor with a light yellow gold. For more 'pop', too, I used a bright silver for the rivets on the armor plates. On the scalemail I also highlighted some of the scales with the same silver. This gave the overall effect of varying the mail.
But for the wood and leather, I used a tan highlight, and then a tan mixed with pale yellow for some of the sharper edge highlights. On places like the pouches and scabbard I did this with inconsistent, 'scratchy' brushstrokes. This adds texture and suggests the leather is cracking with age.
For the red plume and quiver pennant, I just did a little bit of orange-red as spot highlight. Too much and it would shift the overall color into orange, which I wanted to avoid here. For more discussion on the difficulties of painting with red, read this.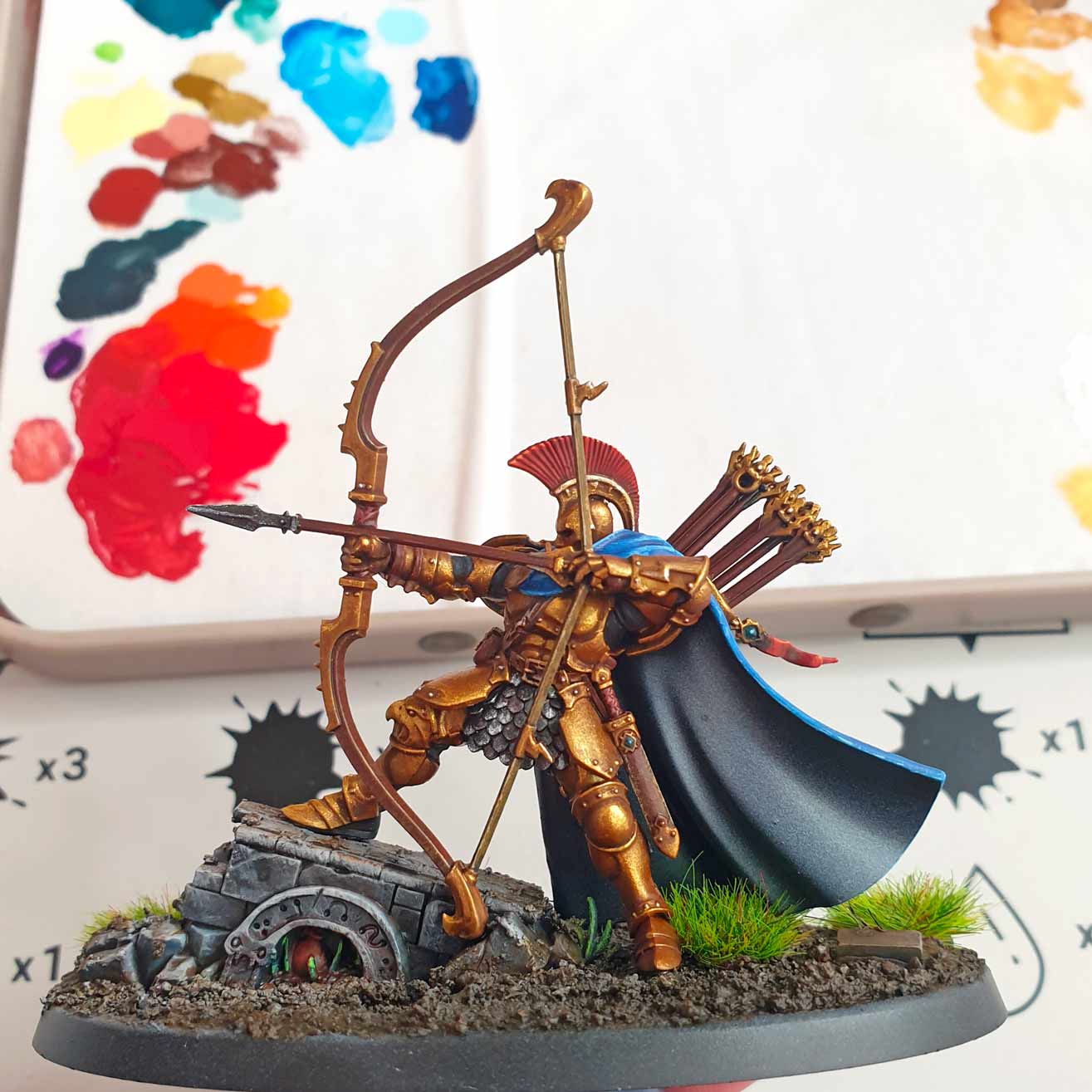 PAINTING  MINIATURES STORMCAST: COMPLETED PIECE!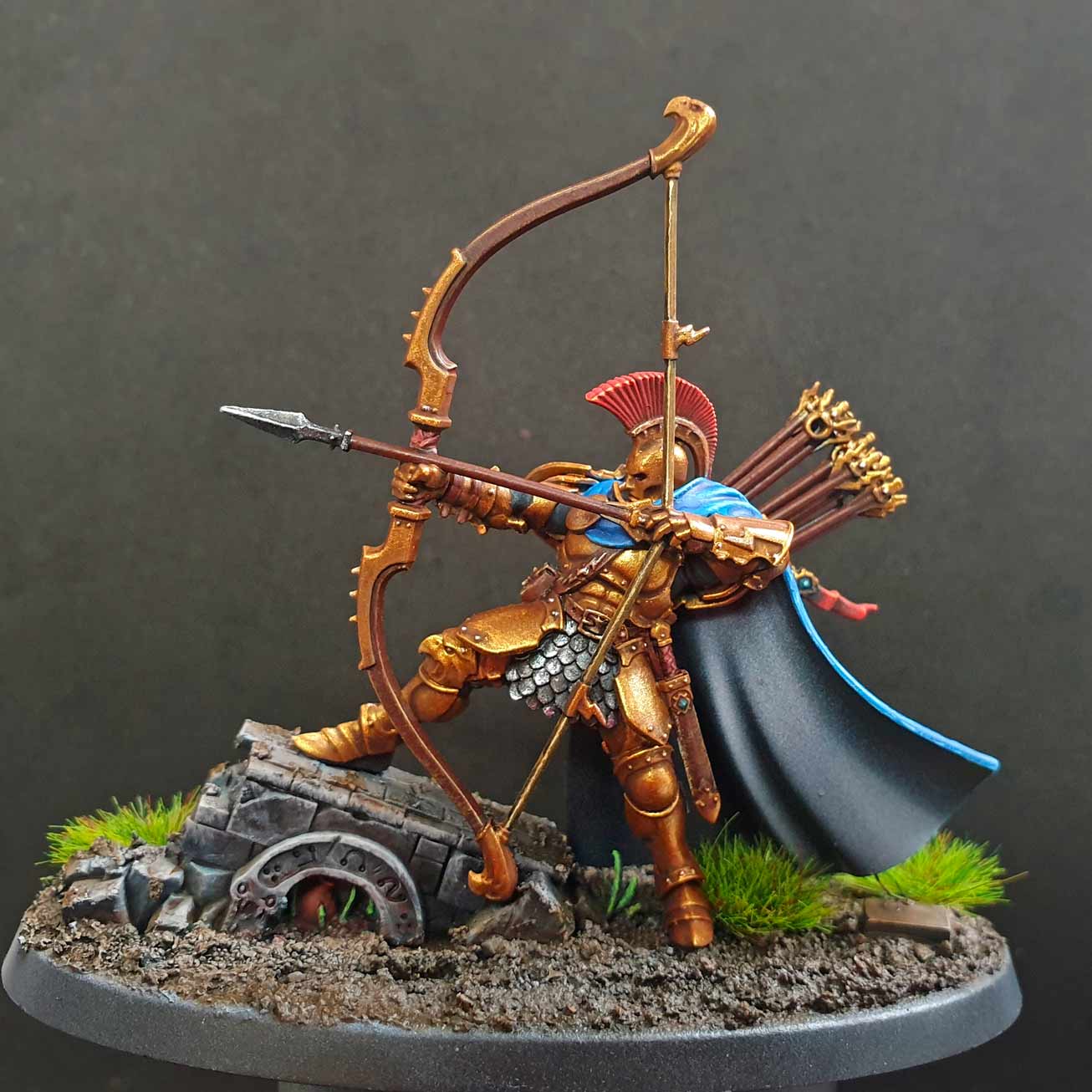 There we have it, the Knight-Judicator is ready to battle the foes of Sigmar! This a very satisfying model to paint. And it should still stand out on the battlefield even with other gold armored Stormcast Eternals. If you want brighter golds, aim to include more yellow-golds into your recipe. As you can see, I have also added some mud colors and grass tufts to the base. This helps 'ground' the model a little more, just make sure it is consistent across your army. Hopefully this tutorial can inspire you and guide your own gold armor painting. Enjoy! – James.