GETTING JOLLY PAINTING MINIATURES AT CHRISTMASTIME!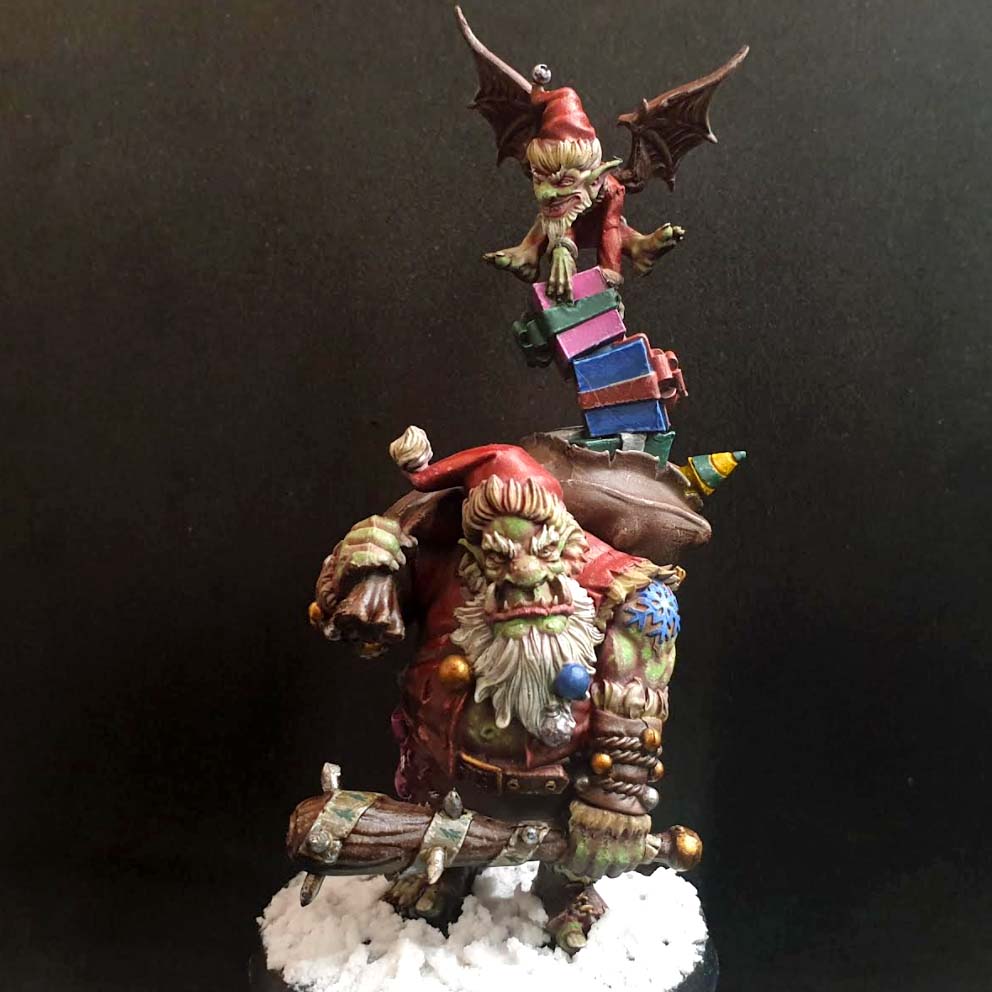 Happy holidays! In this article, we are playing with this super fun model – 'Jock and Phosphorus' from our friends over at Signum Games (@signumgames). Signum Games release a range of models for a variety of settings, and they also offer .stl for printing. At this time of year, it can be tempting to paint in a festive theme, but options can seem lacking. But this doesn't have to be the case, and is very rewarding- especially painting Signum Games Christmas miniatures!
PAINTING SIGNUM GAMES CHRISTMAS MINIATURES: GETTING STARTED
So, let us start at the beginning- the hardest part is getting started, for many of us! Jock and Phosphorus, The Thieves of Christmas, are brimming with character and fun details. Despite my inexperience with painting Christmas miniatures, I was really keen to get involved. I would recommend you look at the rest of Signum Games' Christmas miniatures, as there is great range to choose from. I spray-primed the model with black primer and then a little off-white from directly above for a 'Zenithal Prime'.  This helps the subsequent paint stick to the model, and using two contrasting colours shows volumes and lightfall. I lack the time and patience, but you can prime and basecoat your models with a brush. And if you do I would recommend one with a large belly and a good tip like the RGG brush size 2.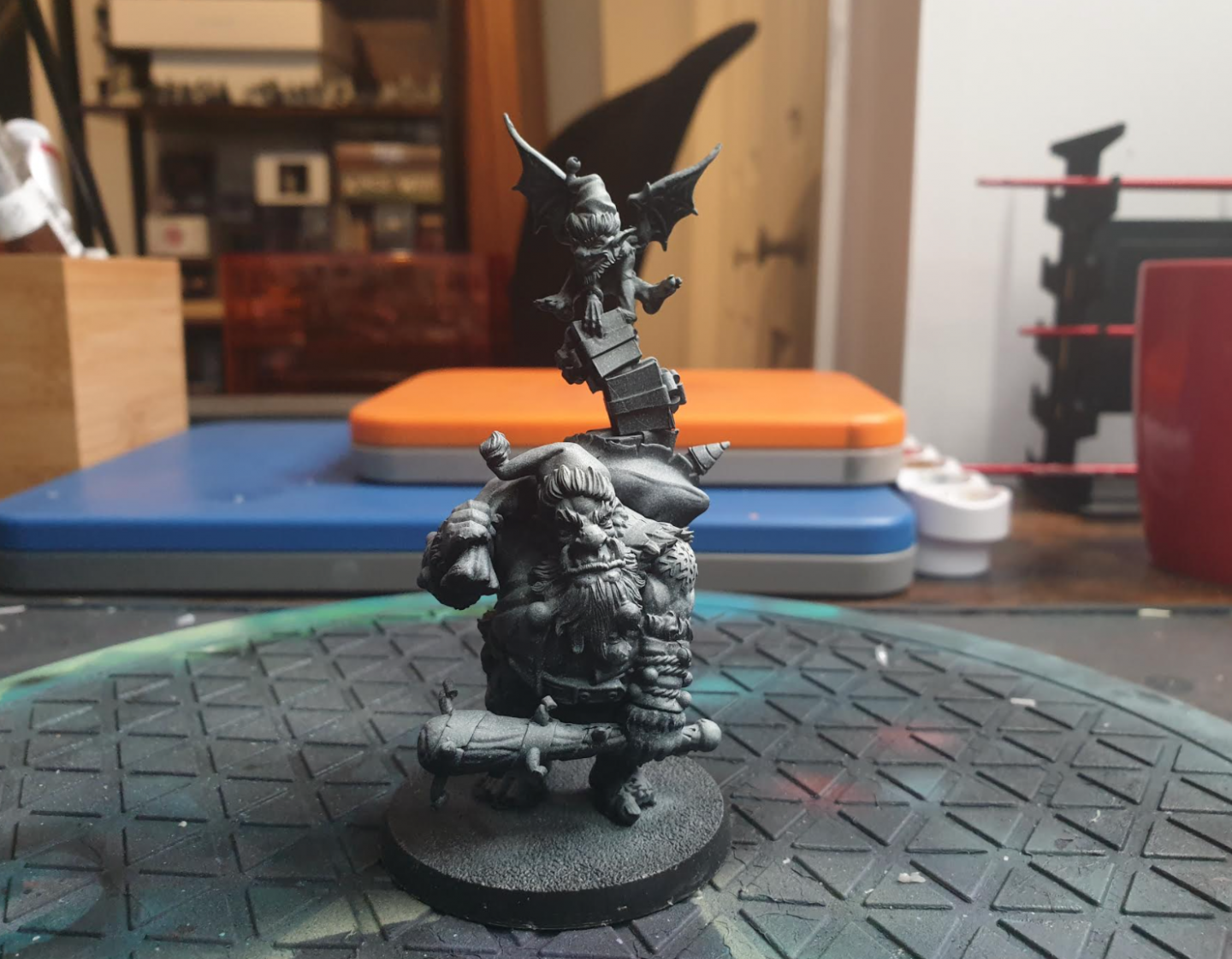 WHAT DO I WANT TO GET OUT OF THIS MINIATURE?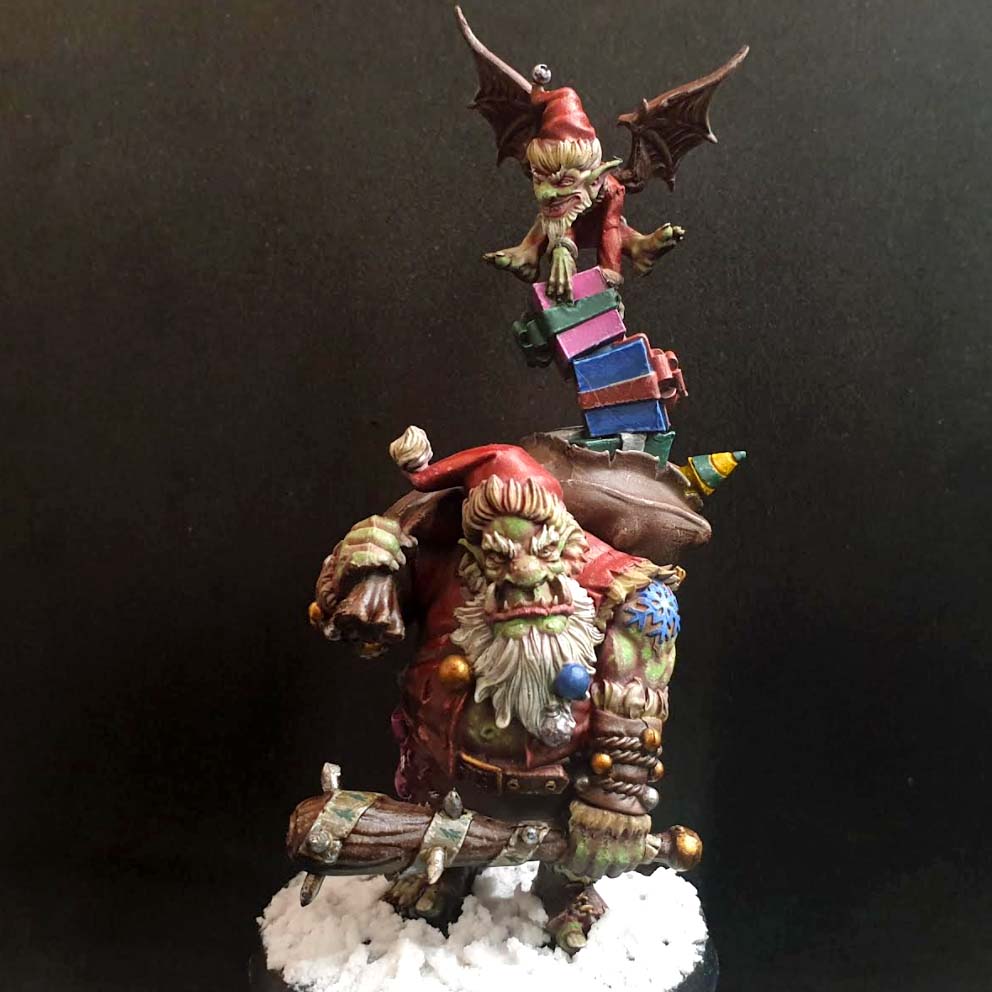 When painting any miniature, I think it is important to decide ahead of time what you would like to get out of the experience, as this can be quite motivating in getting started with your pile of grey! Here I wanted to have fun with a festive piece but to a decent display standard so it would not be out of place on the Christmas tree! A big thing here, then, would be for me to work on my green skin and red santa outfit as they are the stand out features of this model, but still enjoy the process.
What is going to be the thing that draws the viewer's eye? With large areas of both, I decided it would be the skin and red clothing. This was perfect, because red and green are also seasonal colours to use! So I decided that the green and red combo was going to be the feature – and technical area- I wanted to focus on when painting. So I would spend more time and effort on this compared to say, the fur trim or the base. I decided to try something quick but hopefully effective…
PAINTING SIGNUM GAMES CHRISTMAS MINIATURES: SKIN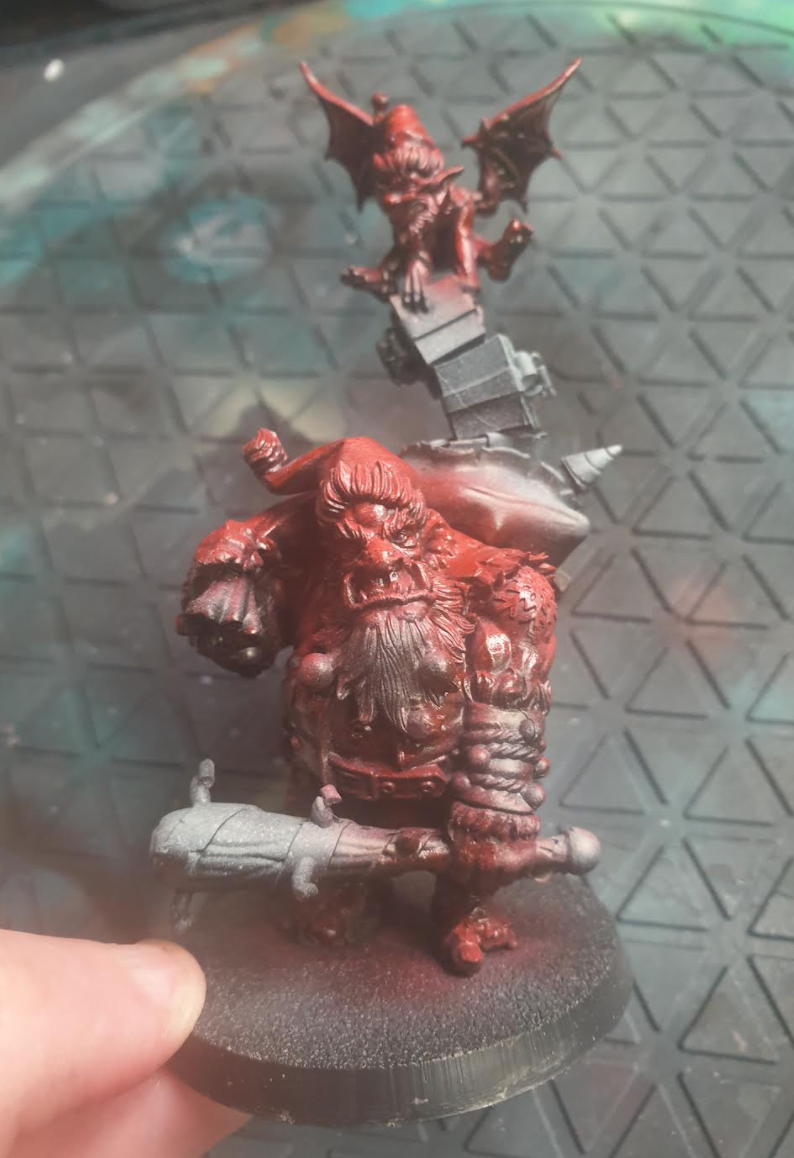 It was the night before Christmas, and all through the house, nothing was stirring – except James, who had a painting deadline. So I was thinking of how I could be more expedient with the more time consuming/less interesting parts of painting this model. Red is a popular but difficult colour to work with as it is not easy to highlight.
But then I had a bold idea. Red is opposite Green on the colour wheel, and I want to have a saturated red for the clothing and not rely too much on trying to highlight it (which could make it more orange or pink). What if I just basecoated everything in red? I used a red ink over my zenithal prime, and I wasn't neat about it! It didn't matter as the red was also going to be the shadow colour for the skin, you see.
I find the RGG size 2 brush is great for jobs like that, as it has a big reservoir (or 'well') but a good point, which means I have the time and manoeuvrability to glaze into all the nooks and crannies! And a Redgrass Games wet palette wavy is invaluable to keep that ink workable whilst out of the pot! 
BLOCKING IN THE BASECOATS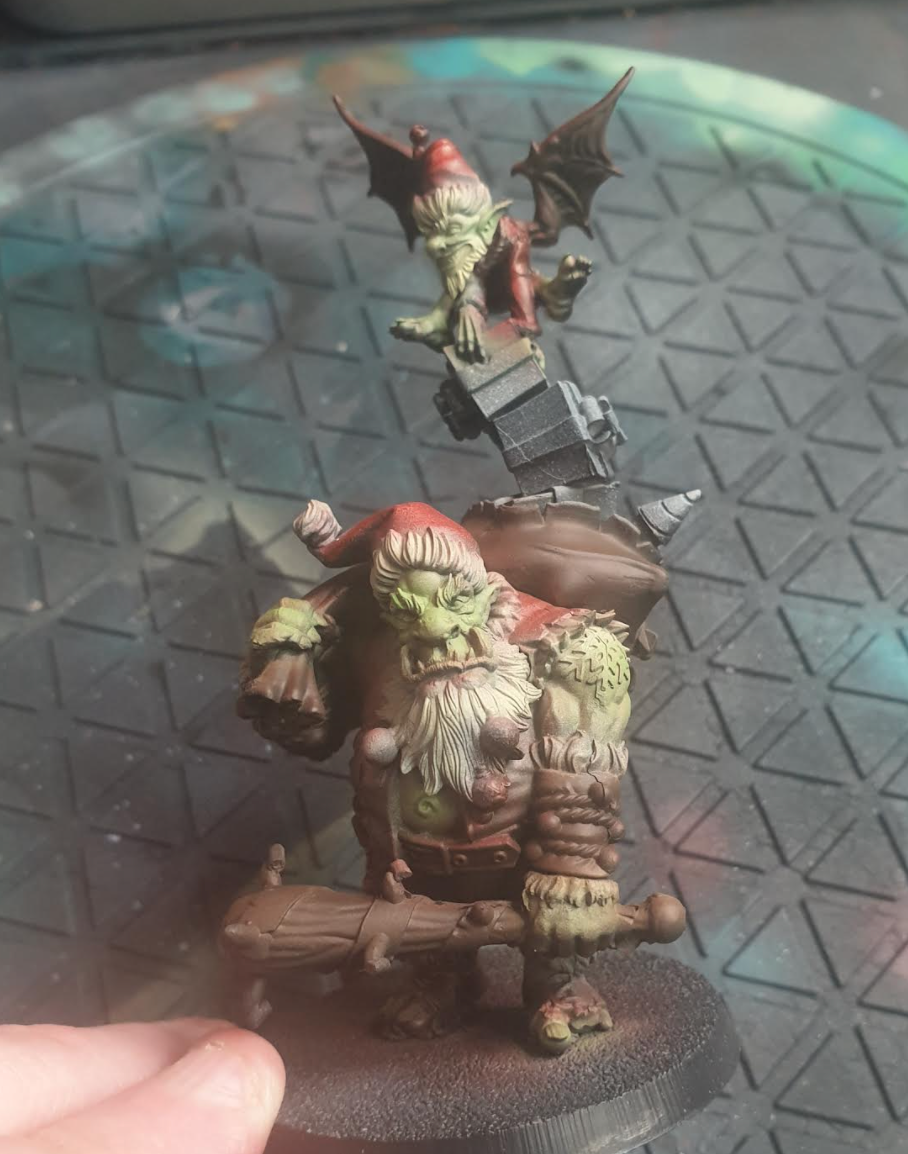 A RGG size 2 will cover large cloak areas relatively quickly. Also think 'what colours are appropriate?' 'The Thieves of Christmas' from our friends at Signum Games are obviously reminiscent of Father Christmas, but with a savage orcy/dishevelled feel. I chose a lime green which is good for fantasy goblinoids, and a brown leather for the wood and belts, etcetera.
Mostly I used the Size 2, but for smaller parts like the leather belts I used the Redgrass size 00, as I wanted more control.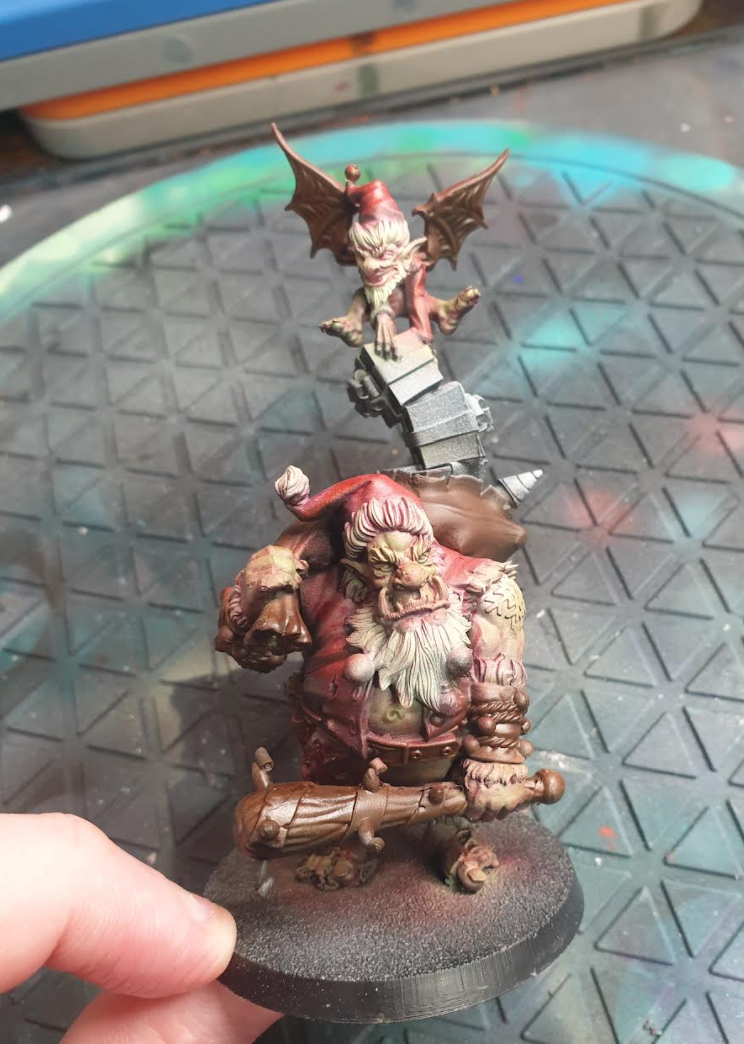 Recess shading often gives you a 'quick win' and you can quickly see a big difference before and after. All that brown and green especially was very flat, so I used a dark umber oil paint thinned with odorless mineral spirits to a wash consistency to run into all the recesses- this really helps quickly pick out subtle details that have been lovingly textured by the team at Signum. I found that oil-based washes are far easier to work than acrylics, with less pooling and easier to correct mistakes. They often give a more subtle transition, too. I also added a little magenta oil wash to places like the faces to give them some vitality. Painting Signum Games Christmas miniatures can be a joy with a quick wash to bring those characterful details back!
Contrast is important in a miniature, even if it is not particularly realistic sometimes. Hot vs Cold, or here, Light vs Dark. Those washes were great for the shadows, but we need some highlights for constrast, and to help pick out details that may have been muted in the oil wash stage.
I reapplied that lime green from before to the more prominent parts of the flesh, like their noses and muscles, but then I also mixed in some pale yellow for an easy saturated highlight green. I 'dotted' this on lightly to raised areas like the nostrils and knuckles to really help things pop. This dotting technique can be known as 'stippling' and can be great as an alternative. to glazing highlights as it gives more texture. Sometimes we don't want smooth, and these guys are pretty rough!
But for the brown leather or present sack, a drybrush will offer some good texturing and suggest how organic material ages. The added bonus is that drybushing is speedy! I used a tan brown here as it was distinct enough for a quick highlight for all that brown leather!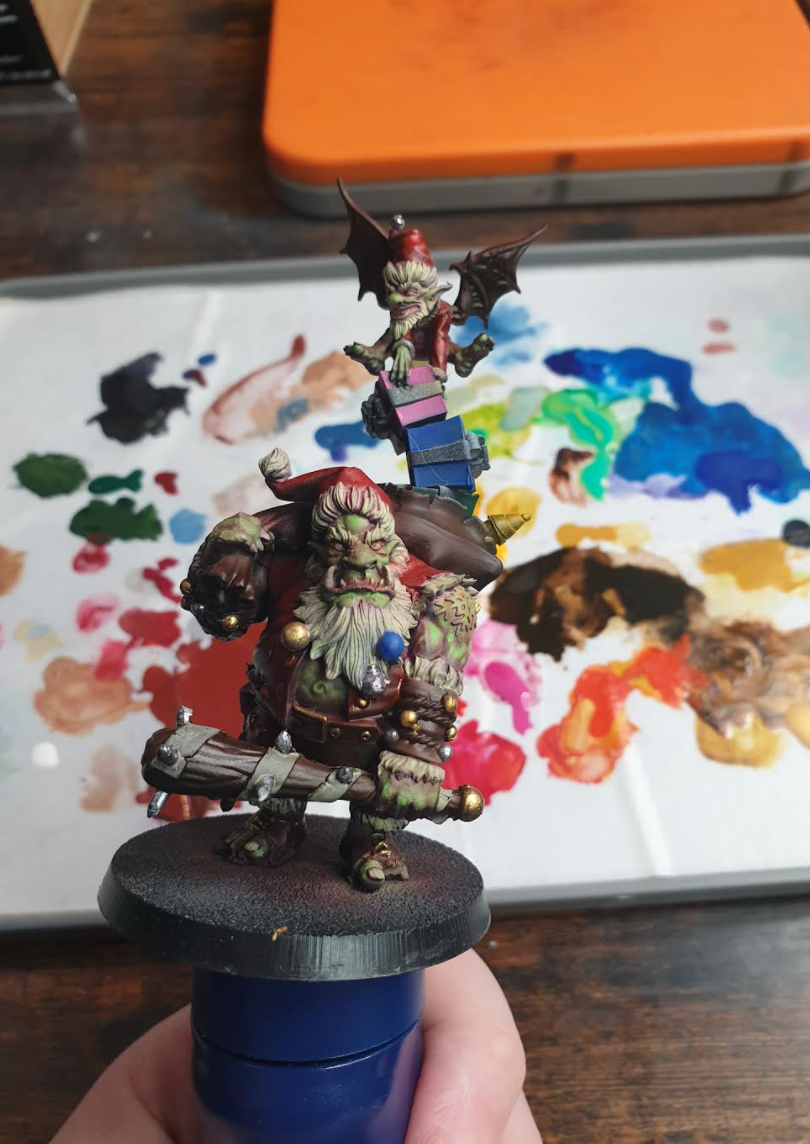 PAINTING SIGNUM GAMES CHRISTMAS MINIATURES: FINISHING TOUCHES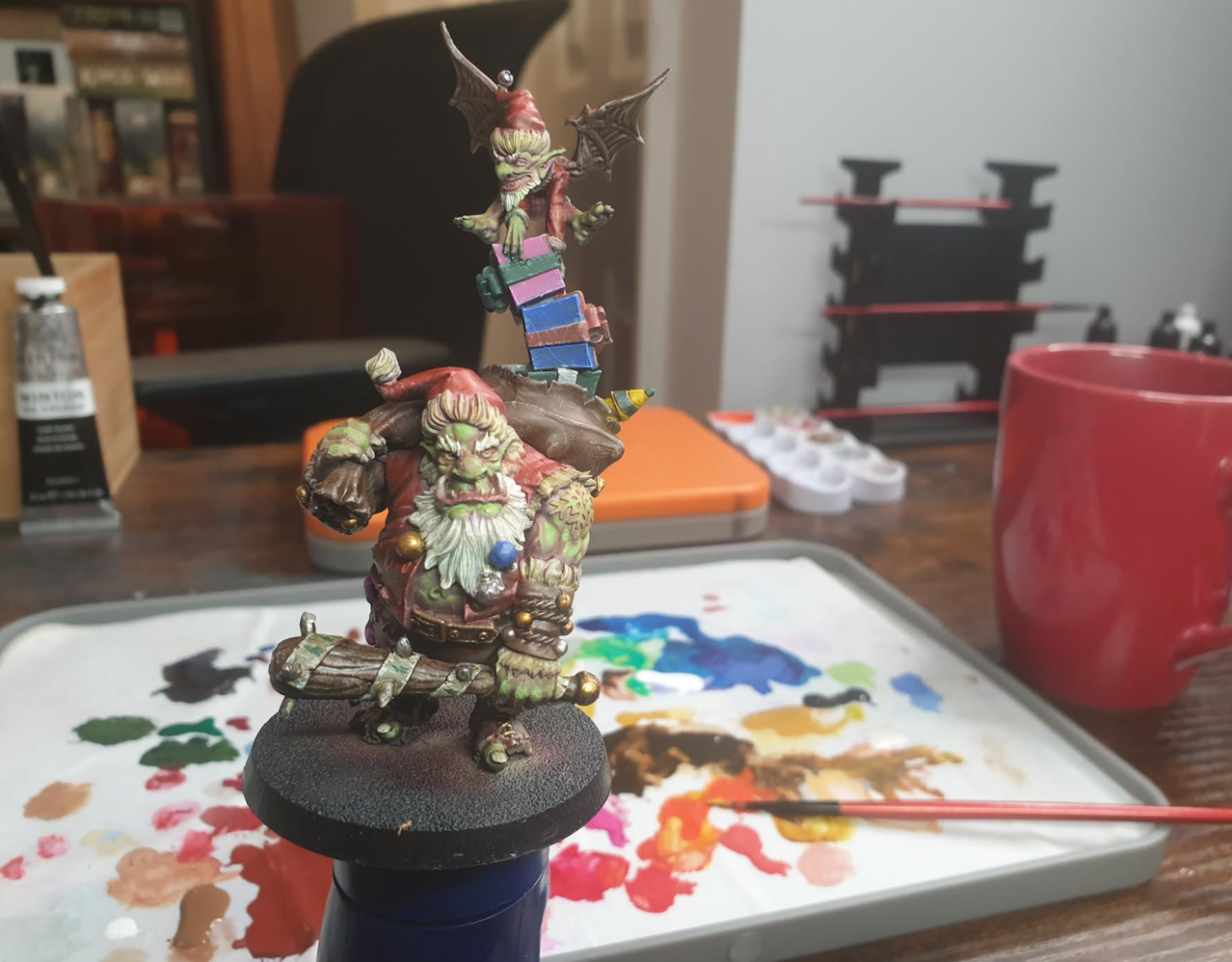 Jock and Phosphorus, The Thieves of Christmas, one of the Signum Games Christmas Miniatures, almost complete! Here it was time for some little details to get right, like edge highlighting the boxes and adding little freehand Christmas trees to the club that no one else would see but me! Sometimes I felt I needed to push some of the highlights more, so I dotted some bone white into some of the brown highlights, and pure white into the eyes, eyebrows, and beard tips with my Size 00 brush.
Something was missing, I felt, when I did this picture. I worried there wasn't enough visual interest on that big muscly arm! So I coloured in the snowflake tattoo in a frosty blue and then I was much happier. I also added snow to the base- because you just have to for a winter scene, right? Plenty of paint companies offer a snow premix you can use, but you can also use a DIY mix of bicarbonate of soda, white paint and PVA glue. You can see the final piece at the top of this article, ready to hang in a bauble on my Christmas Tree. James.