Step Up Your Miniature Painting!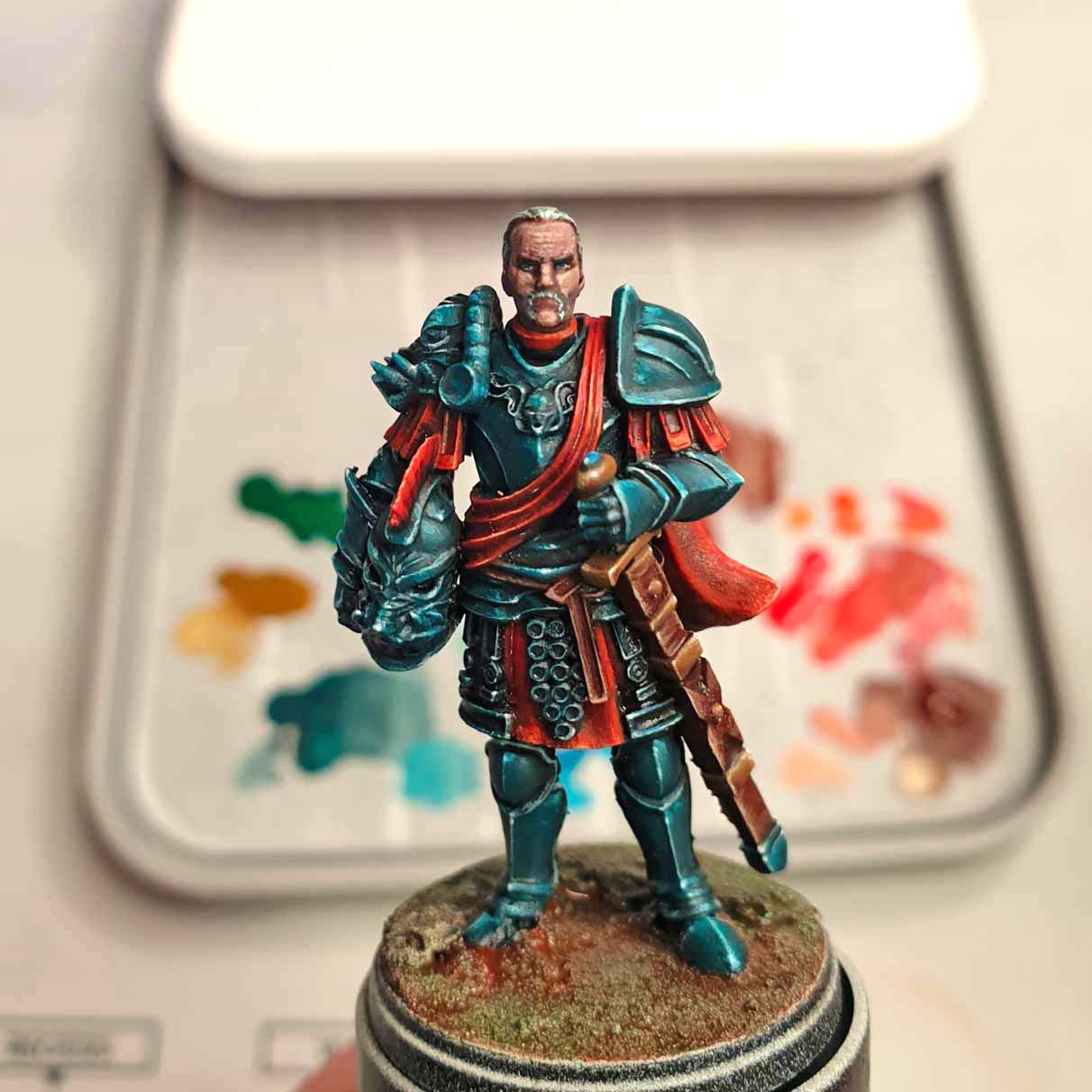 Step up your miniature painting – maybe you've been painting for a while, or only just started? Either way, welcome! Sometimes when we are painting, we hit plateaus of progress or get stuck in a creative rut. This is normal, and easily remedied. We can re-appreciate techniques we take for granted. Regardless of your skill level or years of painting, we can all learn new ideas to 'up' our painting! Using this cool 'Imperial Officer' model from our friends at Parabellum, we are going to look at some suggestions of tips and tricks that go beyond 'base-layer-highlight'. We also have a tips page here, filled with ideas!
1. Step up your miniature painting: Getting Started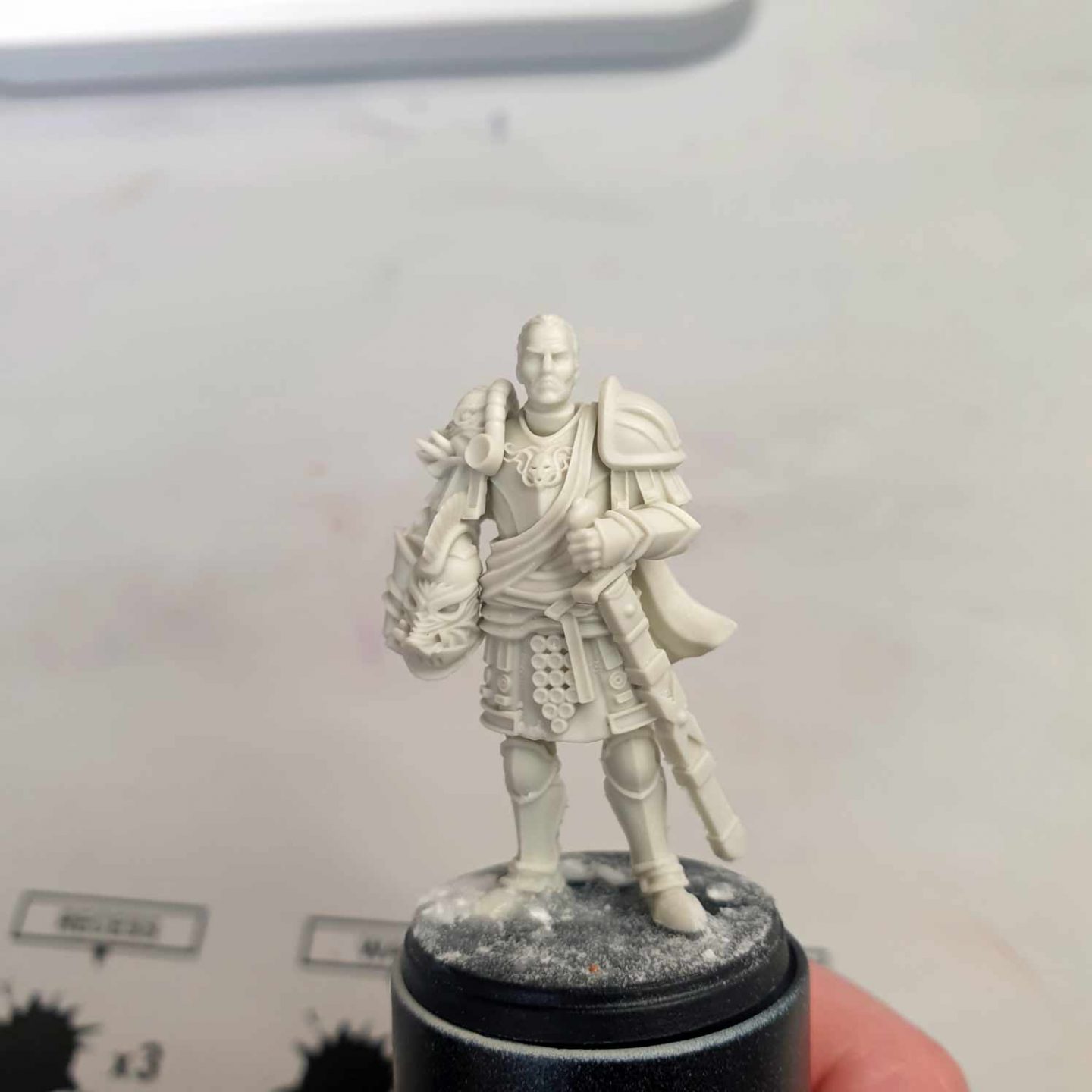 Taking your miniature paintjobs to the next level starts before you even open a paint pot! Assembly is an important stage of the process. If you want to paint a like a pro, you have to prepare like one. For a resin model like this one, start by giving it a wash in warm, soapy water and an old toothbrush. This is to remove any residual release agent from the moulding process. This will help your paint adhere better. For some more complex models also consider painting in 'sub assemblies'. I didn't need to with this miniature, but with others I can pin arms, weapons, and heads separately onto their own holders. For a premium level paintjob you need to be able to paint *everything* to a high standard and get to places easily. Superglue the parts that can be joined now, and gently remove any mould lines or residual sprue gate with a knife. Pro paintjobs remove mould lines and drill gun barrels for better realism! Any gaps can be filled and sanded with 2-part epoxy, plastic putty- or 'sprue glue' on plastic kits. The base itself was very bare, so I added superglue and sprinkled bicarbonate of soda into it.  This sets instantly and also offers a scale-appropriate textured base.
2. Step up your miniature painting: Priming tips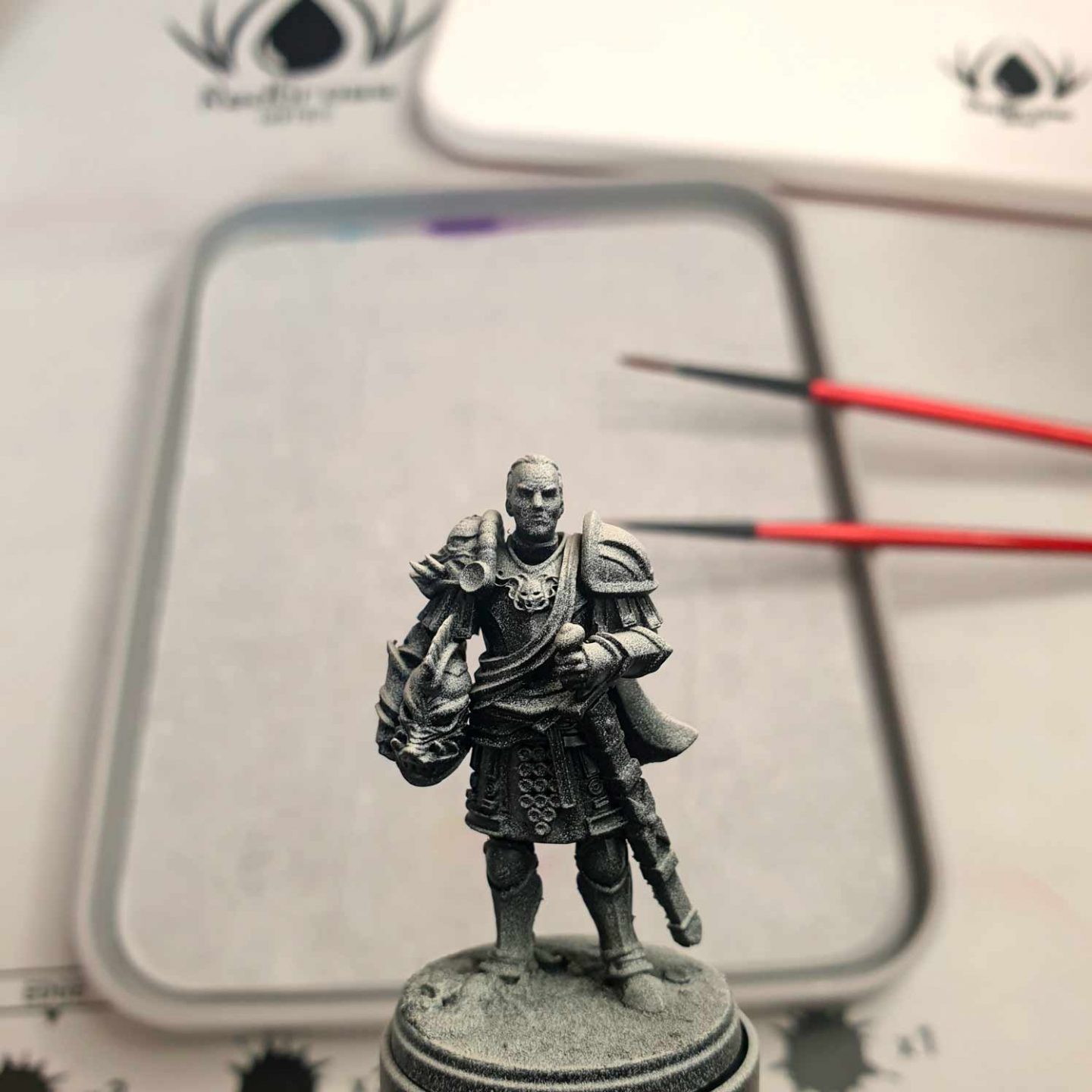 With priming, you want to find the balance between having a layer your acrylic paints can adhere to, and not obscuring the sculpt details. As much as possible, a paintjob should let the sculpt do the 'heavy lifting', so paint layers should remain thin. The most expedient way to achieve this balance is a good spray primer or 'rattle can' primer. You can get thin, even coverage of a priming paint in seconds. Many Pro painters will prime with an airbrush, but this can be prohibitive for many hobbyists. A good spray primer can achieve a similar end goal (and require less setup and cleaning!). Try to mix your primers for a pro job, too. Spray from the bottom with black, and from the top with white. Bam! You have a pro-level zenithal prime that shows you all the lightfall and volumes on the model in seconds with minimal fuss. You can also use different colors for strong contrasts- purple or red-brown are great substitutes for the black priming stage.
Take a picture of this stage- and all stages, in fact- as Pro painters keep a visual record of how they're painting to analyse their next steps. You can refer back to your zenithal priming stage photo to see where to place your highlights and shadows.
3. Step up your miniature painting: what do I want to achieve with this miniature?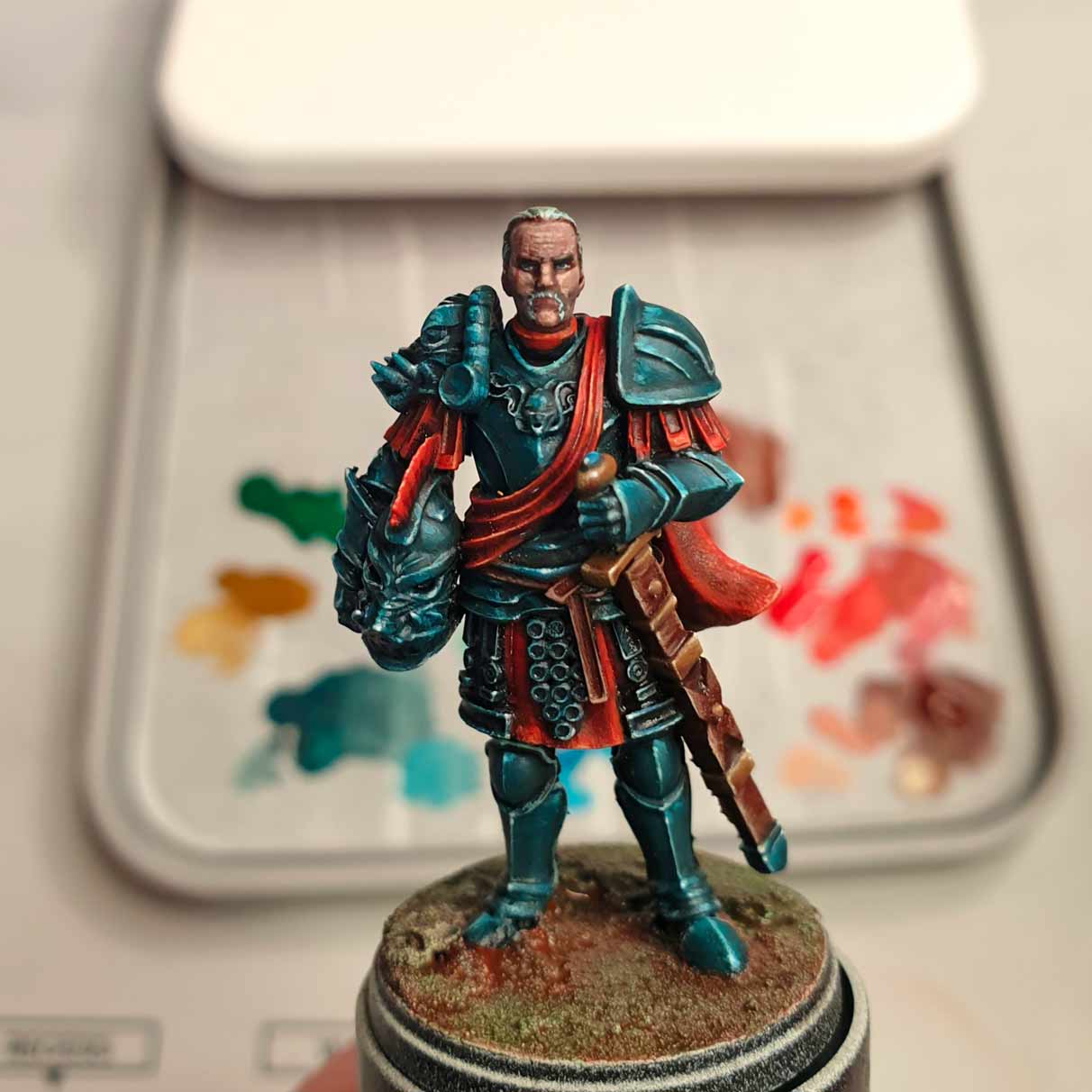 Sitting down to hobby and paint is more than just a physical expression. It also requires exercising your mental and spiritual self! It is important to set yourself some goals for each paintjob. Just as a painter might fill hundreds of sketchbooks of ideas before completing one finished canvas, miniature painters won't produce a golden demon winner with every model. But each one can provide useful lessons for our journey and fulfilling creative expression. Set achievable goals for each mini you paint, especially a technical area you might wish to hone.
4. Step up your miniature painting: using a wet palette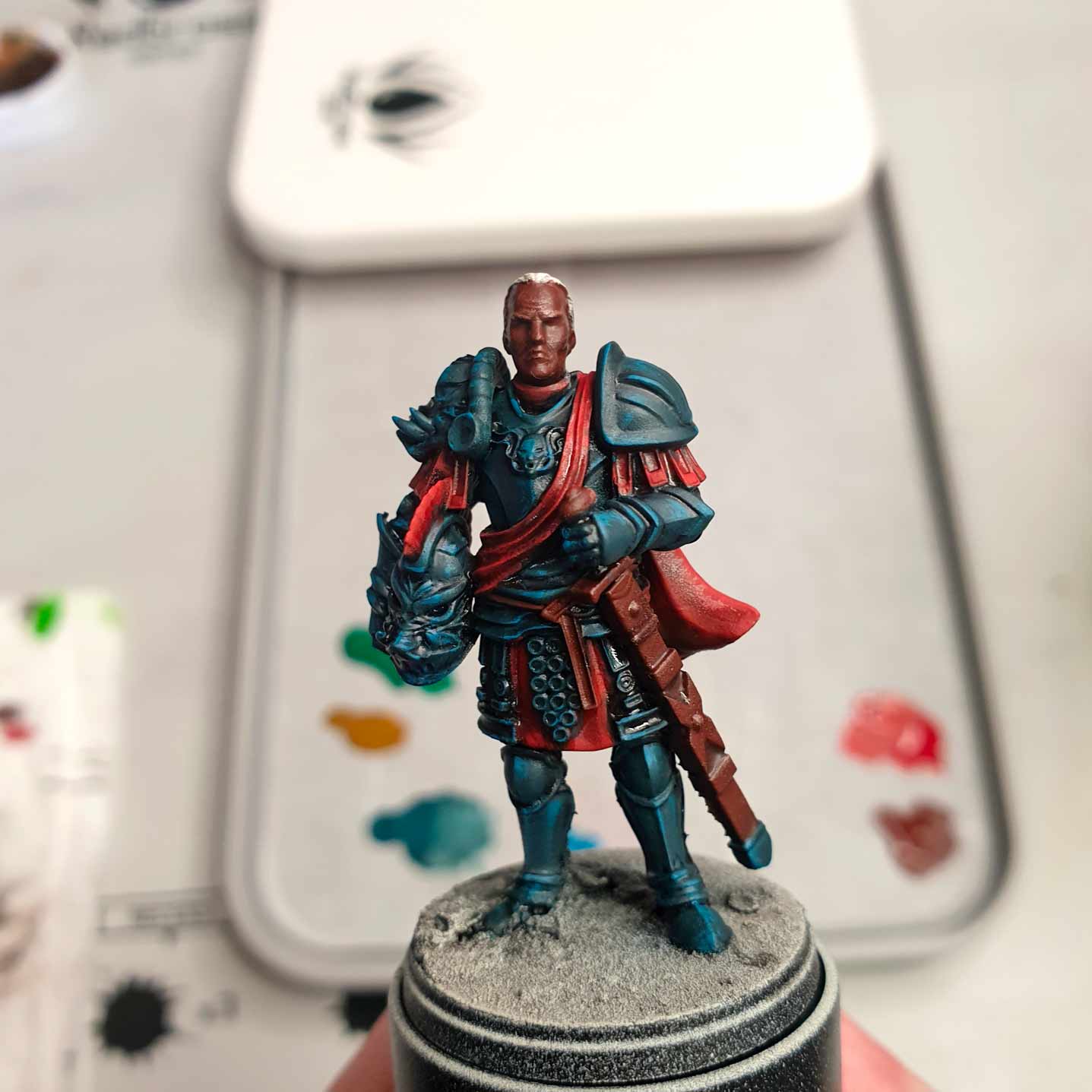 If you want to step up your miniature painting, it is very advisable to invest in a premium wet palette. Quality tools in general, really! They can reliably and consistently help you execute your painting goals. It is a good idea to start by seeing reviews from top painters you trust of which tools they recommend, and see if they suit your style too. But a wet palette is a must. The ability to control the consistency of your paint outside of its paintpot for longer means you can use more advanced techniques. To move beyond 'base-layer-highlight' you need a wet palette so you can experiment with things like thinning and dilution.
5. Step up your miniature painting: NMM & GLAZING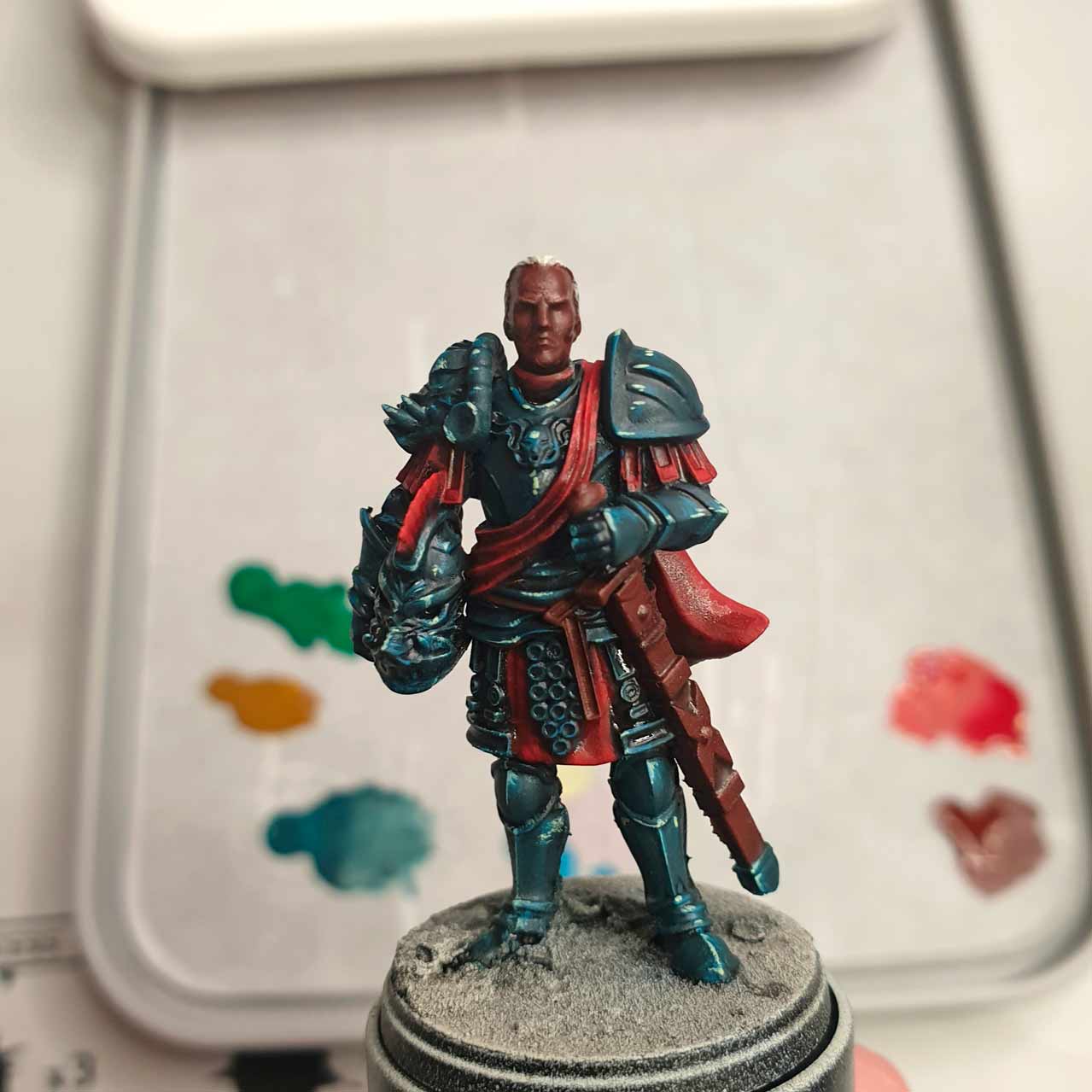 Glazing is a real pro-painting technique. However, to newer hobbyists or painters without wet palettes, it can seem impossible. Up your miniature painting by glazing with a wet palette! Here, I used an off-white to 'sketch' the parts of the armor I thought would be shiniest- where the light would hit and be in a strong concentration. Next I blurred the 'line' between these light patches and the original armor color with a very thinned version of that original color. This is simple to do on a wet palette and some water or glazing medium! Glazing can be a very time consuming process, but thanks to the wet palette keeping these glaze consistencies stable for longer, that's not a problem! Glazing and NMM often involves a lot of 'back and forth' between adding light values and then glazing them. This can take several thin applications, so persevere! Another feature of pro paint jobs is the time and patience they involve. Good things come to those who wait, after all!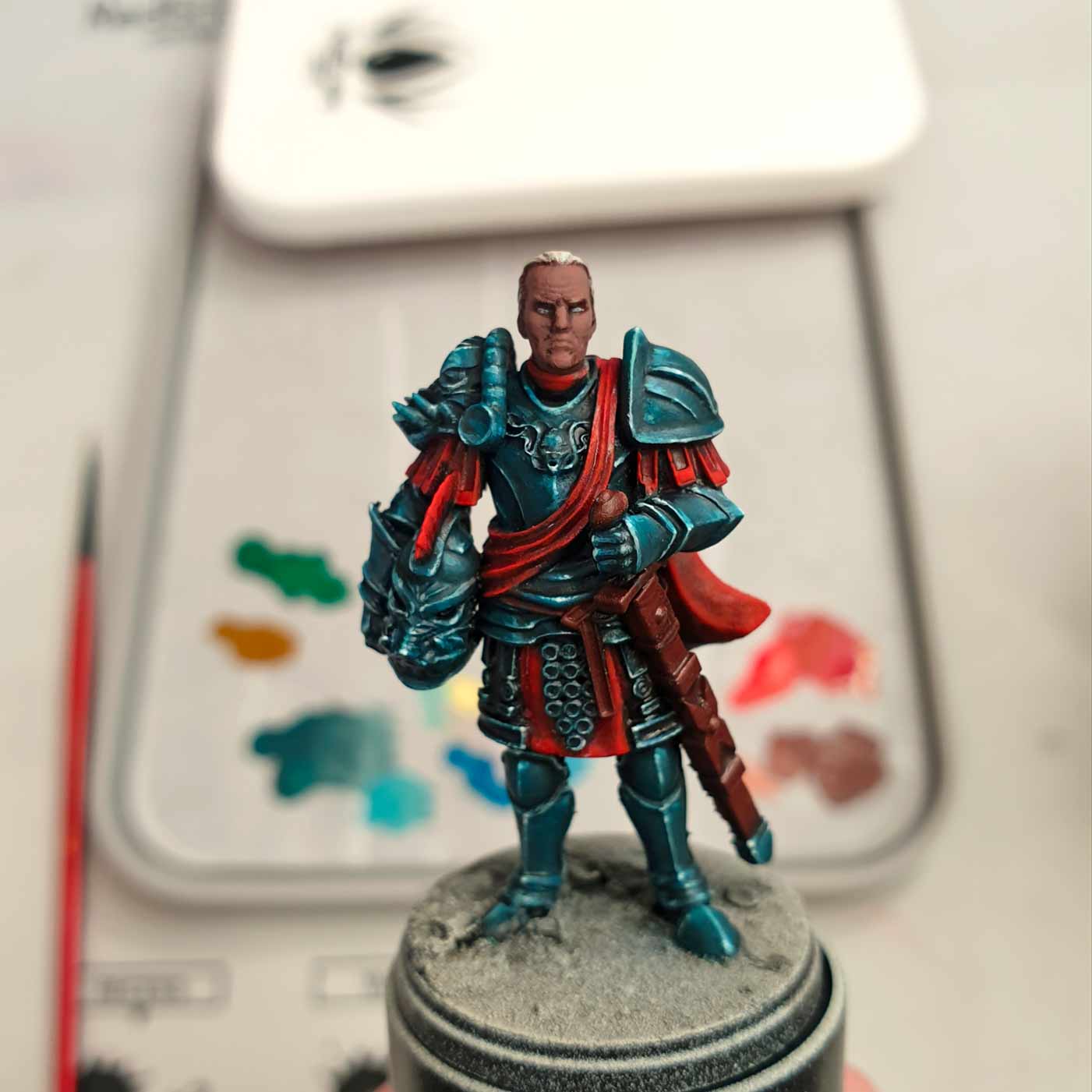 6. Step up your miniature painting: Keep It Simple!
Get good at doing simple things really well. Whilst it is important to 'paint bravely' and try new things creatively, it has to have solid foundations. Competition judges are often looking for simple styles and techniques flawlessly executed, rather than anything flashy or gimmicky. It *can* take hundreds of hours or years of disciplined painting practise to pull this off to a pro standard. So don't lose heart if you aren't perfect in 2 weeks! After all, 'Perfection is a journey, not a destination'. Pick simple, eye-catching color combinations for your paint schemes, and a technical area you want to hone on the project. Here I did a simple blue-red (a good cool-warm contrast) scheme, with a little glazing and some facial details for character. And largely I am quite happy with what was accomplished!
7. Step up your miniature painting: Detailing
Consider the little details. What makes a pro paintjob stand out from standard boxart or tabletop standard? Details! Faces, bases, and little character details. They can have a huge impact on the overall piece, relative to their size and complexity in achieving. Here I didn't do much freehand, but that would be a good example.  A little scrollwork on his cloak, perhaps. Instead, I tried to add lots of character to his face. A greying handlebar moustache, an old scar over his eye, a wrinkly forehead. These suggest story, and individuality. These also offer a nice technical contrast with the smooth and shiny status attire he wears. Maybe your model could benefit from some character details? A book with writing, make up, battle damage etc. All worth doing to elevate a paintjob- this is where 'paint bravely' definitely applies!
8. Step up your miniature painting: Completed Model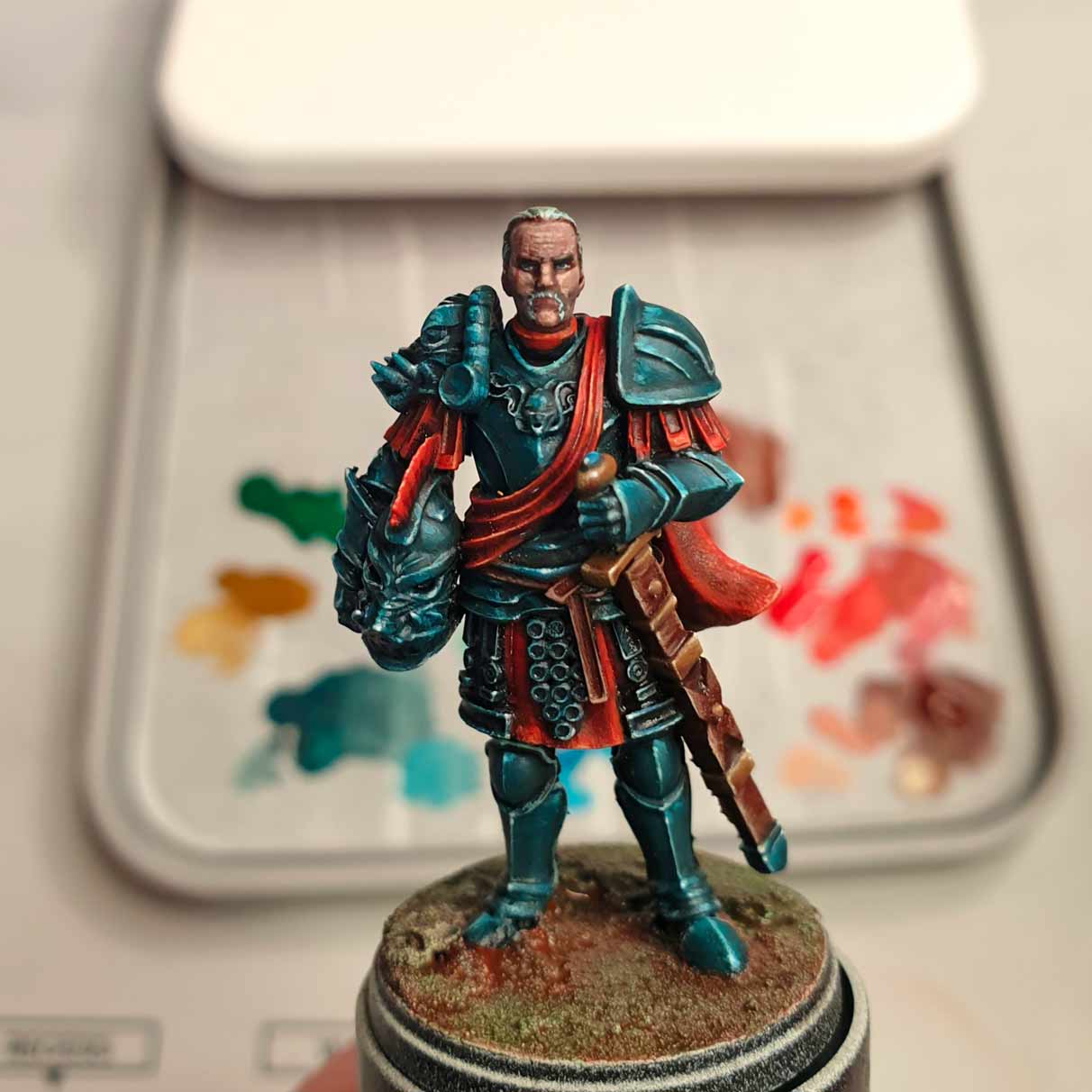 And there you have it! The completed 'Imperial Officer' from Parabellum's Conquest wargame. Hopefully this article has proven useful regardless of your painting journey, and has given you some ideas for your next project. Until next time you can always check out our other tutorials! – James