Viking Shield Painting Tutorial with Wavecolors Tabletop Art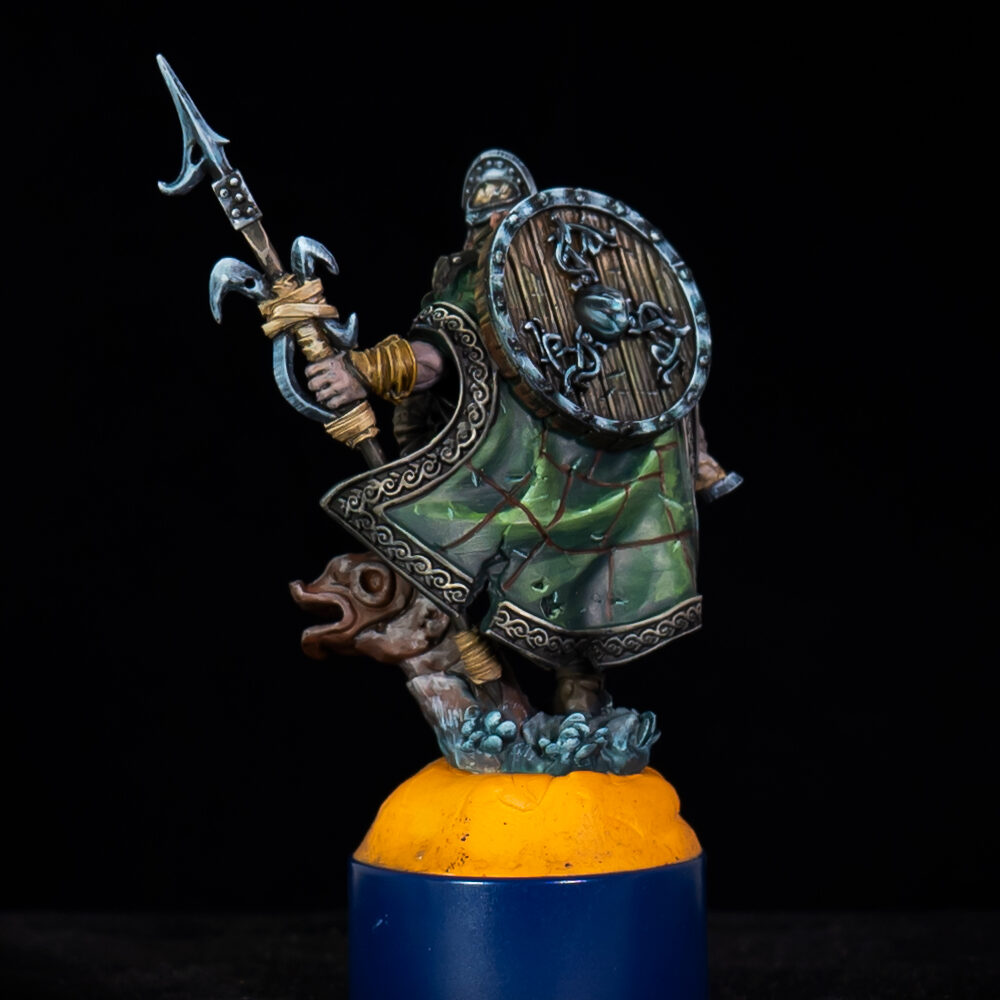 Hi there! Today's article is about painting this cool Viking 'Jarl' shield from Parabellum's 'Conquest: Last Argument of Kings' range. And today's artist is Jonathan Pfund from @wavecolors.tabletopart so if you want to paint a beautiful shield like him, then look no further!
Introduction from Wavecolors Tabletop Art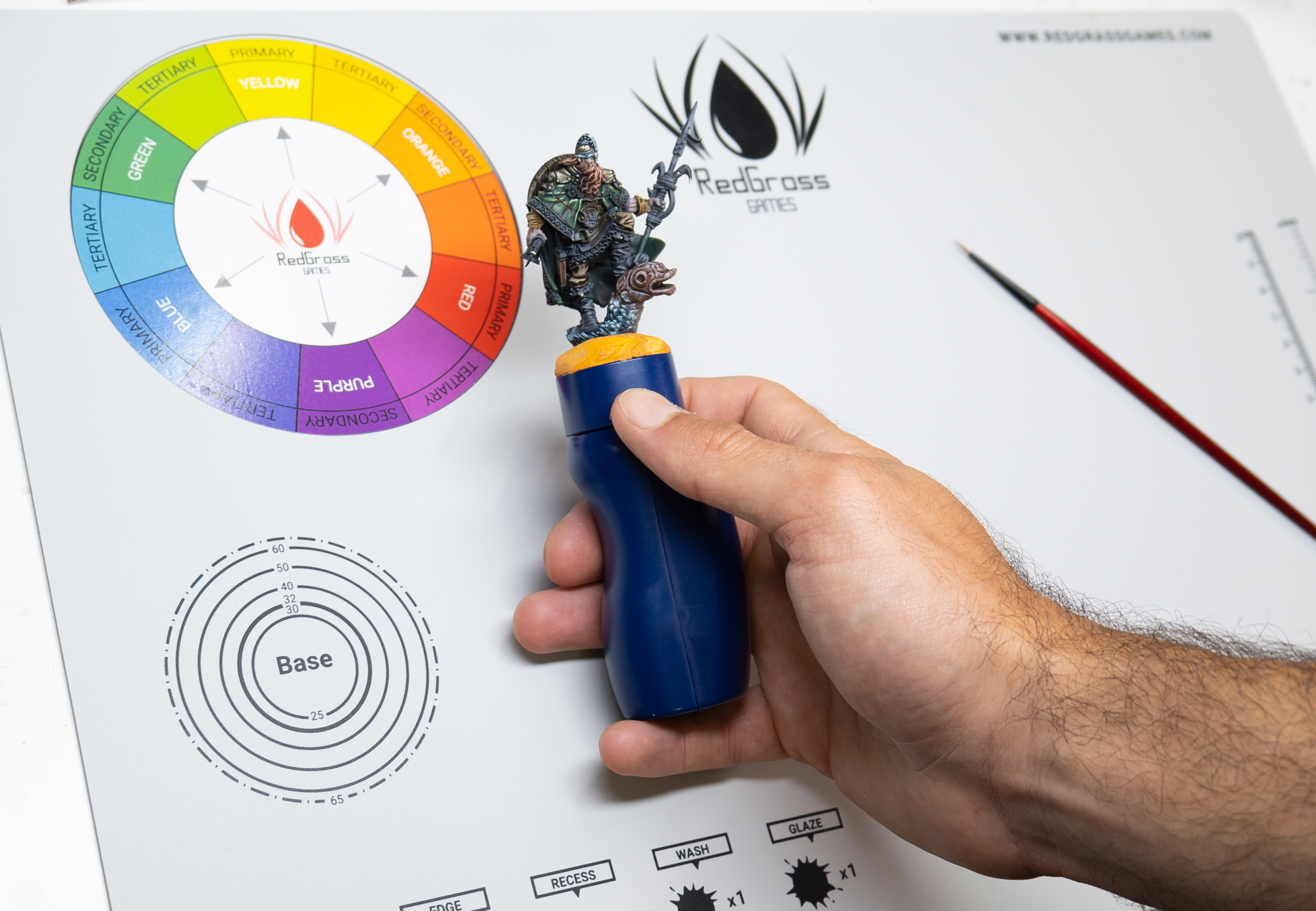 In this tutorial we are painting a shield from the game Conquest: The Last Argument Of Kings. This miniature is a Jarl, and he is quite a cool Viking-style character. Firstly I would recommend a wet palette from Redgrassgames for any kind of miniature painting. I really had a lot of other palettes before, even homemade ones and none were even close to the ones from Redgrassgames, in terms of use and quality. I have the same experience with their painting handle. Especially for small things and for small miniatures the handles from Redgrassgames are perfect and in my opinion honestly a must have for every painting hobbyist.
The shield has very nice detailing, which makes it a lot easier to get great results. Because there is a mixture of metallic and wooden elements on the shield, I can do very nice color combinations.
Before I start I always think about the whole mini and the atmosphere which I want to achieve, to get the right color combination. And in this case I am thinking about a very rough Viking soldier. So stormy seas, wind, green land, hills with rocks and trees.
You might think this is a bit ridiculous. But my first tip in this tutorial is always look into nature or think about something in nature to get a feeling for your color choices, lightning effects, and your whole painting process. And this always helps to get a unique and great-looking character out of a miniature and to bring it to life.
The words I mentioned before brings me to colors like blue and greens, and I decided to get a colder and mystic look to the mini and shield. Also I wanted to get some mossy look onto the wood.
Step 1 Viking Shield Painting Tutorial : Priming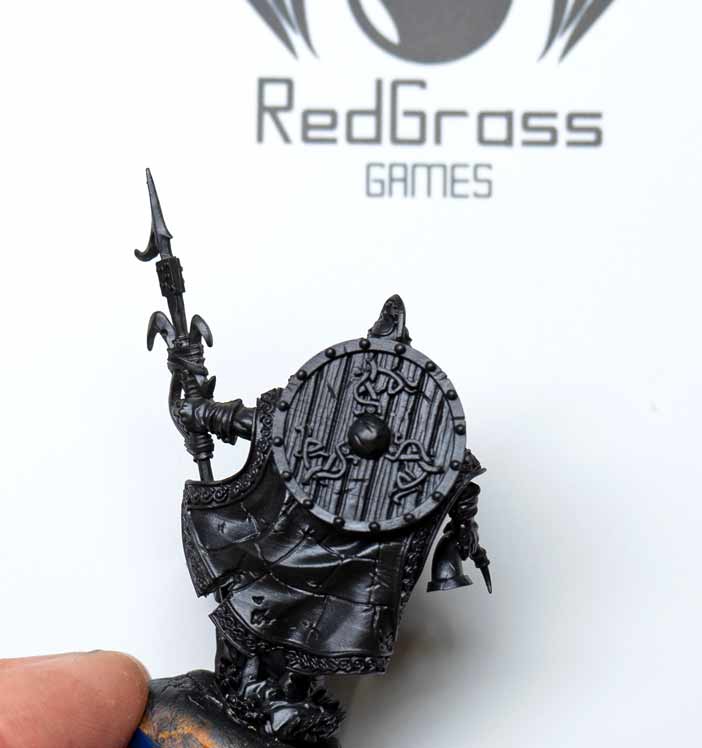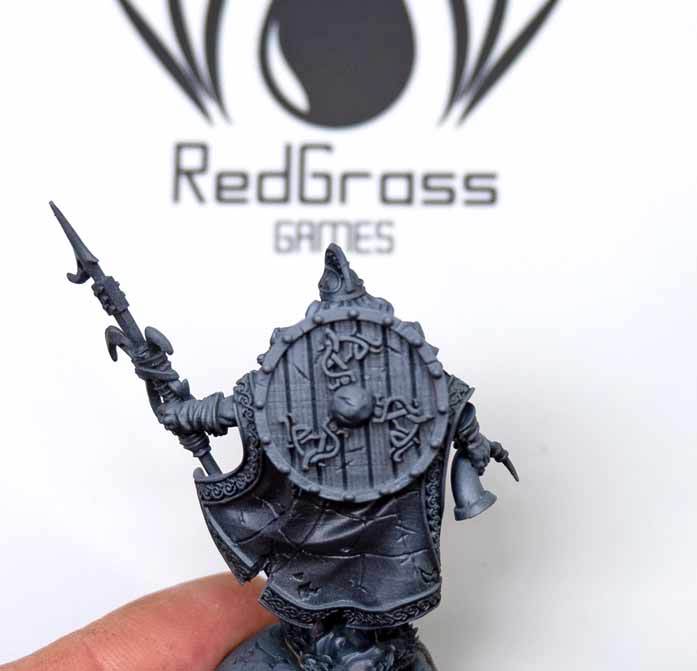 Usually I prime miniatures with a standard black primer from Vallejo with my airbrush. This is a very easy and fast way. But if you don't have an airbrush you can easily prime with a normal standard brush. And I would recommend quite a big brush. In the next step I spray some Cold Grey from Vallejo Model Color from the top onto the miniature. The result shows perfectly which parts of the miniatures are hit by light and which parts are in shadow. But if you want to do this step with a brush, I would recommend the dry brush from Redgrassgames. Just make sure that you brush on a tissue before dry brushing on the miniature.
Step 2 Viking Shield Painting Tutorial: Wood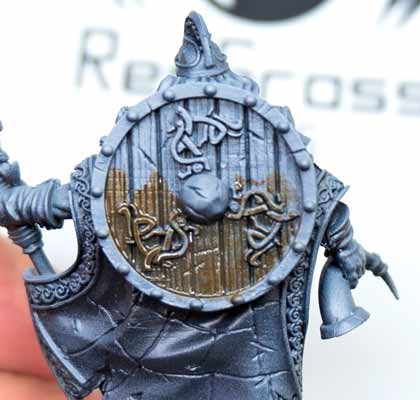 In the second step I decided to start with the wood of the shield. But with brushstrokes from the middle of the shield to the bottom. And I have used Smoke from Vallejo for this step. It is a perfect old and dirty-looking brown which fits very well for a Viking shield like this. And from the top to the middle I mixed some of the Smoke with some Beasty Brown in a 50/50 mixture. But make sure to wet blend the transition in the middle of the shield where the brighter and darker colors come together. The wet pallets from Redgrassgames are perfect to give the colors the perfect consistency you need for different dilutions. On the picture 3 and 3.1 you can see the colors reflecting my spot lights, because the colors are still very wet as I work.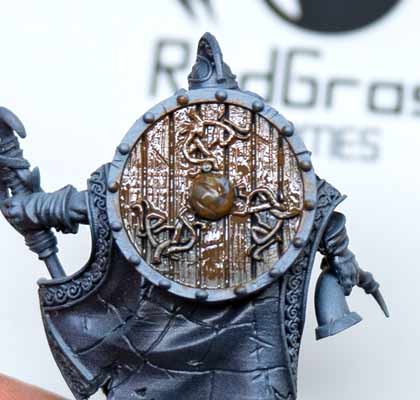 Steps 3 & 4 Viking Shield Painting Tutorial : Shading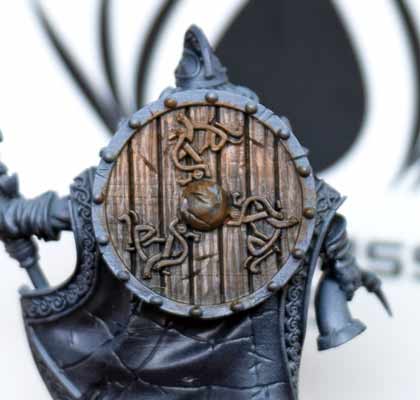 To get some more depth I added some Black Shade from Vallejo. But I usually do my own shades with normal colors and just thin them down to a shade. 
Next, I am moving on to get some more contrast onto the edges of the blanks and the structure of the wood. And the bottom part of the shield I am using a mixture of Iraqi Sand and Beasty Brown from Vallejo in a 30/70 mixture. For the bottom parts Iraqi Sand and Smoke also in a 30/70 mixture. This is the stage where I am using smaller brushes. But if you have an good 2 size brush this also works quite well for edge highlighting. I repeat this process as soon as I am happy with the result, but I change the mixture when repeating it and take more from the Iraqi Sand and less from the other colors. This always depends a bit on your own feelings.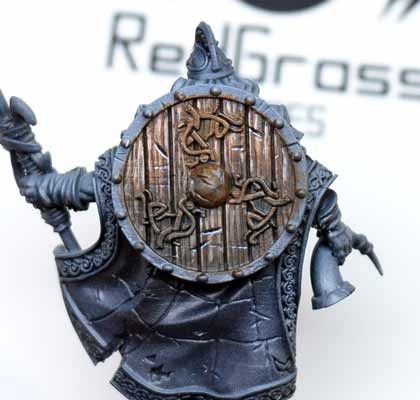 Step 5 Viking Shield Painting Tutorial: Glazing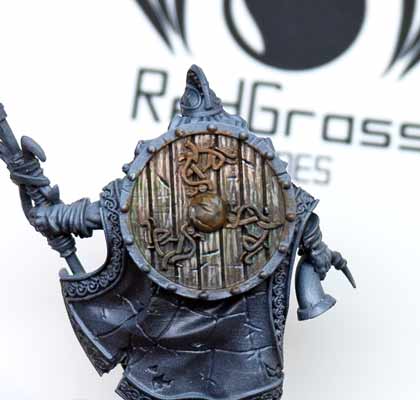 For the highlights to have a good transition, I glaze the top part with Beasty Brown and the bottom part with Smoke from Vallejo.
And to give the wood a more lively and natural look I am adding some additional glazes. So in this case I use Olive Green Air and Blue Air from Vallejo.
->special tip: These colors are actually made for airbrushing, but I figured that they have the perfect consistency to get quite fast, functional glazes.
After the glazes are dry, I add some finishing touches by adding some Ivory from Vallejo to each of the brightest mixtures. And with this I spot highlight just the strongest edges. But I am also using pure Ivory for the highlight each scratch on the wooden planks of the shield.
Step 6 Viking Shield Painting Tutorial: NMM, Part A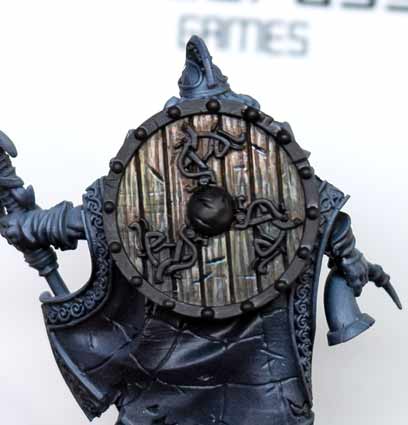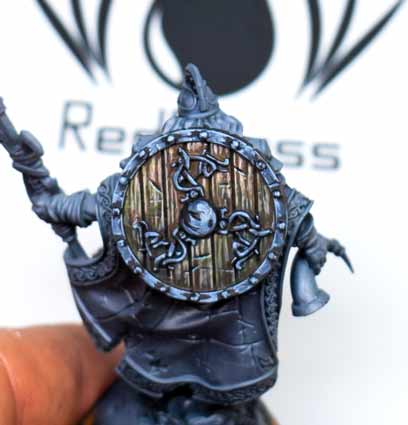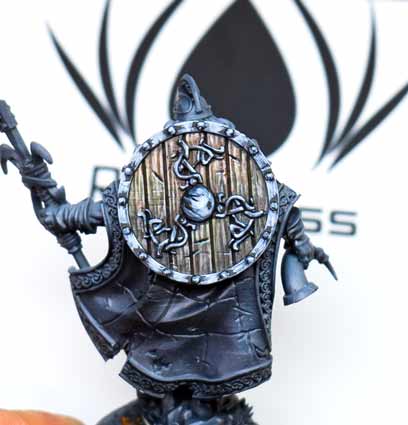 And now I am getting to the most exciting part: the Non Metallic Metal (NMM)!
To figure out where the shield has the brightest parts/reflections I have to paint all metal parts of the shield black (1). So I am using the standard Black from Vallejo Model Color. And as you can see this allows a small reflection of my painting light and marking the parts which I am painting the brightest and also the parts which I am starting with (2). So for this I am using Heavy Blue Grey Vallejo Model Color. But the Color should be translucent to help get a better transition at the end. I am just painting over all places where I can see those light reflections. So do your brushstrokes from the edge of that point to the middle of them.
To get those parts even brighter I add some Ivory into the Heavy Blue Grey, to get a 40/60 mixture (3). Making sure that the color is still quite diluted and painting in the same method from previously. But reduce your painting area gradually each time to leave a subtle transition.
Metal in real life always reflecting something or some colors from the environment. That's why it is important when painting NMM to add some glazes of different colors which fit the context. I am using the same colors I already used for the wood (Olive Green and Blue)(4). This gives it a more harmonic look, but I wanted to just get some slight color reflections to still have a quite clear and clean steel look to the shield.
I am focusing on the midtones with the glazes, and concentrating them from the mid tones to the shadows. Repeat this 2-3 times (5). In my opinion its better to do a 'low glaze', which means less color, more water and do it more often, rather than putting too much color in the mix at the beginning. This makes the overall picture look more harmonious and gives it a more natural look.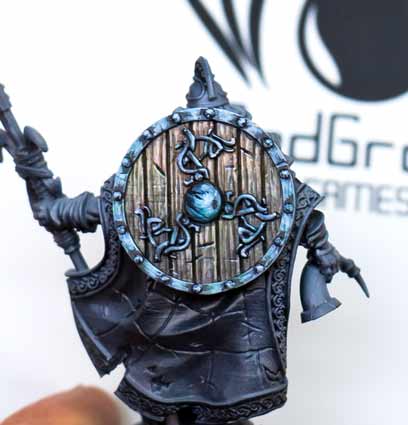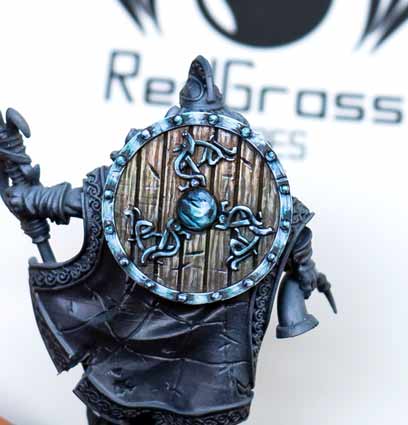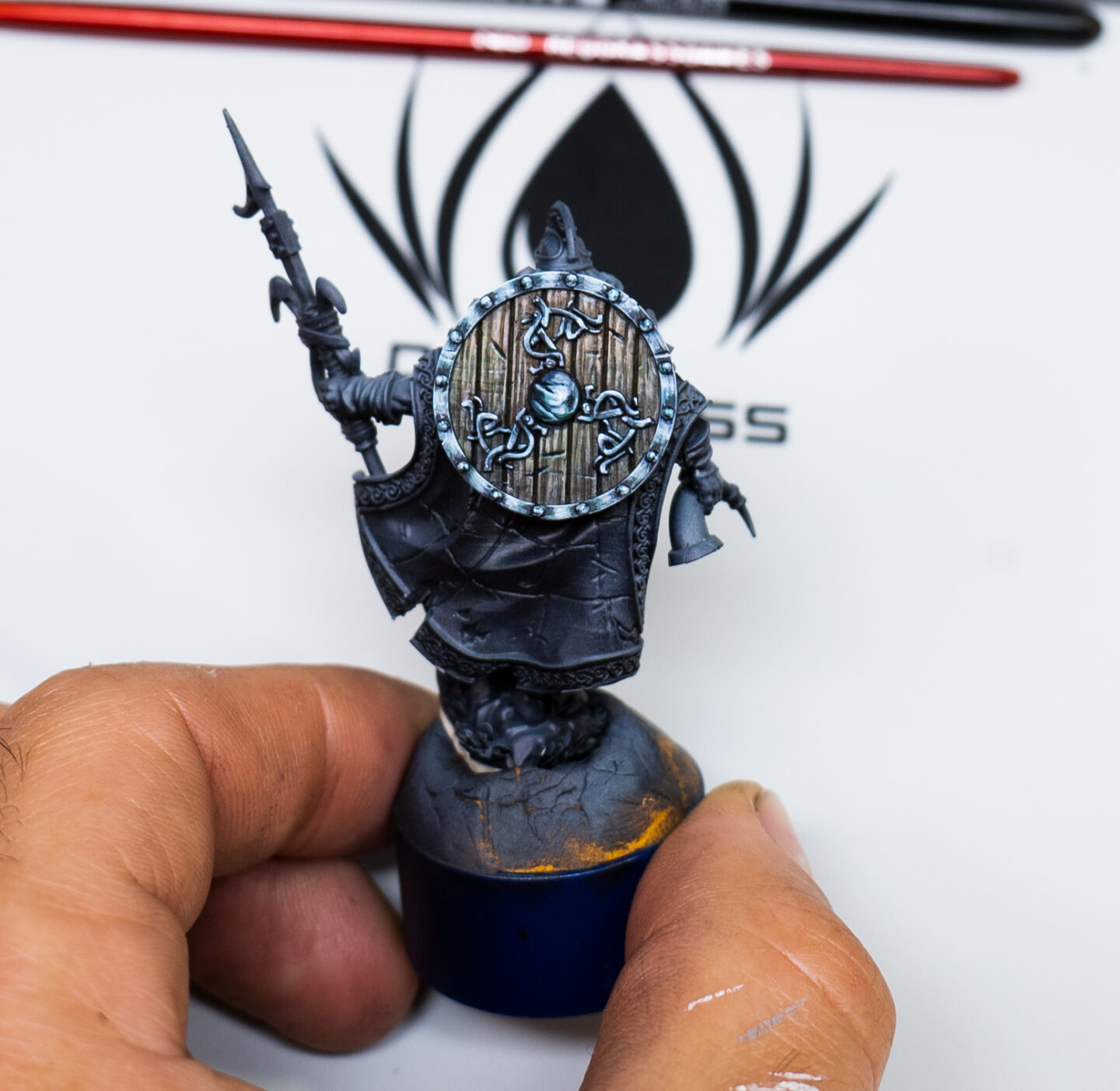 The last steps I am doing on this shield are adding some ivory spot highlights. Therefore it makes sense to use a precision brush like the 00 from Redgrassgames. Especially if you are a beginner it makes it a lot easier for you to make sure to don't get big brush strokes and ruin effects. To get such a shiny appearance you can even mix ivory with some pure white and repeat this process.
I am also highlighting the sculpted scratches on the steel rim with some Ivory at the bottom of the scratches and putting a brush line black onto the top of the white line (into the scratch gap).
There you go! An awesome-looking Viking shield! If you use these recipes you will easily get great NMM results and natural looking wood structures. Have fun following the steps, and enjoy your painting – Cheers, Jonathan