... A WET PALETTE, AN ESSENTIAL MINIATURE PAINTING TOOL.
For those wondering what exactly is a wet palette, read below.
---
To paint miniatures, you will need a palette. Traditionally, people used dry palettes.
One of the aspects of a dry palette is that you can mix your acrylic colours, dilute them with water. Once you get the perfect dilution, you might want to keep it in order to finish, for instance, your miniature's skin. It will dry out quite fast on the dry palette. You will have to find the right amount of water and paint to recreate the exact amount of paint. And if you paint a lot of miniatures, your dry palette will look like this: dried paint in the bottoms.
Not if you have a wet palette. A wet palette is a palette that is wet. Well, I guess you knew it. But in fact, your paint stays wet and fresh thanks to the hydration system that is beneath the white paper (which replaces your white palette). The white paper sheet, a.k.a hydration paper becomes your palette: you put the paint on it and you can start mixing.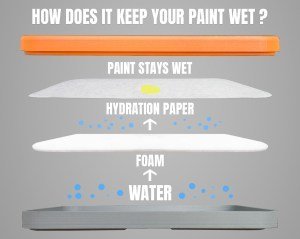 SAVE YOUR PAINT.
You'll need multiple coats to cover your miniature! You will paint quicker because the paint doesn't dry on the palette. That way you don't lose any amount of paint in vain. Every drop of your paint will be used in that way. The wet palette can save paint and time.
USE ANY TECHNIQUE WITH IT.
The wet palette allows you to use any type of technique on your miniatures. For instance, the dry brushing technique works very well on it. And you can also achieve gradients more effectively with the wet palette.
USE IT IN ANY ENVIRONMENT. 
With the wet palette, you can paint in any environment (even if it's hot!) because your paint will stay moist and won't dry.
SAVE YOUR TIME.
You can as well lay out the colours on the wet palette to see all the different shades that you have before painting the miniature. Since you took time to find the right amount of paint for your dilution, the wet palette keeps it wet and useful.
Even great painters like Sorastro, Jason Martin, use a wet palette because it is very convenient to use! It is an essential miniature painting tool that every painter needs. When you will begin to use it, you won't stop using it!
If you are interested, you can check how we made the perfect wet palette here.