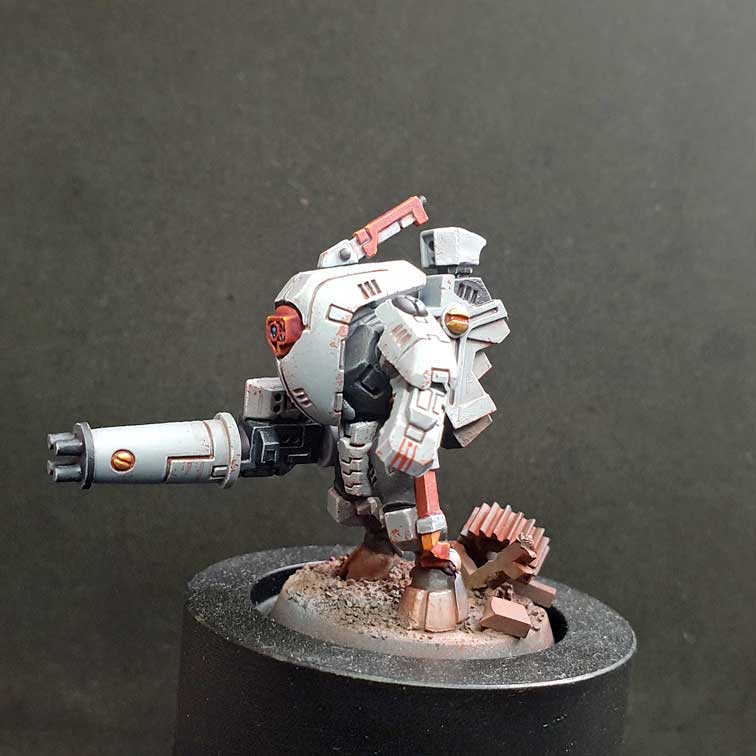 Hi all! In this tutorial we are going to look at how to paint Tau white. If you like mech-suits in the Warhammer 40k universe, Tau are for you. And, as mentioned before, weathering mechs can be fun. However, painting white can be tricky. And if you are painting the Vior'la Sept, you will be painting a lot of white! But with some fun pigments and highlight trickier, we can avoid these problems. So, read on!
HOW TO PAINT TAU WHITE: GETTING STARTED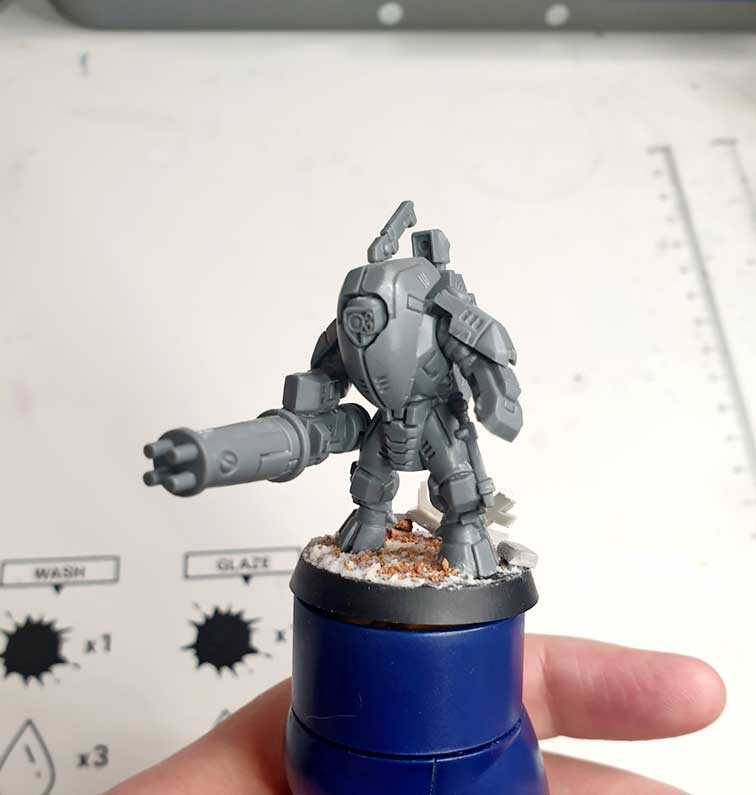 First, I assembled the mini with plastic cement and filed off any sprue marks. I also prepped the base. I imagined a ruined city base, which would help with the pigment stage later. Plus it really helps 'tell a story'. A good base can turn a model into a mini diorama. These Stealthsuits go behind enemy lines for covert ops, so it is easy to imagine them city fighting. I used some text paste and scale-appropriate sand, but also some old sprue bits for rubble. Next comes priming!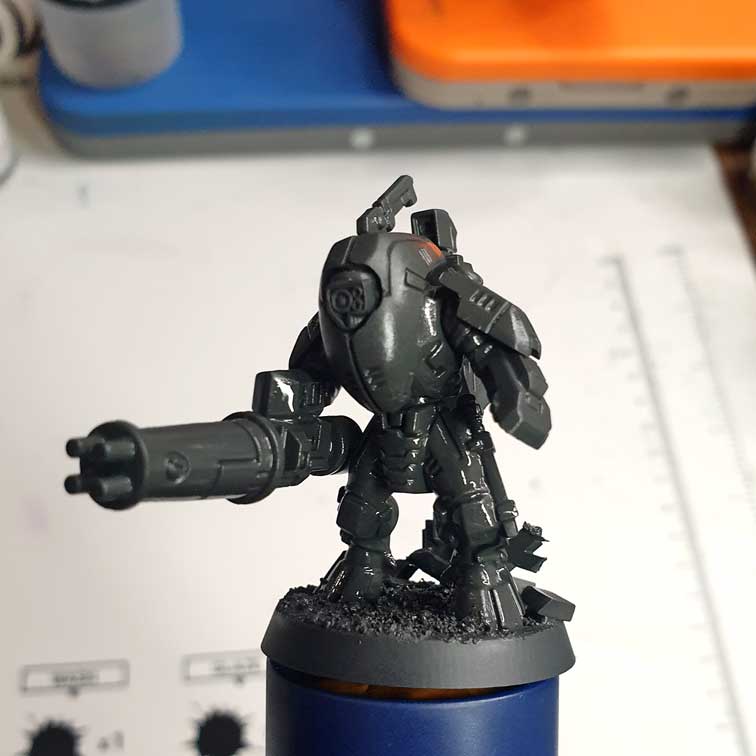 So for the priming stage I used a dark gray primer. Ordinarily I like to recommend the technique 'Zenithal Priming', as it can be really useful. But here for quick white armor it is less useful. Black primer would be too dark and necessitate many, many thin coats to cover properly for white armor. White primer would also be difficult. Because we actually don't want to use much white in the recipe at all! If you start with a pure white, you have nowhere to go. How would you highlight it!?
Therefore I went with a gray primer. My 'quick and easy' white armor is mostly pale grays, so this is a good base to build up from. One of the best pieces of painting advice I learned was to avoid using pure blacks and whites where possible. And this paintjob is a good example of that!
WHAT DO I WANT TO ACHIEVE WITH THIS MINIATURE?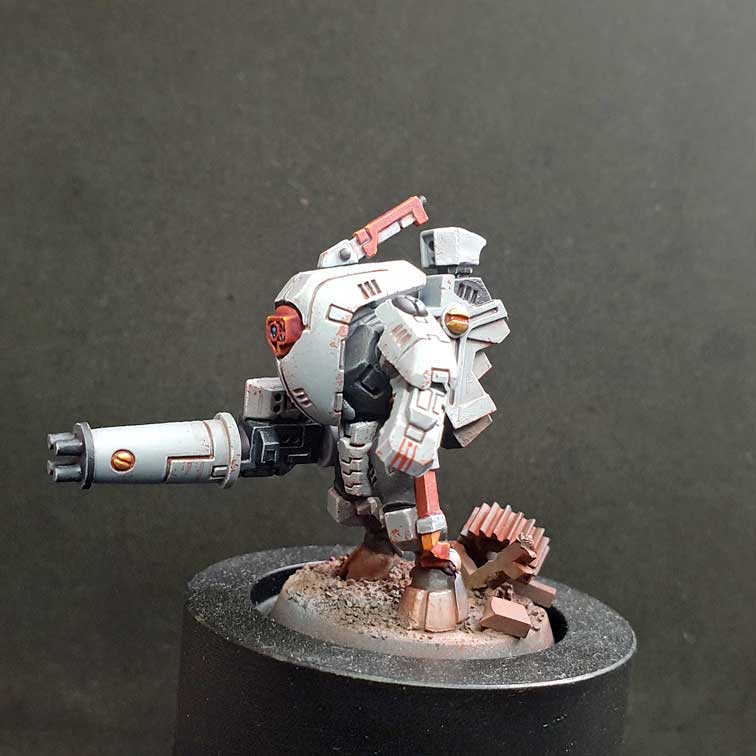 Before you even pick up a brush, it is good to think about what you want to achieve. Here it is not about winning a painting competition. Instead, I aim to paint a squad or army consistently and to a good standard without fatigue. White is a tricky scheme, so I want recipes that are effective whilst being realistic. Have manageable goals! You can always come back to miniatures at a later date to improve them further. But right now, the goal is getting them battle ready.
In mech suit like this, faces are less important here. After all, you can't see the face on this Stealthsuit! Just the targeting optics. But inspired by the recent 'Exodite' series on Warhammer TV, I really wanted to try painting these XV25 Stealthsuits. On schemes that revolve around one color, too, highlights and details matter. Lenses, weapons, and weathering details are good places to do that!
How to paint Tau white: White Armor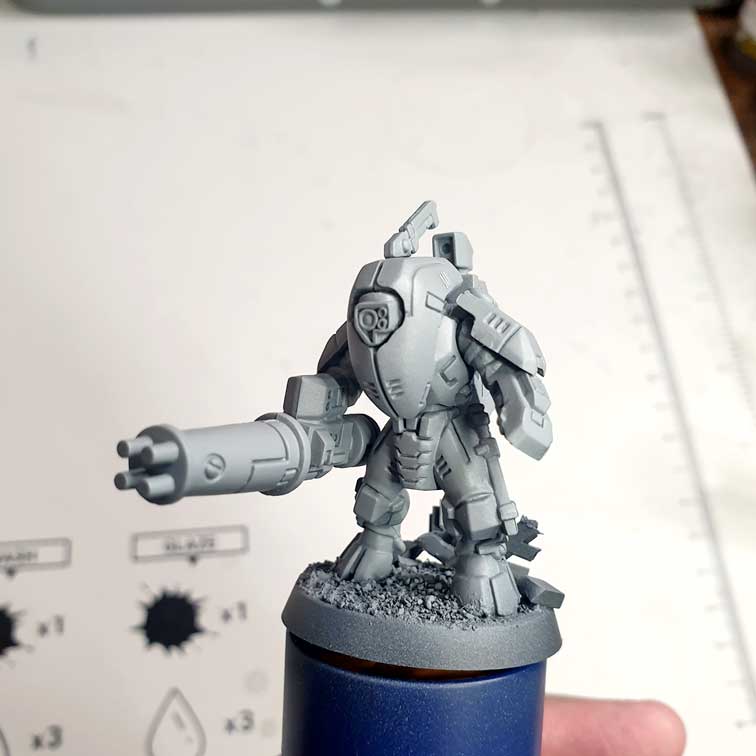 Next, I painted the armor a lighter gray. We want to build up to the lighter colors very gradually. Pale paints, especially white ones, tend to be thicker in their composition. 
This is why it can feel like they are harder to use, or get lumpy over time. By using successive thin coats of paler grays for most of it, we can avoid this. Plus I feel like this is an appropriate recipe for urban city fighting. 
The trick with white, then, is only to use it at the very end. Some edge highlights and spot highlights are actually the only time I will use pure white here. Otherwise I am using pale blue-grays. Depending on the warmth/coolness of your scheme, you can do the same for your white armors, too!
I find the RGG size 2 brush is a solid 'workhorse' brush for most paintjobs. It can basecoat, wash, or layer! That is because it has a big belly that can hold lots of paint, but also a fine tip for precision work. And a Redgrass Games wet palette is invaluable to keep that acrylic paint workable whilst out of the pot! I always recommend not painting straight from the pot as the paint needs thinning and mixing. Especially the case with these paler colors and their default thickness.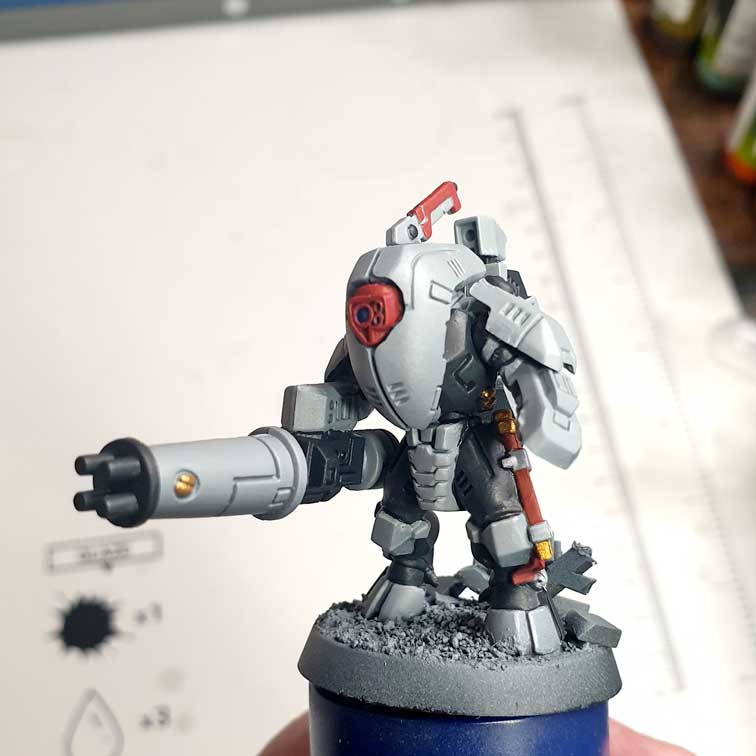 All that whitish armor needs breaking up a little. Especially across whole squads it will look quite uninteresting. So it is helpful to block in the other features. I chose an off-black for under-armor and weapon cases. I also used a little gold metallic for the sept markings. And this helps with variety and detailing. Similarly some red panels on the helmet and antenna add visual interest. For fine details like the lenses, I used the Redgrass size 00, as I wanted more control. It is a really useful brush for fine precision work.
HOW TO PAINT TAU WHITE: HIGHLIGHTS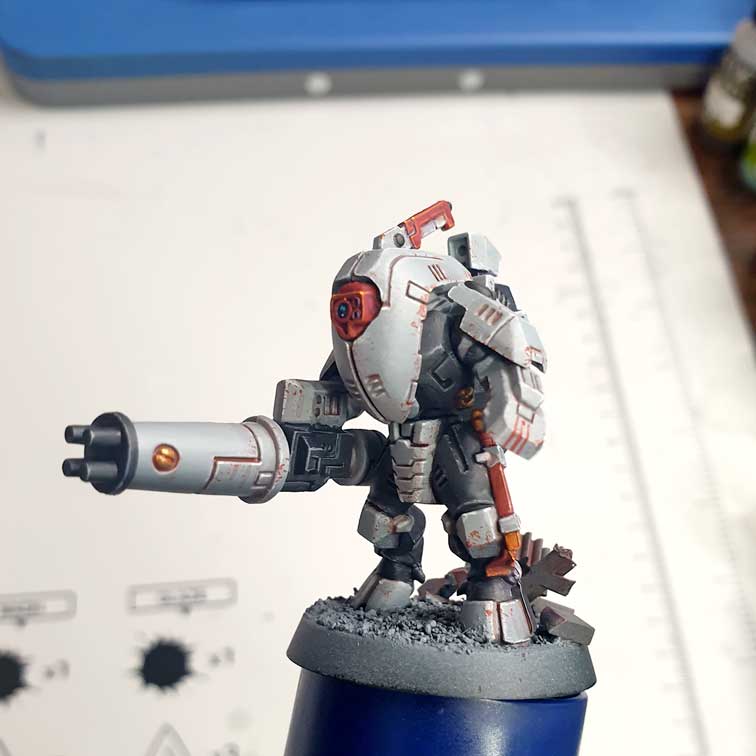 This armor has lots of panels and recesses ideal for washes. These are a quick and effective way to add shadow and definition to models like this. I used a red-brown wash here, as I felt this tied in with the cityfighting theme. It looks like rusty dust, but also contrasts nicely with the cool armor color. It is also similar to the boxart version, and boxart can be a great guide to use.
Using a thinned off-white, I edge highlighted all the armor panels. Quite time consuming to do, even with a good brush like the RGG 00. However, the 'pop' effect it gives is worth it. Thanks to a little eye trickery, too, it gives the illusion of the armor being more white than it actually is. The same is true of shading an off-black to look darker. 
However, it is much easier than trying to use lots of white paint! For some quick 'chipping' effect, I used the same red-brown but applied using a piece of packing foam. Concentrated on the edges, it looks like the white veneer has scratched and chipped in battle.
Finally are some key details that also need highlights. I used my 00 for all the sharpest edge highlights on the armor fluting. A hot orange-red on red panels for example. Use the side of the brush, and thin the paint, for maximum consistency and control.
For the blue helmet lenses, I did small white dot at the back and a turquoise dot at the front. This suggests a 3D, reflective surface. Gloss varnish would also work here. The black parts of the armor I highlighted with a pale blue-gray on all the highest points and sharp corners.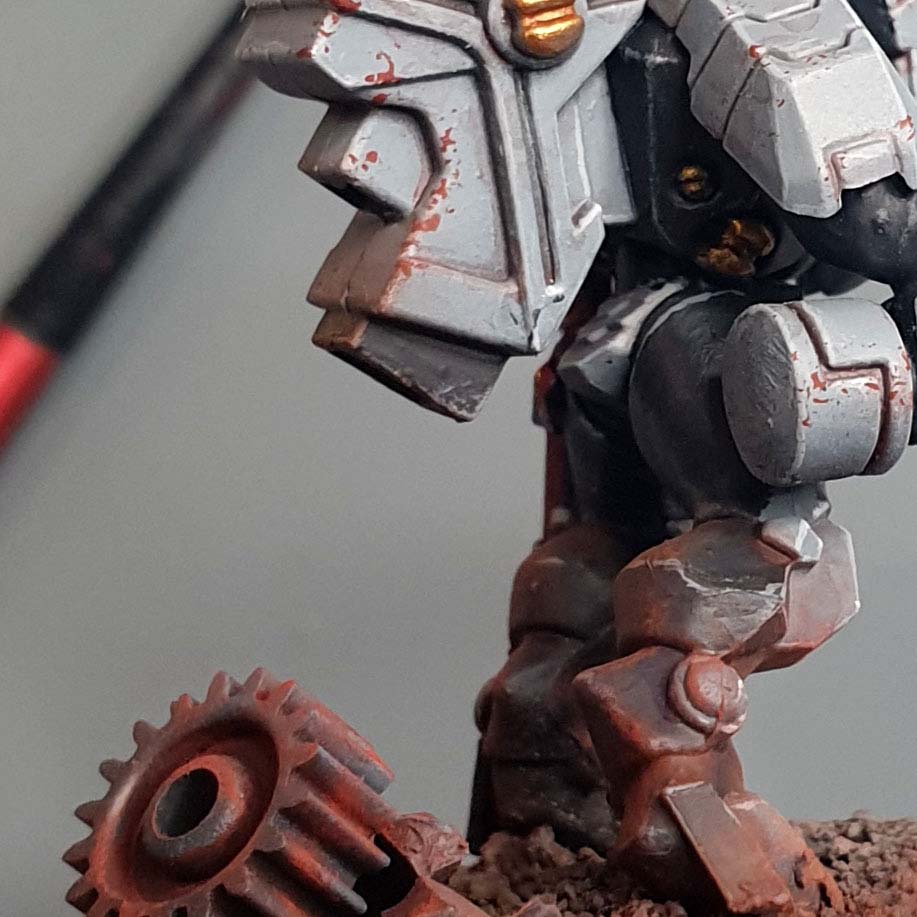 I used my new RGG glass palette insert for some fun with pigments! I personally prefer my models abit 'dirtier', so if you prefer clean boxart style you're already done. However, pigments are fun and efffective to use for weathering techniques. I used a range of pigments like red oxide and light dust to mix on the base and bottom of the model. This suggests a dusty and rusty environment affecting the stealthsuit. I used an old brush to stipple the powders onto the base and model's legs, and then sealed it with pigment setter. Once the setter has dried the pigment goes back to a powdery finish.

You can also mix pigments with mediums to make your own paints, as they are pure colors. Equally you can tint existing colors by adding pigments. They have lots of uses! The red oxide or dust, for example, would make great vehicle 'filters' if thinned appropriately.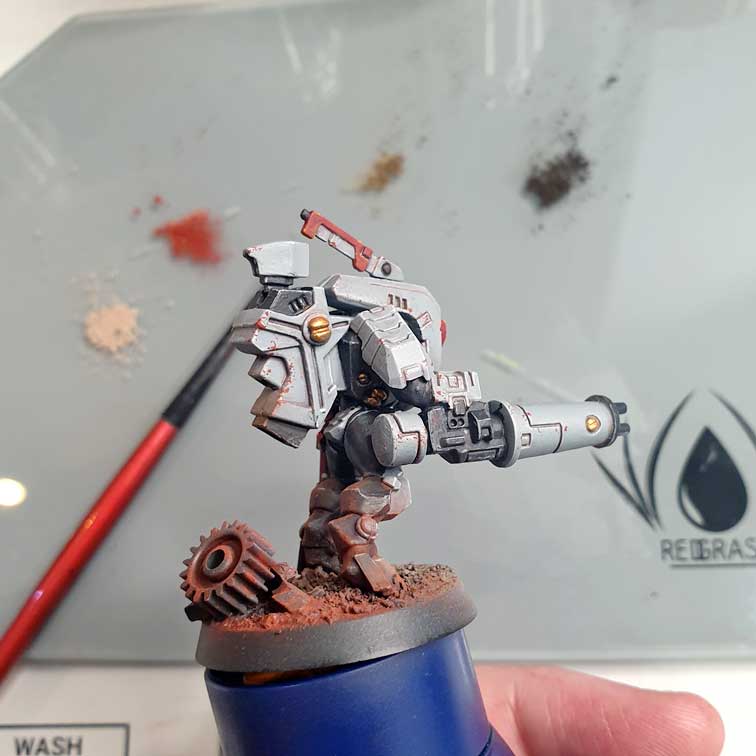 HOW TO PAINT TAU WHITE: COMPLETED PIECE!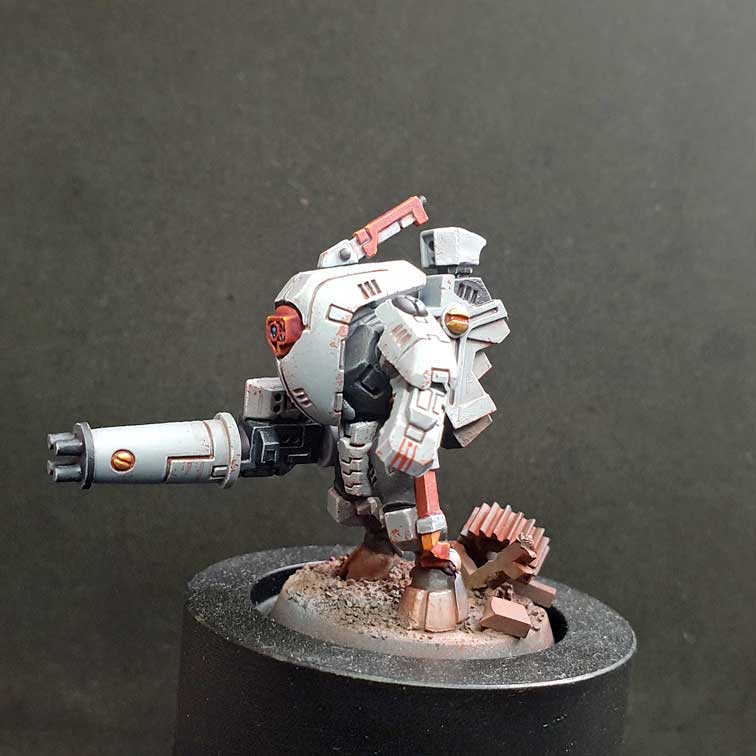 Ready for the op! An XV25 Stealthsuit ready to deploy for Vior'la. Hopefully from this guide you can see the benefits of painting 'white' armor in this way. Especially as it is easy and effective for batch painting armies. So ditch the white paint, and enjoy! – James.