Premium RGG Brush. The best brushes for miniature painting.
RGG Premium Brush. Basecoats, layers, highlights, and details. Paint all of your miniatures with the two best brushes from RedgrassGames.
Premium Lasting Quality
Hand-Made in Germany
From selected Kolinsky sable hair

Rust-proof ferrule
Packaging
All our brushes come in a tube to keep them safe and secure.
Available Size
PREMIUM RGG BRUSH SIZE 2:

Kolinsky Hair. Length 15mm Width 2,02

PREMIUM RGG BRUSH SIZE 00:

Kolinsky Hair. Length 6mm Width 0,08

DRY BRUSH:

Synthetic size 4
SIZE 2: YOUR MAIN BRUSH FOR MINIATURE PAINTING
One size. A real workhorse brush. Every situation from basing to layering is covered. Crafted by German master brushmakers using natural Kolinsky hair, it is a unique combination of large belly and narrow tip, with excellent spring and carrying capacity. With the Size 2 you can get superior consistency, control, and paint flow.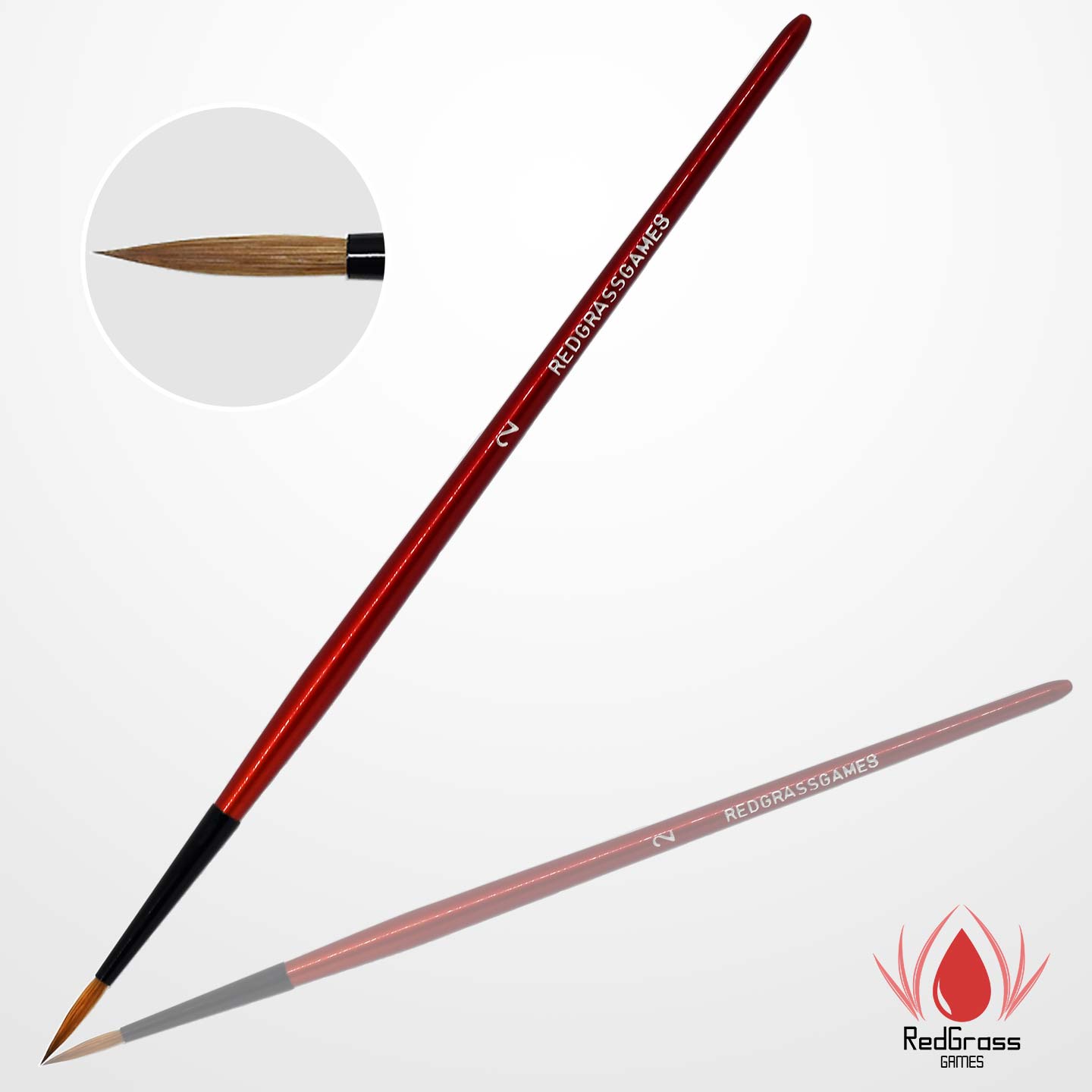 SIZE 00: YOUR PRECISION BRUSH FOR MINIATURE PAINTING
Used by some of the best miniature painting pros! Ensure sharp lines, tackle recesses, and dot the smallest of eyes, with this premium precision tool. Small details and straight edges are effortlessly achieved with the needle-like accuracy of this high-quality, tapered Kolinksy hair brush.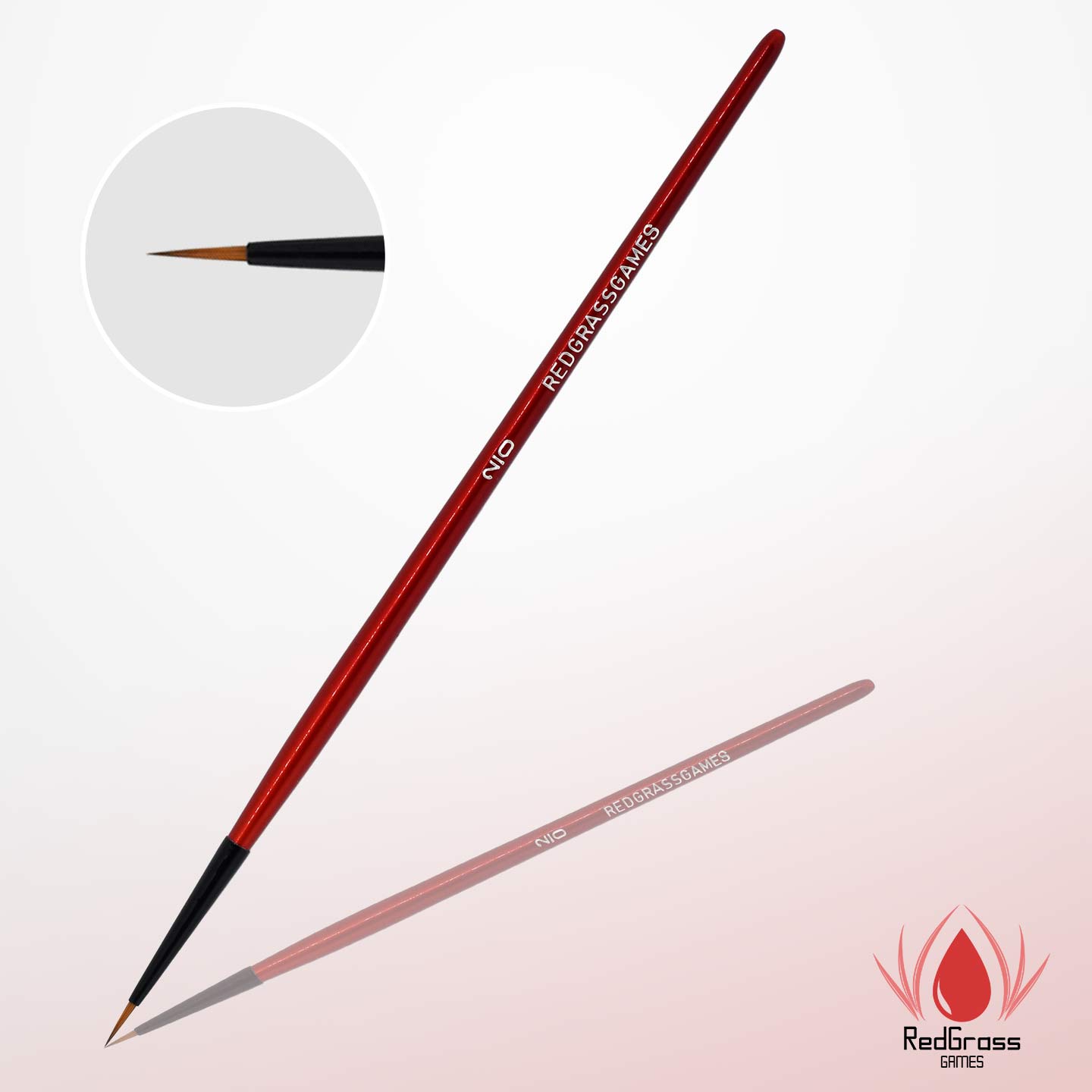 RGG DRYBRUSH: PAINT FASTER. BETTER
The RGG flat Size 4 dry brush is a durable synthetic brush ideal for any dry brushing or overbrushing techniques you wish to conquer. It can also be used for feather blending or pigment applications. Achieve beautiful dragon scales, weathered flagstones, or realistic fur in no time! Being such a hard-wearing design, too, means it can survive the worst drybrushing has to offer.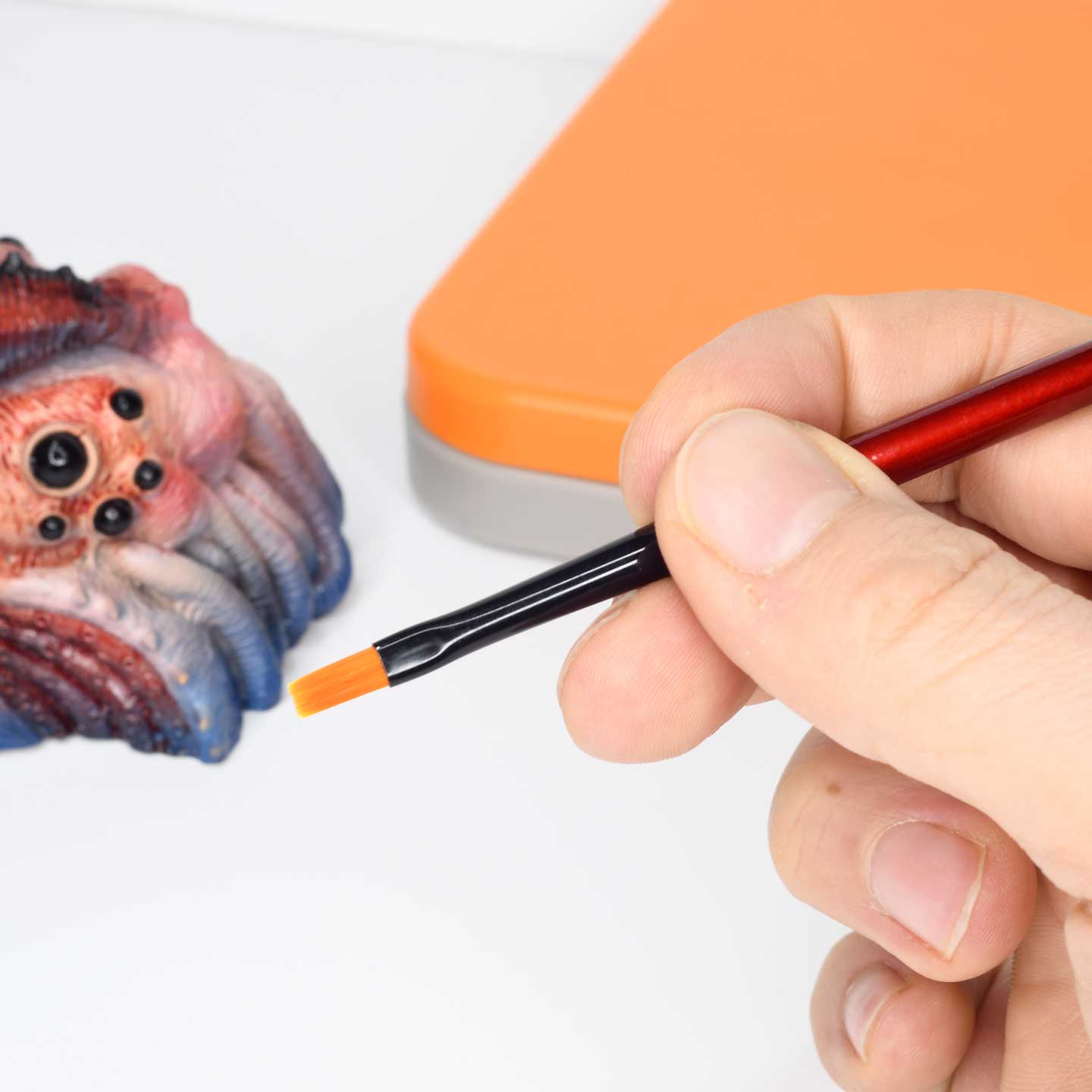 As with all our hobby products, we here at RedgrassGames like to marry form and function. The RGG brush series not only performs exceptionally well, it looks good doing it! With its distinctive polished red handle and seamless black ferrule, our brushes are lightweight and well-balanced to ensure a comfortable and enjoyable painting session. The ferrule forms a good grip for your hand, as well as being rust-proof. Just as with the bristle length, the handles are neither too long nor too short, so they are ideal for any painter's style.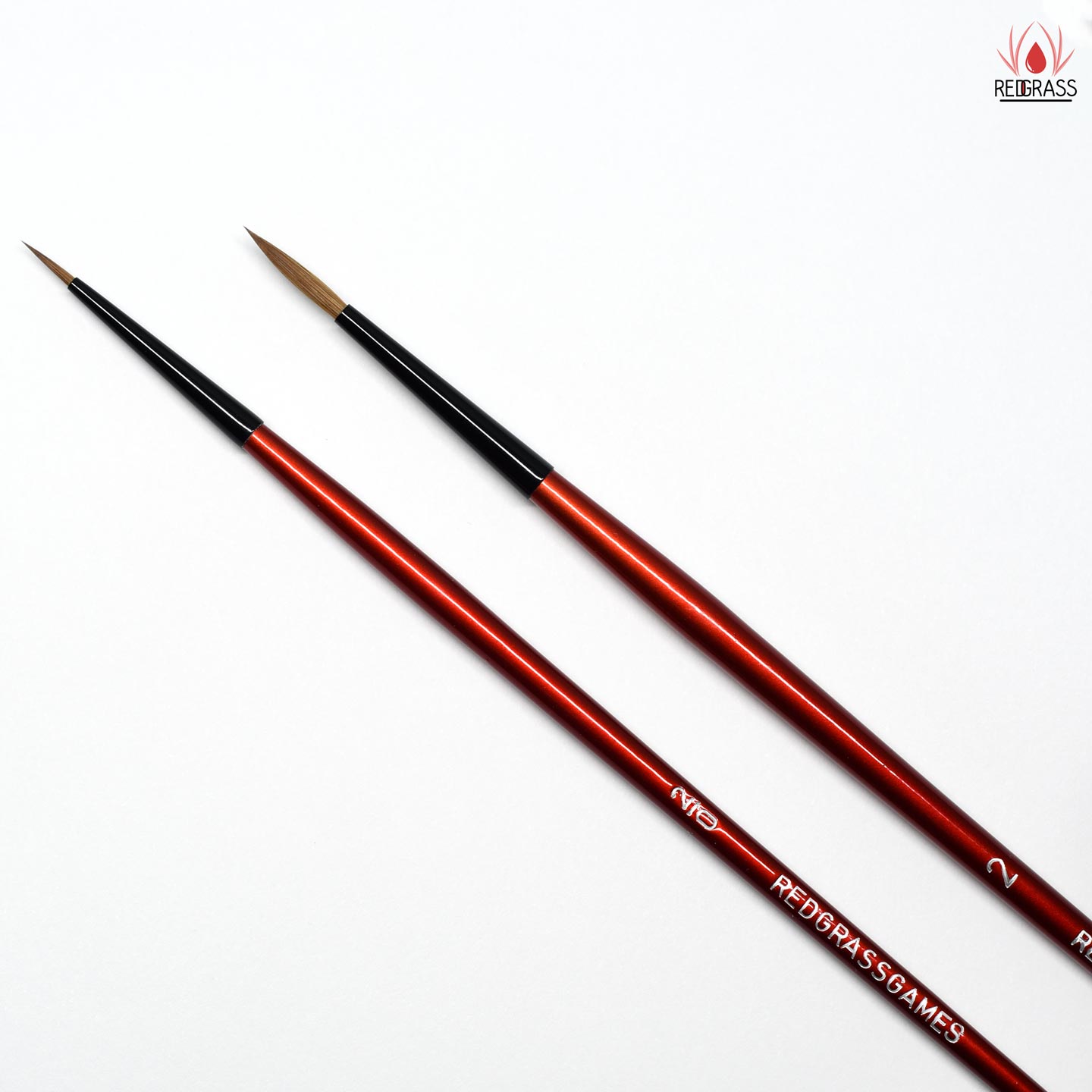 BRUSH FOR MINIATURE PAINTING
KOLINSKY BRUSH CARE INSTRUCTIONS
We pride ourselves on offering quality, premium products that will last a long time. Our tools are designed to maximise your painting experience, and that includes minimising the amount of care! The RGG brushes are made from quality, resistant materials, and the Kolinsky hair just requires an occasional clean.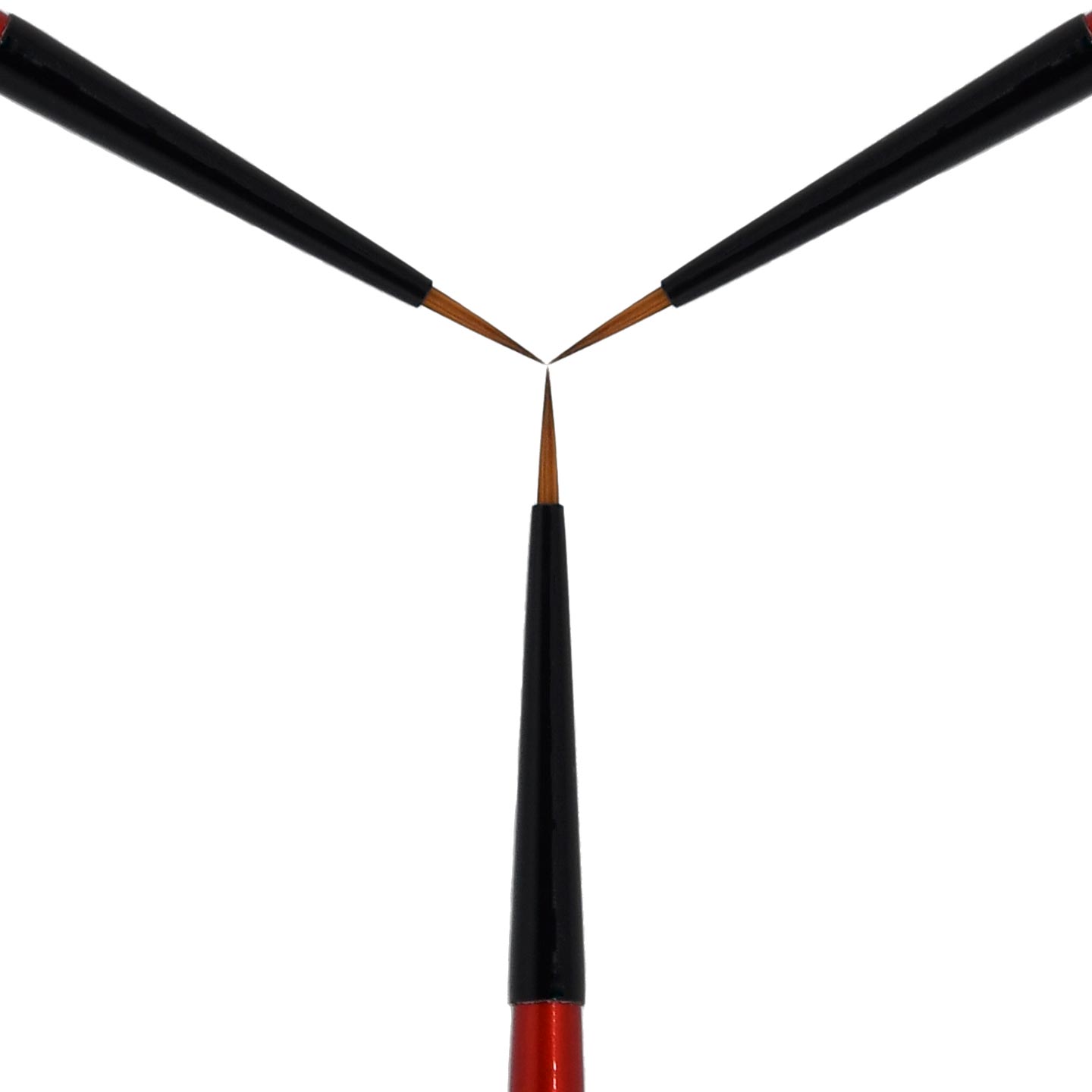 BORN FROM YEARS OF PAINTING
After more than a year in research and development, and with extensive testing, the perfect pair of miniature brushes were born. The Size 2 and 00 from Redgrassgames are some of the best brushes for miniature painters ever created, loved around the world by thousands of hobbyists and professionals alike. The snap and carrying capacity of these premium hair brushes, coupled with precision points, makes them versatile, long-life quality tools for any hobbyist serious about investing in their painting.