Interview with Kiki's Miniatures Mania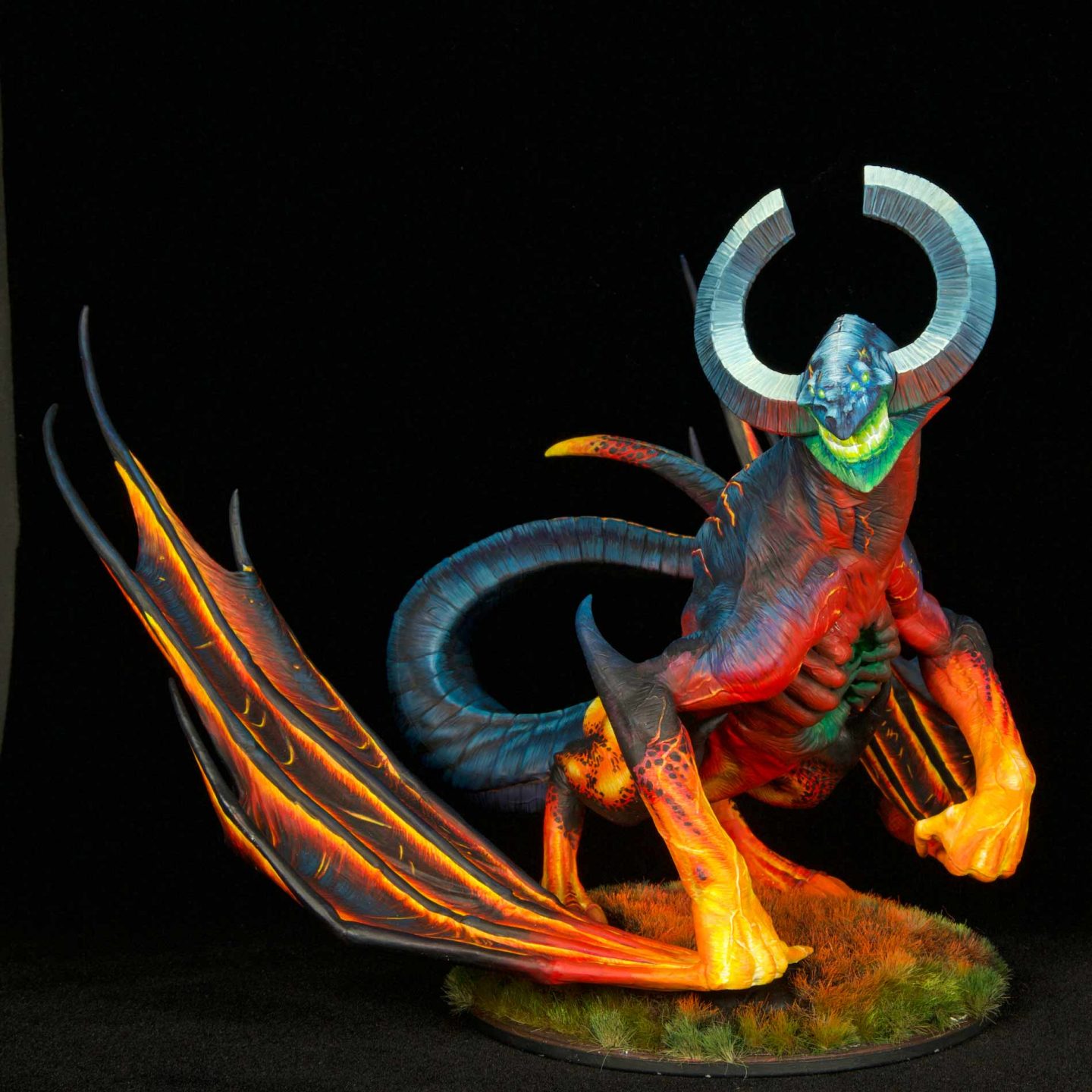 Interview with Kiki's Miniatures Mania. Italian freelance painter and tutor Chiara Grassi is a well-respected community painter. As 'Kiki's Miniatures Mania' online, you can see her amazing Twitch painting streams and tutorials.  She also has a YouTube where you can learn! At Redgrassgames we have supported Chiara for a long time, so we wanted our readers to get to know her better! Read on for more… 
1. Interview with Kiki's Miniatures Mania – How long have you been miniature painting?
"I have been painting miniatures since 2018, when my partner and I started to get to know and become passionate about board games. My favorites to play are euro games, without miniatures, but the ones we had with miniatures needed to be improved- we didn't like all those plastic gray models. So for fun I tried to color some miniatures, and from there I've never stopped. Obviously for a long time it was just a hobby, alongside my work at the time, but with time and a lot of effort I managed to make it evolve into my actual work, as a freelance painter, and I could not be happier.
I learned almost everything self-taught, with the exception of some recent workshops that I have done, and that I will do. From the desire to help those like me who were looking for useful information in Italian with which to start painting, I've created the project of Kiki's Miniatures Mania, which in addition to painting on commission, includes a YouTube video tutorial channel and a Twitch channel, in which I paint daily together with the beautiful community that is being created."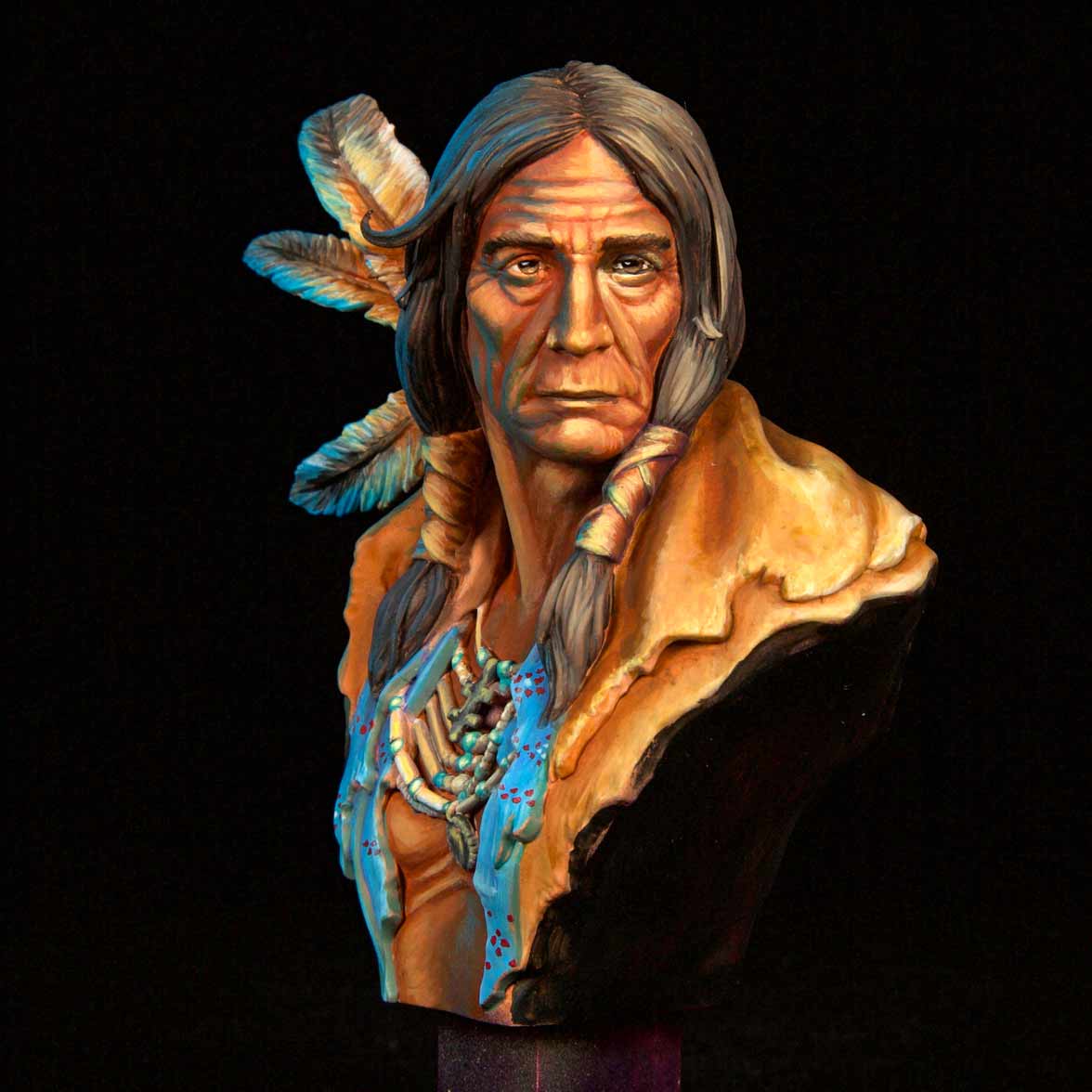 2. What inspires you to paint a new miniature?
"In commissioned painting sometimes it happens that you also paint pieces that you do not particularly love, or that maybe you would not choose personally, but for me the important thing is to try to give a personality to the miniature, try to interpret it and give it an identity.
On the other hand, when I paint pieces that I particularly like, specifically the busts, I first set the atmosphere and mood, thinking about where they could be placed, the environment or the time of day in which they are located. Or to also try to understand which colors, saturated or not, suit the subject. In this sense, colored primers help me immediately to create an atmosphere and a general mood, and from there it all begins."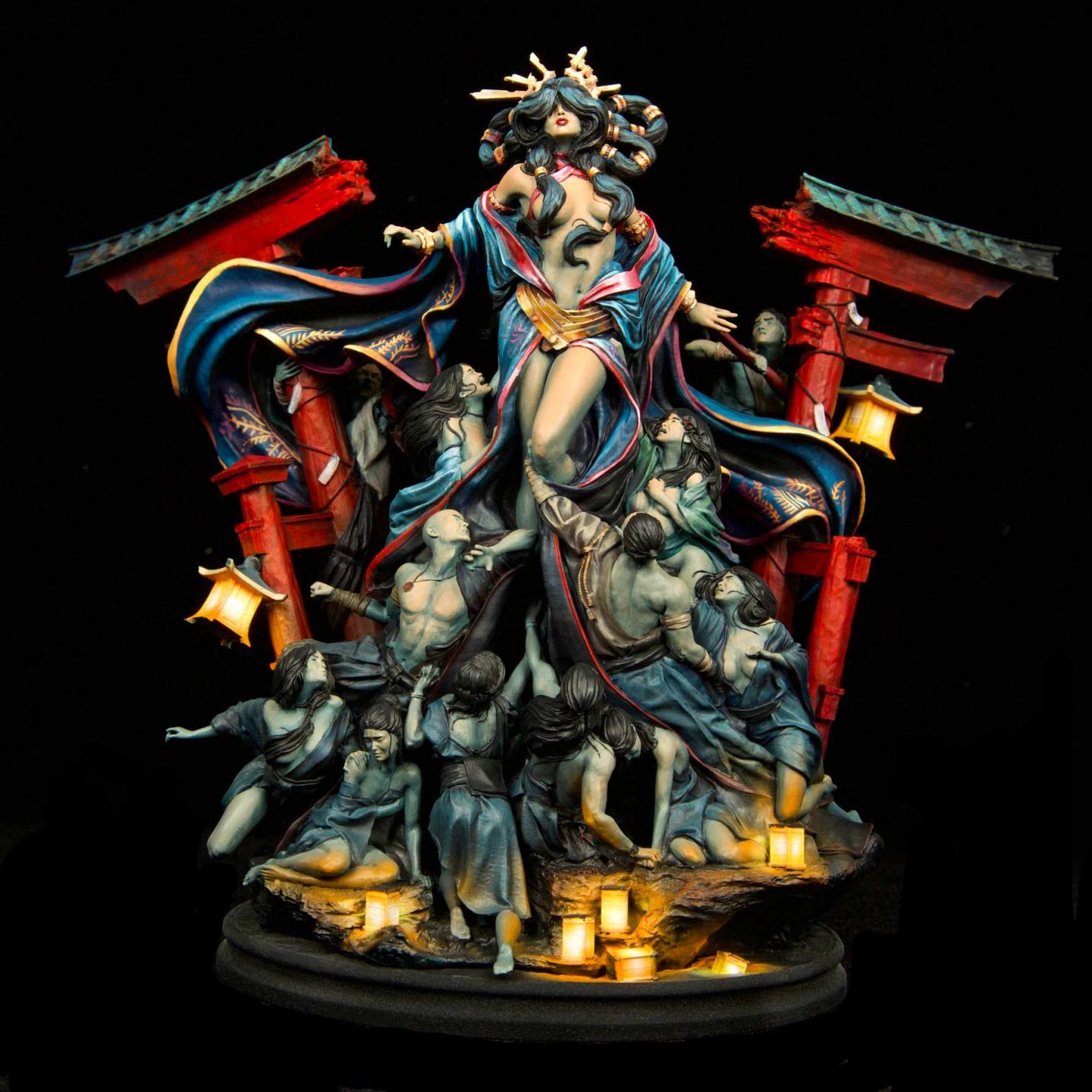 3. What is the miniature you have painted that you are the proudest of?
"The piece I am most proud of is definitely Goddess Izanami, a beautiful limited edition model from Axis Mundi Games, sculpted by Charles Agius.
It was a wonderful challenge because I loved the sculpture right from the start, the expressions of the people, broken by pain, wrapped around the beautiful Goddess Izanami.
Here the challenge was precisely to highlight the goddess with slightly more saturated colors, but making us perceive the fact that she was in the realm of the dead, thus reserving only dull colors for the rest of the figure.
In truth, another piece, finished shortly before, was really colossal, in this case especially for the dimensions, and I'm talking about the Dragon King of Kingdom Death Monster.
A dragon almost 25 cm high and 20 cm wide, painted mostly by brush with great emphasis on the texture of the skin and the spectacularity of the incandescent sections.
A challenge that I am very happy to have completed, and which at the moment remains the
largest piece I have painted." 
4. Interview with Kiki's Miniatures Mania – What are the most important techniques you think a miniature painter should know?
"As for the techniques, I believe that the basic ones are the most important, through which you can always get a good result. Specifically, a good blending technique, perhaps developed according to one's abilities and adapted to one's needs, is fundamental, together with glazing. Blending, once learned, will allow you to work well on everything, from the smooth and delicate skintone, to the non-metal metal, both elements on which I like to focus a lot of attention and studies.
Glazing is a versatile tool that I use a lot to give more personality to the miniatures; a red nose, eye bags, a blush on the cheeks, but also to add reflections to the metal, and create that atmosphere that I am increasingly trying to include in my miniatures. In general, I think that the most important thing to be able to always have fun in painting is to have full control and awareness of the consistencies of color, through which you are able to change brand of colors at will, and you can also experiment with new techniques and approaches."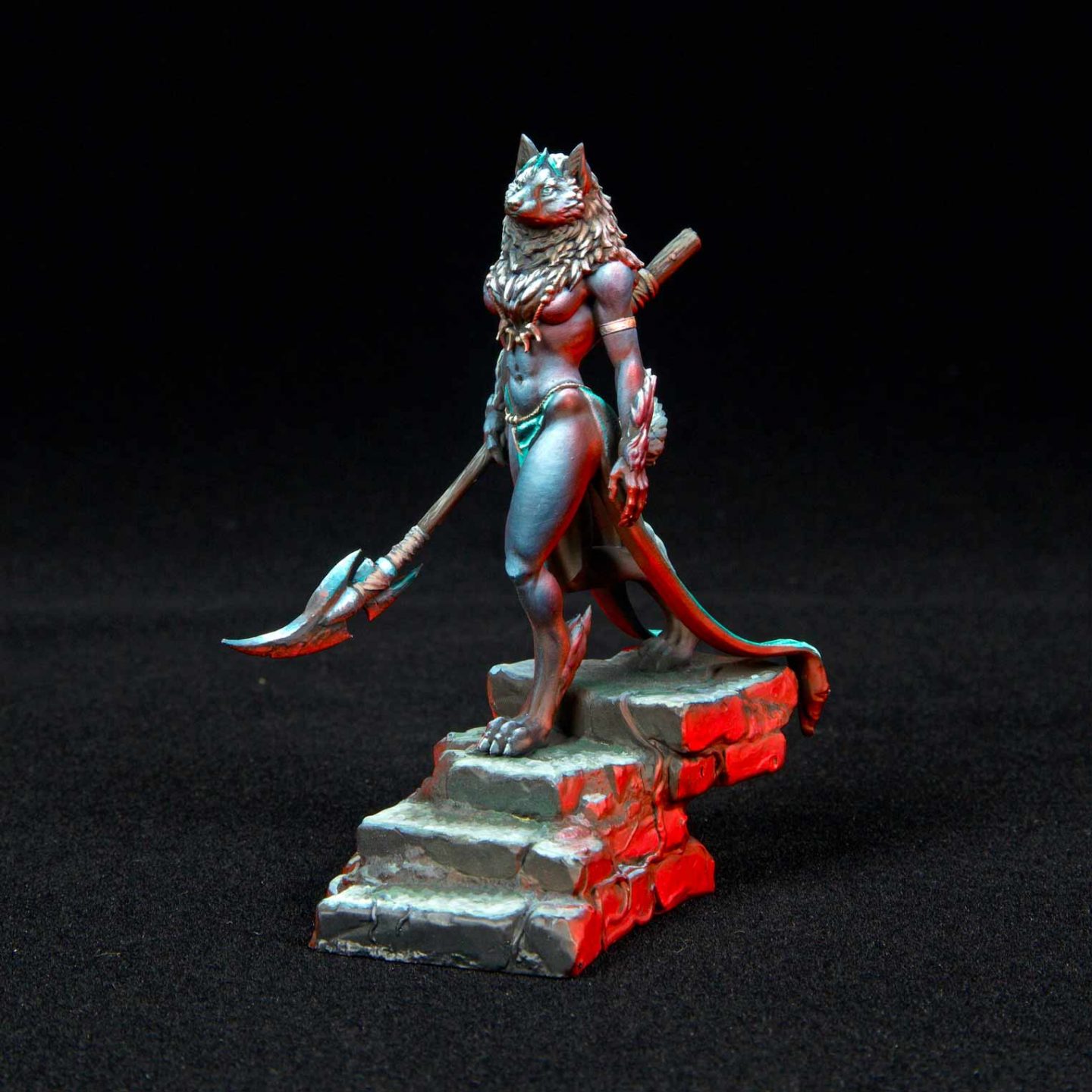 5. How do you organize your day painting?
"My day is completely focused on miniatures, and for the most part on painting. Given the variety of areas, such as commissions, lessons, videos and Twitch streams, my days are never the same, but for better or worse they unfold like this.
The morning begins with a couple of hours of painting by the commission in progress, then at 10.30 I start the live on Twitch with my community, in which we paint specific projects, collaborations with artists or sometimes carry out some commission pieces.
We paint and chat until lunchtime. After lunch and a short break, I get back to work, resuming painting on commission, or taking private lessons online on some afternoons of the week. Towards the end of the week and over the weekend, I take care of filming the video I have planned for the following week, editing it and updating social media and other content. Full and stimulating days, in which there is no time to get bored, and in which I have learned to be very flexible."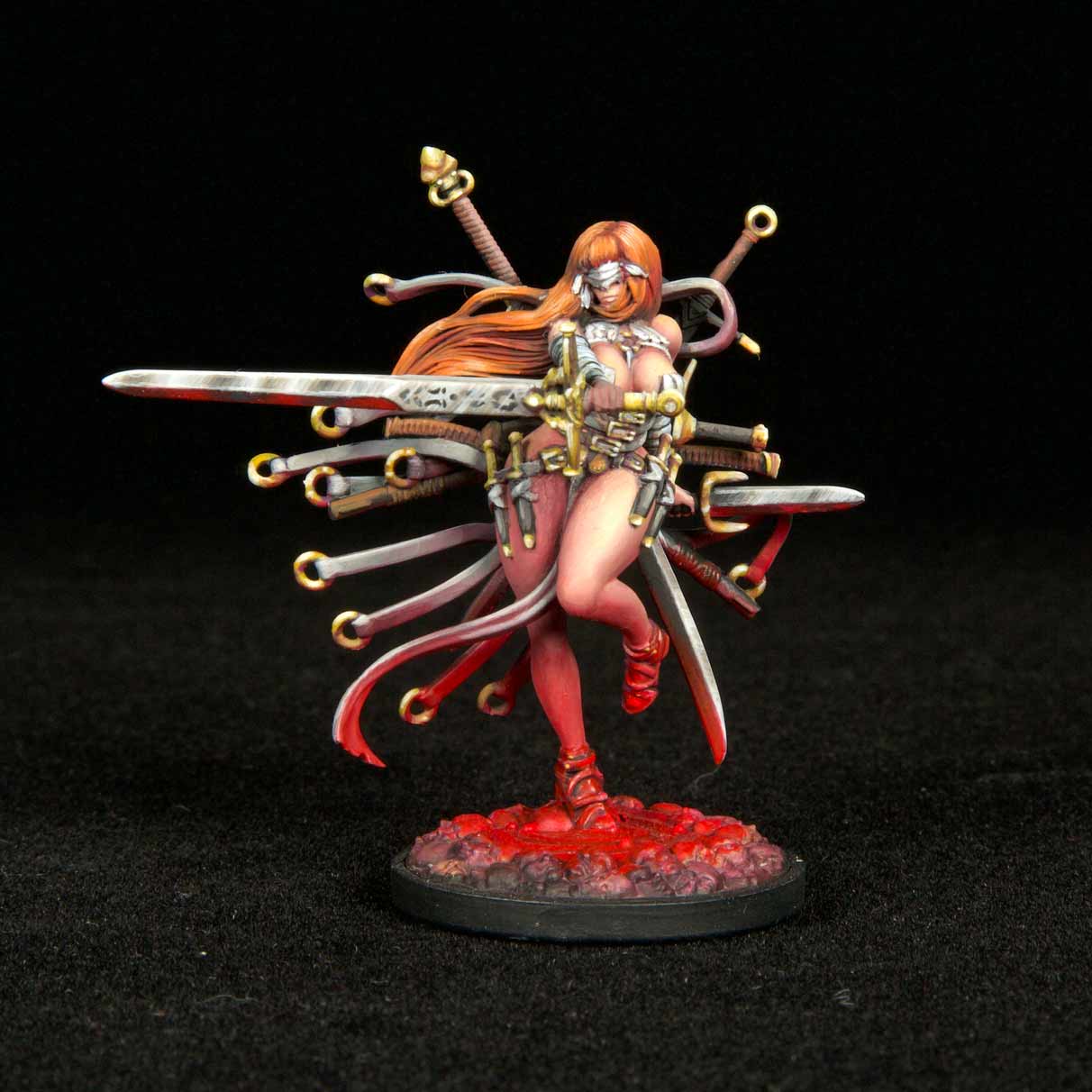 6. Interview with Kiki's Miniatures Mania – How do you choose your color scheme?
"For the color combination, I almost always rely on the color wheel, an indispensable tool for me. I mainly choose a core color of the whole miniature, to which I consequently then combine the complementary or one suitable for creating color harmony.
As for saturation and brightness, I let myself be inspired a lot by the subject, and by the mood I want to create."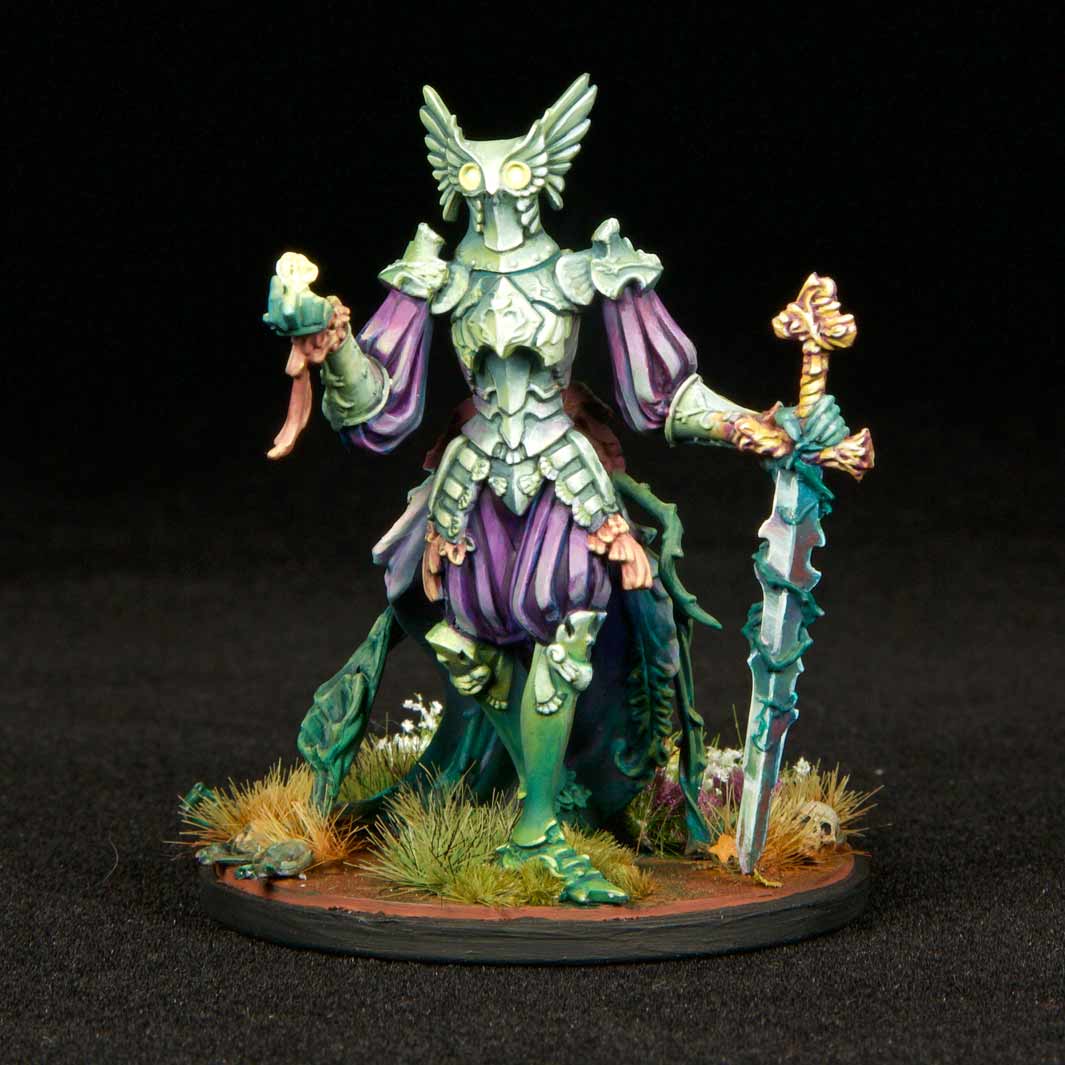 7. Interview with Kiki's Miniatures Mania – Is there a personal painting trick or 'hack' you would like to explain to us?
"Just a simple tip more than a trick. That is to remove most of the color from the brush and load it only as necessary. Many times there is a lot of effort in finding the right color consistency, a fundamental step to be aware of how you are coloring, but then mistakenly you load the brush too much. This way you don't have full control of what you are placing, nor of the impact this operation will have on the part. Each stroke, as the color decreases, will be different and we will not be able to fully control the painting. Instead, by keeping it almost completely unloaded, we will be able to have full control, and often also to remedy an imperfect consistency." 
8. Do you have one piece of advice to share with a painter just starting out?
"The most important thing I think I would like to share is positive thinking about your own results. Many times I hear people criticizing and desponding after the first unsatisfactory results, constantly comparing themselves to the wonderful works that are seen online. It is inevitable to do so, we are surrounded by photos of amazing miniatures, but there is a lot of difference between looking at an artist with admiration and being inspired, perhaps even trying new approaches and chromatic choices, and looking at his works only with envy, being sad to not be at that level. My advice is to never compare your work to that of others, but only to your previous work and see if there is an improvement. We cannot know how much work is behind that piece, how many hours, how much study or how many years of experience. The pure comparison of two images is not useful in any way, neither to understand one's mistakes nor to improve one's technique. Better to roll up your sleeves and aim to do better in the next piece, based on your experiences and your own pace.
In addition, I recommend to those who begin to vary a lot of type of subject and size, because each model, more or less detailed, large or small, teaches us something, and even if the first approach with a 75 mm or a half length, after dozens of miniatures of board game, it will not be the best, it is not a problem, because we will come back with much more awareness on small mines, and the next attempt will be better."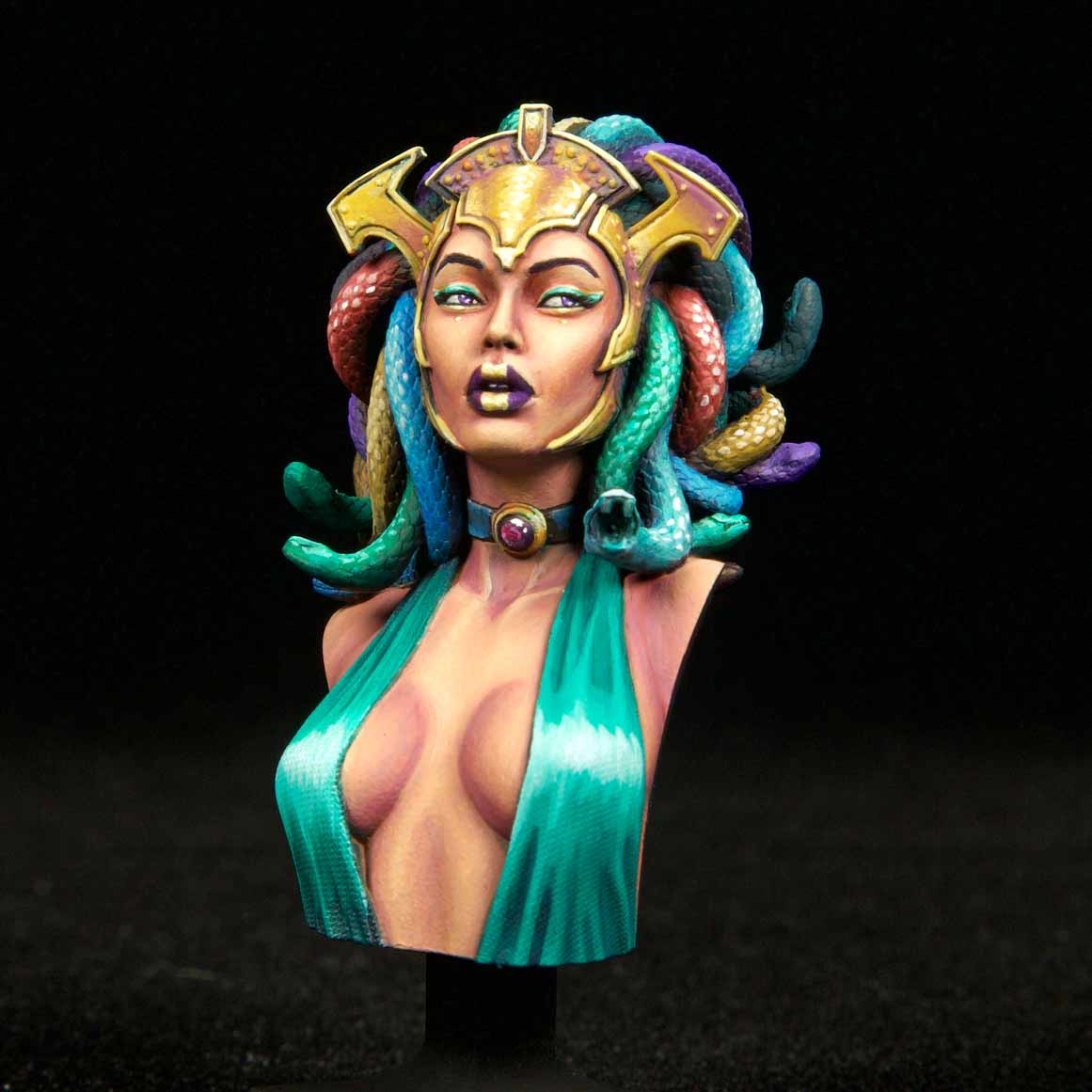 9. Have you ever used oil paints in your work?
"Unfortunately I have not yet tried oil colors in my works, but they are at the top of the wishlist of the techniques I want to experiment with. I am especially curious about the different uses that can be made of them integrated with acrylic colors, rather than as total substitutes for acrylics. I'm concentrating on understanding every aspect of acrylics, but I can't wait to have fun and experiment a little with oil colors too."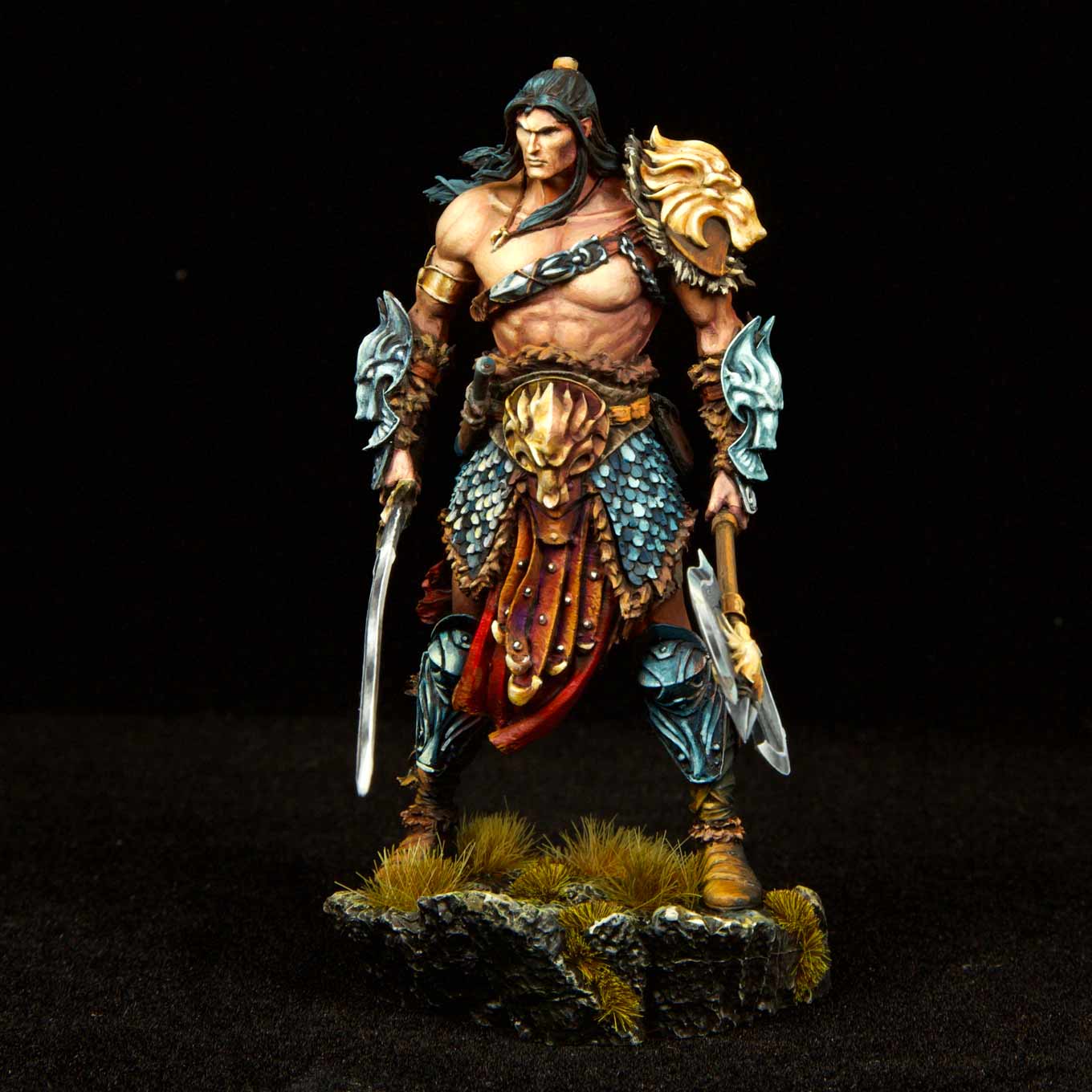 10. Do you have any upcoming news or exciting painting projects to share?

"2022 is certainly a very rich and full year for me. I am very happy with the results I am getting with the Youtube channel and Twitch. The painting of miniatures in Italy is not yet considered as in other countries, and finding new enthusiasts every day, or encouraging veterans to pick up their brushes again, makes me very happy. I recently held a live painting course, and it was a wonderful experience. I can't wait to be able to organize others. In addition to continuing and improving my content more and more, and obviously to deepen my painting every day, I plan to launch my website, which will collect all aspects of my work, from my work as a freelance painter, to tutorials for each level, to the beautiful and kind community that I am building. And then who knows, other juicy news for which it is too early to speak now.
Thank you for the interview, and I hope my story will inspire some aspiring painter to pick up the brushes. As I always like to wish at the end of the video, be creative."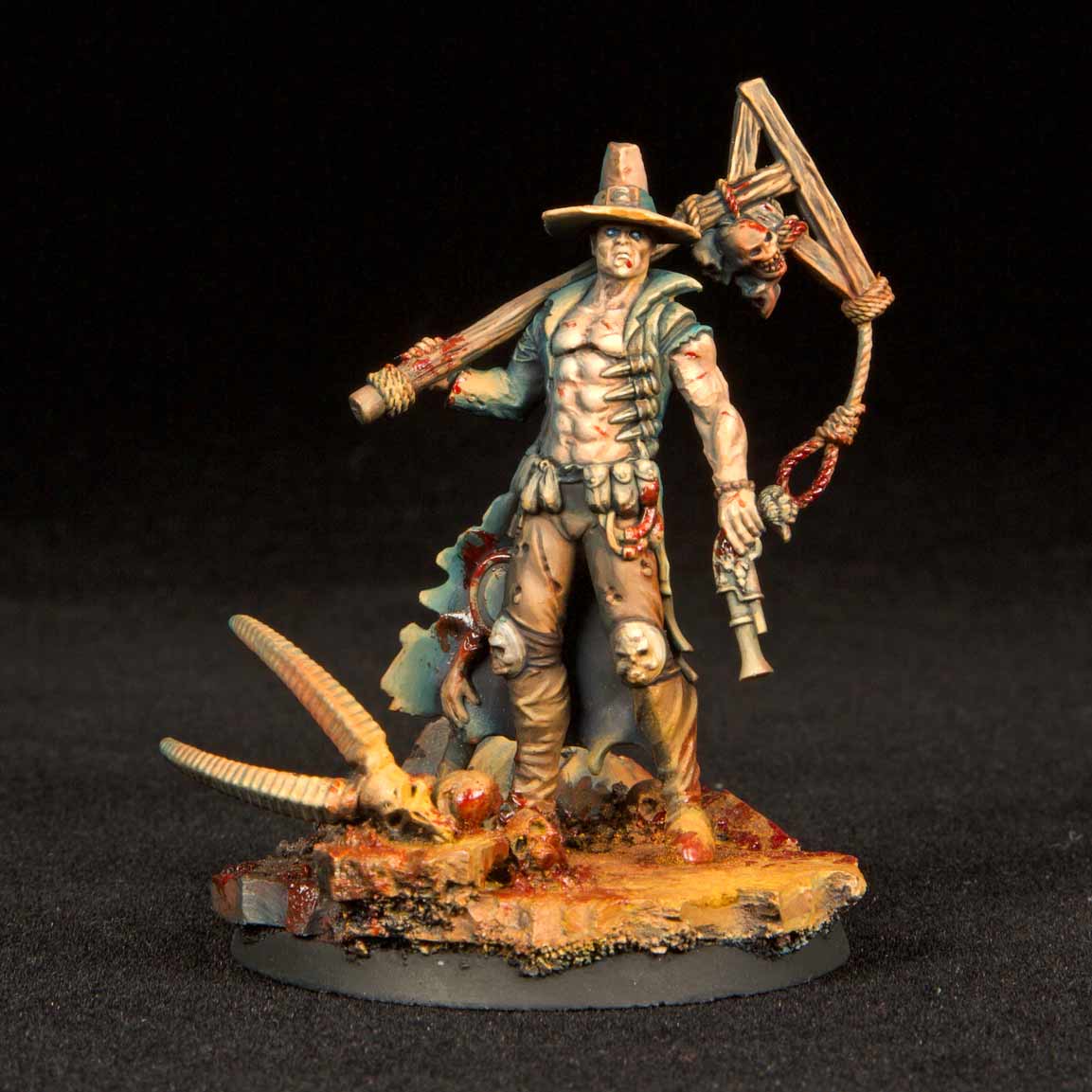 Redgrassgames In Kiki's studio: