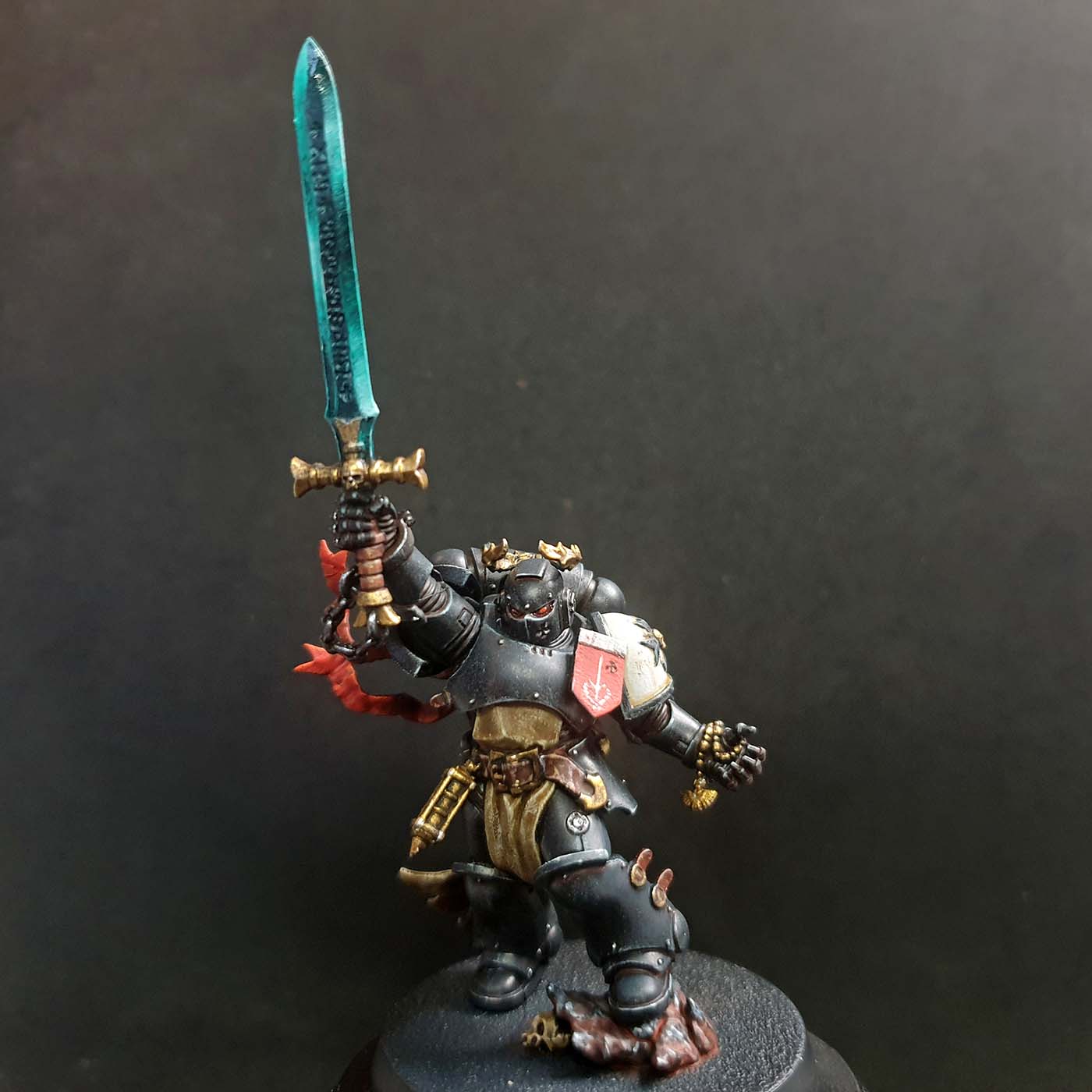 Paint black armor easily!
In this article, we are going to look at painting Black Templar space marines from Warhammer 40,000. They are a beloved faction with an exciting new range of models for their fans. However, all that black armor could be off-putting. Here we have some quick tips to make painting an army of black less tiring and more interesting!
PAINTING  MINIATURES BLACK TEMPLARS: Getting Started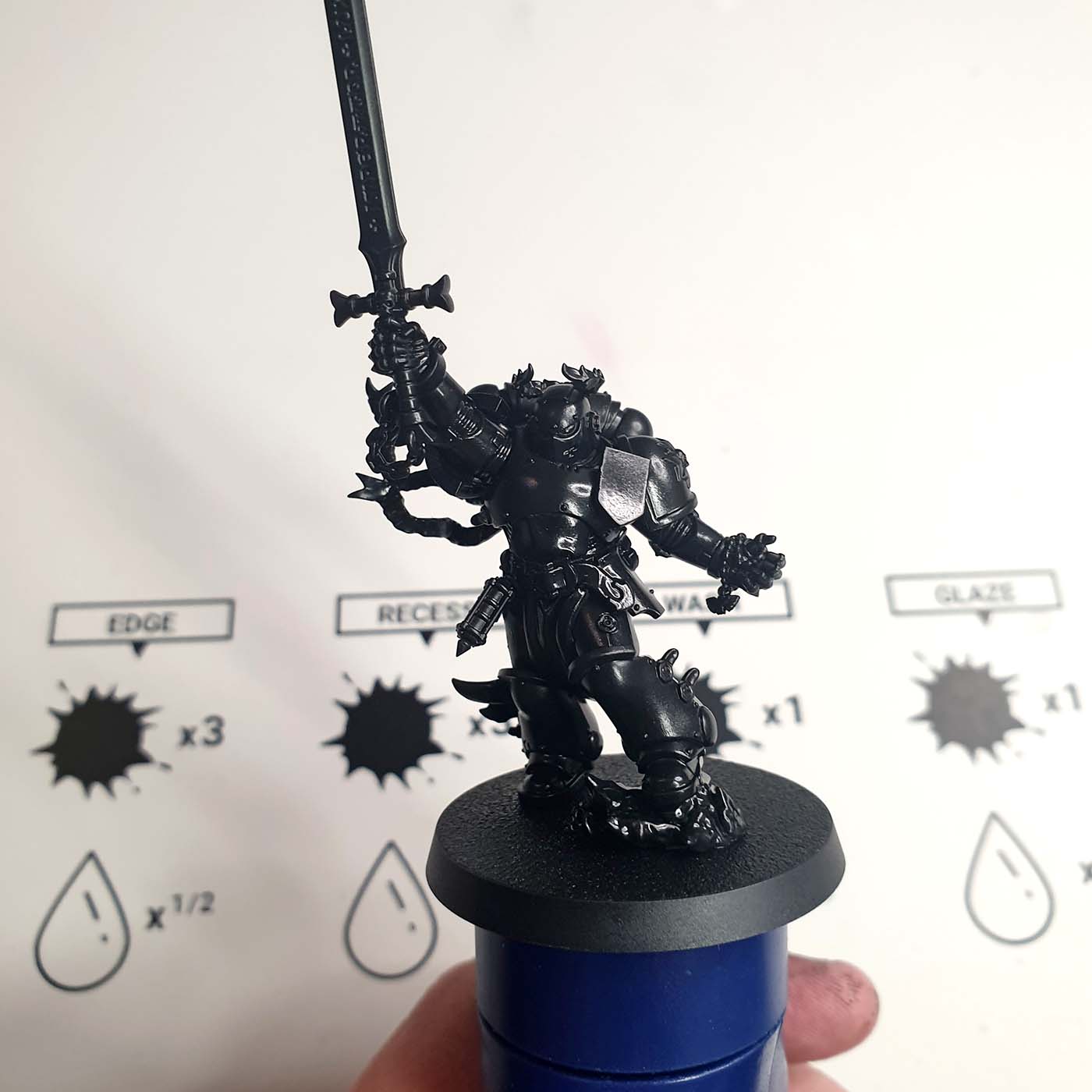 So, let us start at the beginning. I spray-primed the model with black primer.  This is important in painting miniatures to help the subsequent layers of acrylic paint stick to the model. You don't have to prime the model but it may chip more or take more time to get smooth base layers. Spray priming or airbrush priming will also speed this stage up, which will help a lot army painting! Alternatively prime and basecoat your models with a brush like the RGG brush size 2. Ordinarily I 'Zenithal Prime' my miniatures, but not here…!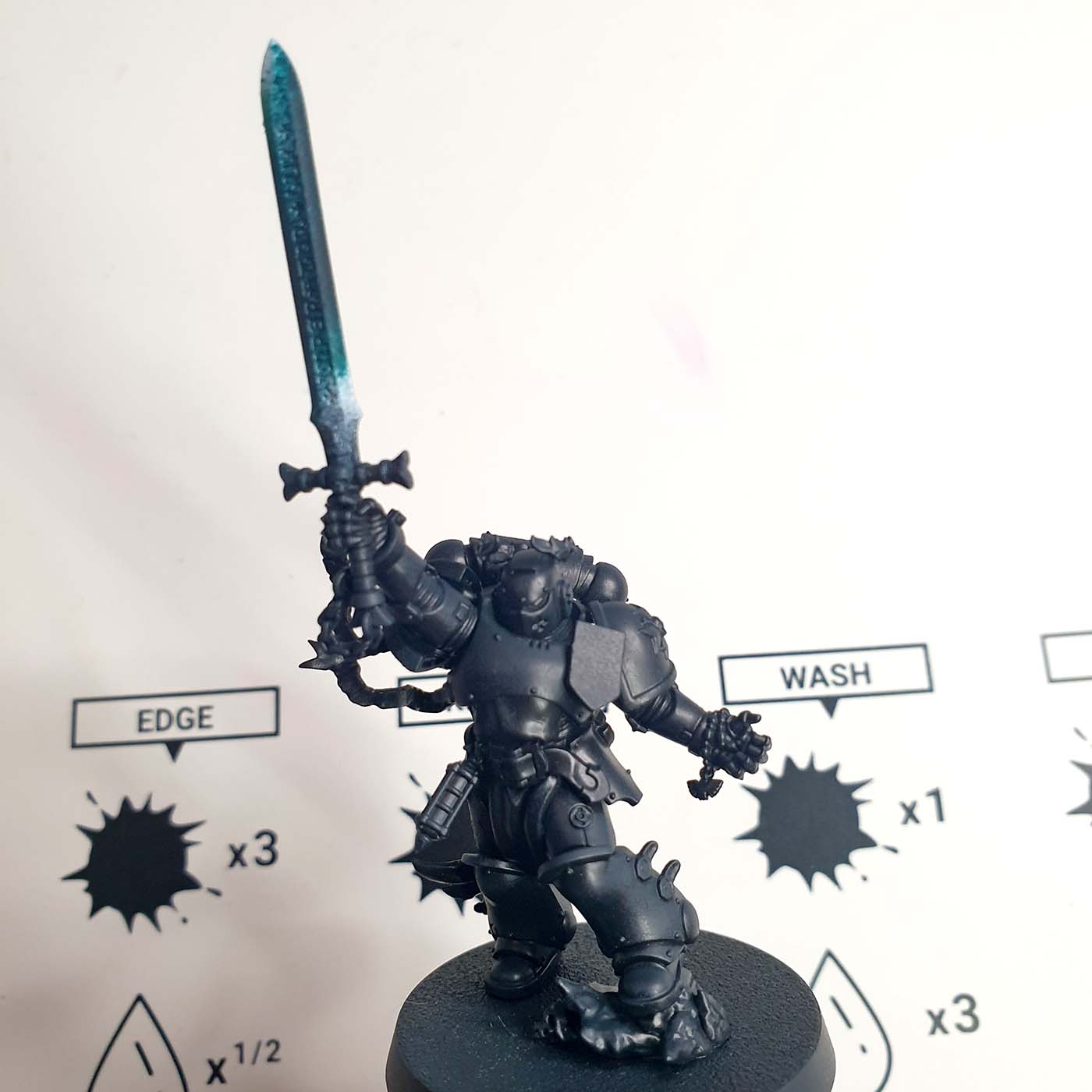 Black primer here is sufficient for what we need to achieve with massed ranks of Black Templars. We would cover up any two-tone priming with our 'black' armor, anyway, so it would be a waste of time and paint. Work smarter, not harder! Instead, I went straight to the basecoat stage. Over the black primer I basecoated all the armor with a very dark gray mixed with a little dark blue/green. Why? Black primer actually has a different finish and tone compared to normal blacks, and regardless black on its own is a very flat color that is hard to recess/highlight. My new mix still presents as black, but gives more depth. Later on it will be easier to shade and weather, too.
WHAT DO I WANT TO ACHIEVE WITH THIS MINIATURE?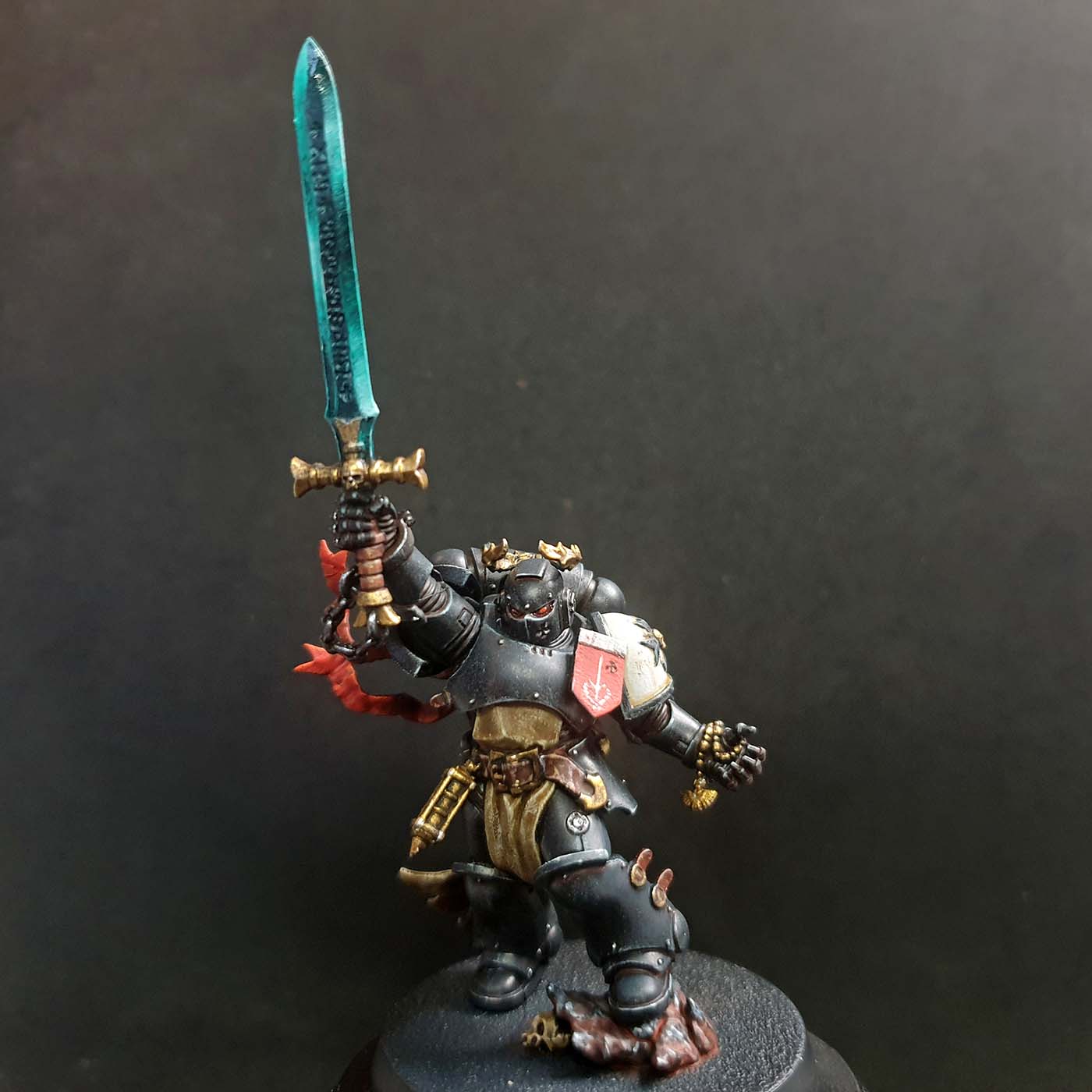 With army painting, for many of us, 'batch painting fatigue' is a very real threat. But with centerpiece models like The Emperor's Champion, we want something a little more than the tournament '3 color' standard so he stands out as a special character on the battlefield. It is all about finding balance. I decided I would paint most of the model in a standard army recipe, but make a more distinctive sword- after all it is central to his lore and the dynamic pose of the model!
PAINTING  MINIATURES BLACK TEMPLARS: Base Colors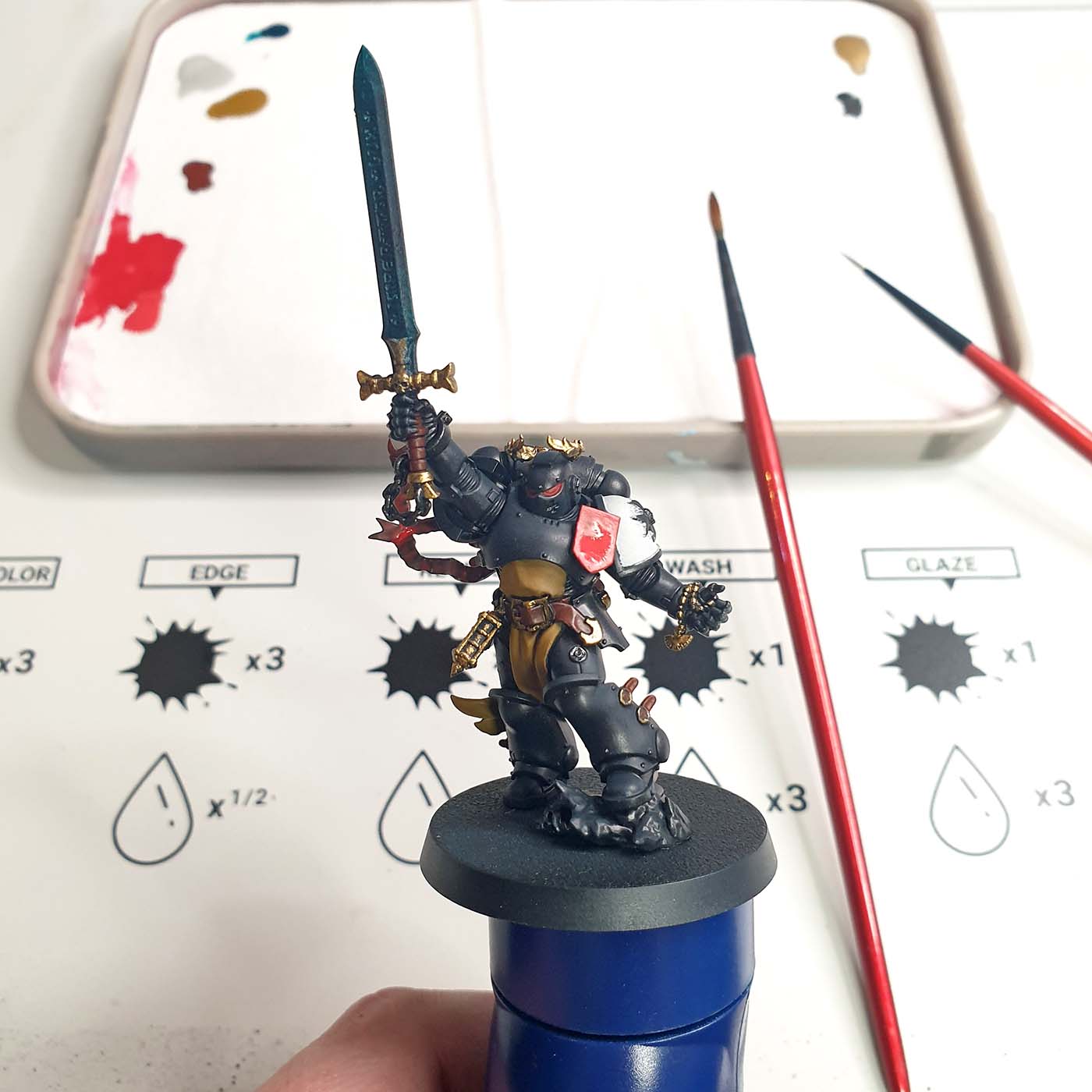 The next step was the other base colors. Black is such a distinctive part of the Black Templar scheme, but we do want a more visual interest provided it doesn't take so long as to lead to 'burn out'. I thought about simple, powerful colors that could be used. A pale gray for the white was an obvious choice for the pauldrons, as well as a spot color of red for the tilt shield, helmet lenses, and streamers. I used an old gold and blue steel for the metallic parts, as these have good coverage quickly and highlight really well which will save me time layering etc. For the tabard I went for a tan base color, to offer more difference to the white shoulders once they were both complete. I also feel this gave the cloth a more 'lived in' look. For space marines, it is always worth googling medieval knights for color scheme ideas, especially homebrew chapters.
PAINTING MINIATURES BLACK TEMPLARS: Shading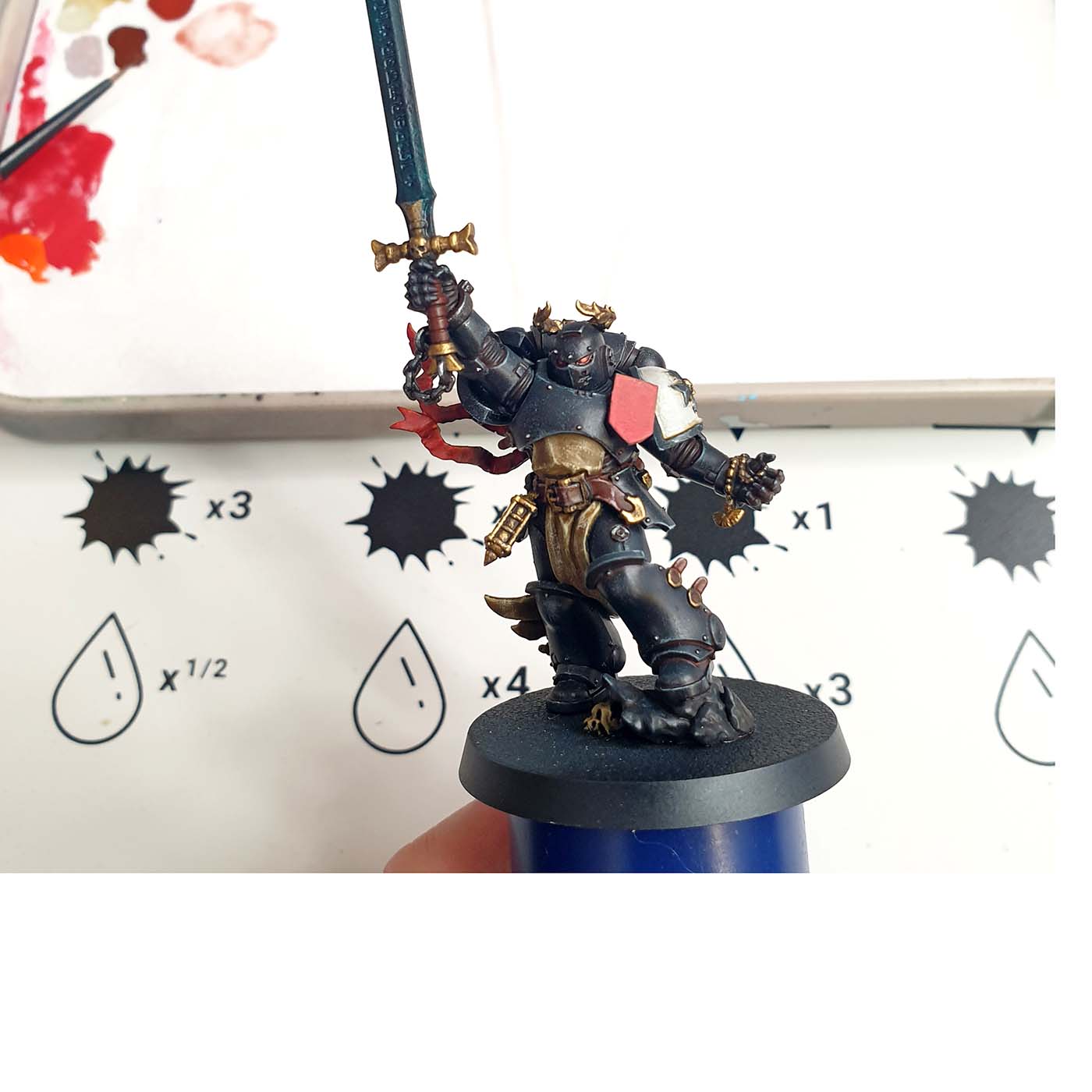 An RGG size 2 will cover large cloak areas relatively quickly. I picked a red-brown for the leathers, and a dark green for the sword which I was planning on making distinct later. Mostly I used the Size 2 for the shading process too. I used an umber wash for the tabard, belts, and gold- I think this gives those pieces a real 'battle-worn' appearance quickly. On the white I used a sepia wash, which settled into the recesses nicely without making the white look dirty/patchy. For the armor, I wanted a color that would offer nice contrast and suggest age, without being too dirty. I used a red-brown wash and let it flow into the recesses of the armor panels. This was quick but I think it also gave a nice effect of environmental dust and grime. I didn't want my marine to be parade pristine, but equally he takes pride in his gear so shouldn't be too shabby!
PAINTING MINIATURES BLACK TEMPLARS: Using Oils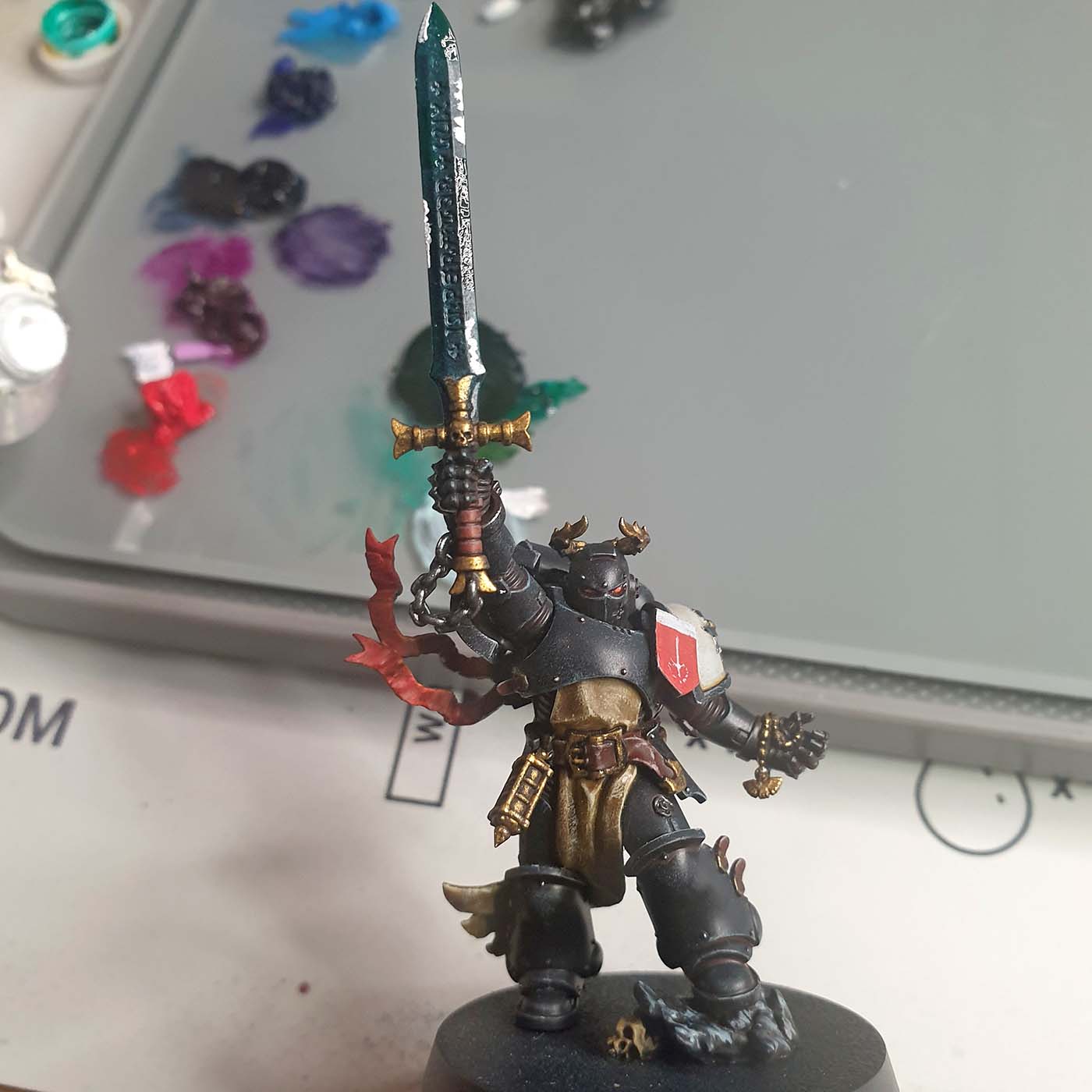 Oils are great for using in your miniature painting, and are not necessarily as slow as you may think! Thanks to the new RGG Glass Palette, it's even easier. The excellent blending and drying properties of oils are great for a quick and effective power sword for our hero. And if we leave the sword to dry overnight when we sleep, we have not prolonged the batch painting process. I used a similar dark green to the acrylic base color, and a titanium white in opposing points of the sword. Next, I blended them into one another via a feathering process. That was it! Much faster and easier to achieve than traditional acrylic blending techniques for power swords. Later you may wish to line the edges with white, too, or add some spot highlights of pure white if you want a really shiny effect.
DRYBRUSH OR EDGE HIGHLIGHTS?
Lastly is the key details that need highlights. It all depends on what material I am highlighting. For the sharp angled power armor of a space marine, I want sharp shiny edges, so I will use the side of my 00 to highlight the black with a pale blue-gray. Rather than every edge, I focussed on the leading edges and sharpest points. This is more realistic, I feel, and is less soul-destroying than edge highlighting every edge. That is a recipe for burn out on army building painting projects involving so many marines!
For the tabard and leather straps however, a
drybrush
technique will offer some good texturing and suggest how organic material ages. The added bonus is that drybushing is speedy! I added a pale yellow to the original tan mix for the tabard so the highlight wasn't too stark. On the breastplate I also added some 'micro scratches' and dents with a nearly-finished drybrush. Up close this offers some nice texturing and suggests age.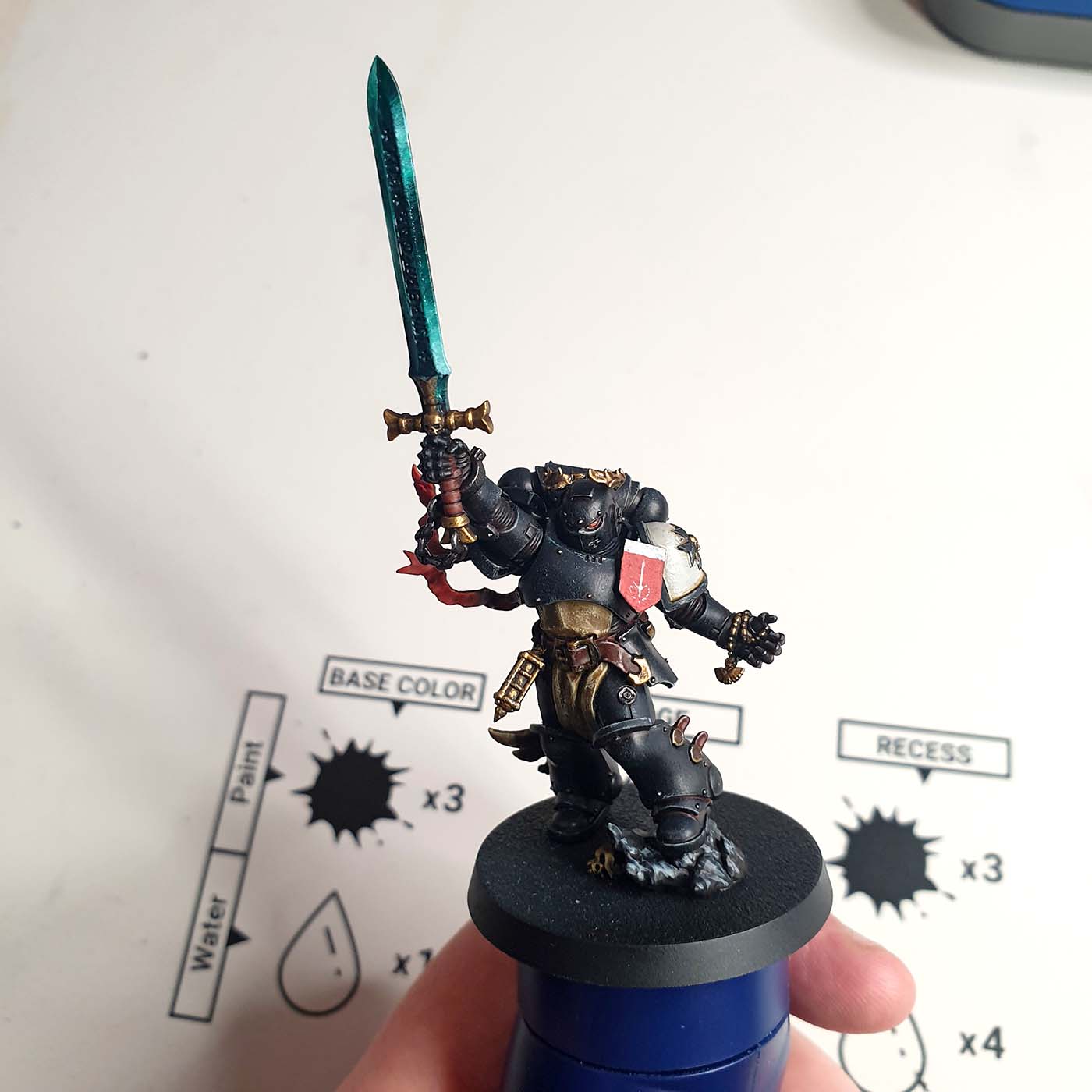 PAINTING MINIATURES BLACK TEMPLARS: Finished Piece!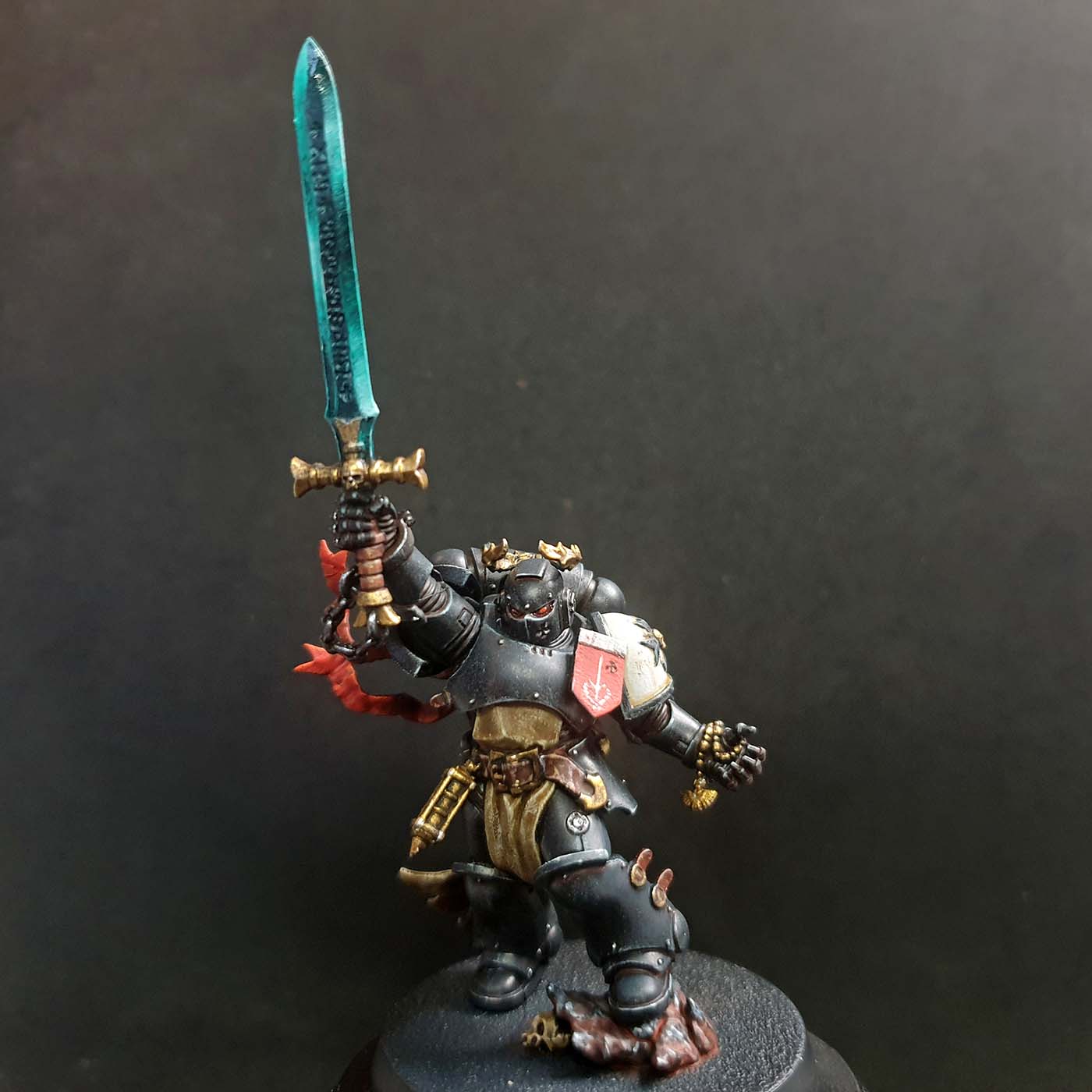 The finished Emperor's Champion of the Black Templar space marines! After highlighting the gold and silver parts, I was sure to finish the freehand on the tilt shield. You can use transfers/decals of course, but I like to use this opportunity to draw something unique. Again, I advise using google to look up real-world inspiration of heraldic devices. Here then you can hopefully see a good balance between speedy batch painting ideas to stop fatigue, whilst also using effective and eye catching extra details for your centerpiece models. Enjoy! -James.