Painting miniatures OSL fire effects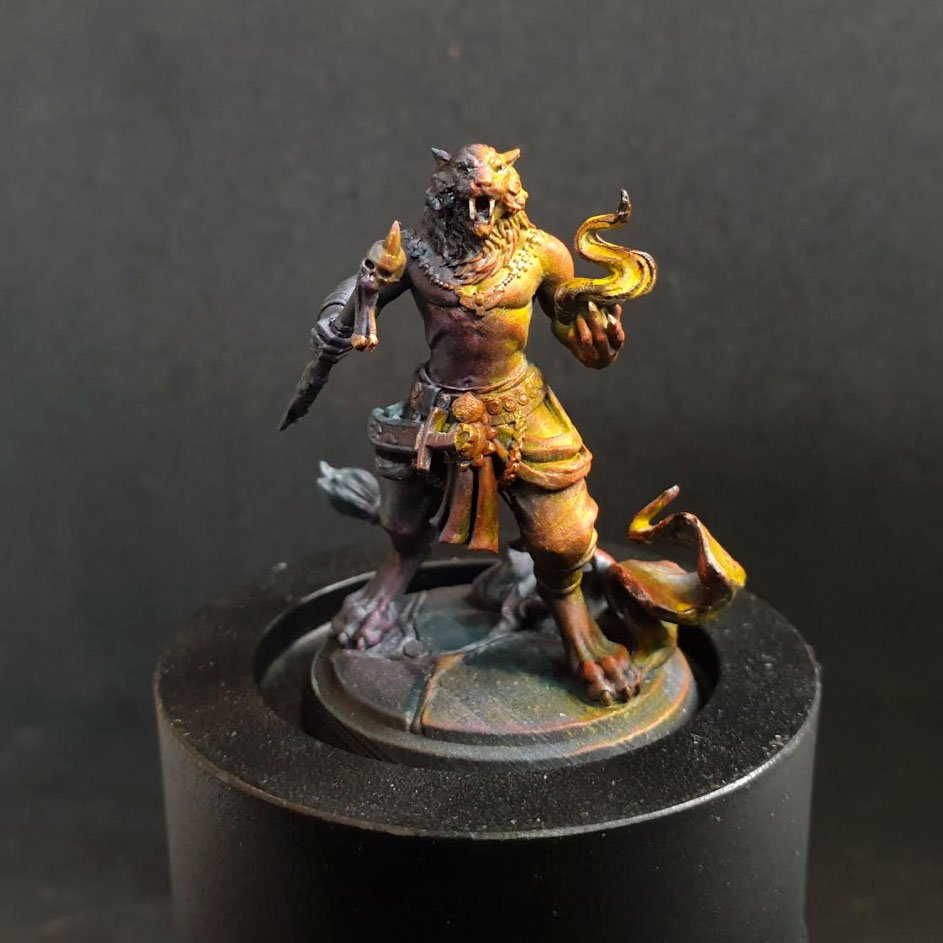 When I saw this miniature sent to us by our friends at White Werewolf Tavern, I immediately had an idea. I wanted an 'old school' color scheme, like the art of classic Heroquest or DnD. However, flame effects and OSL in general can be intimidating to try. But, with a drybrush and the right blends, Object Source Lighting doesn't need to be hard. And so, let's start this Painting miniatures OSL fire tutorial!
PAINTING MINIATURES OSL FIRE: PRIMING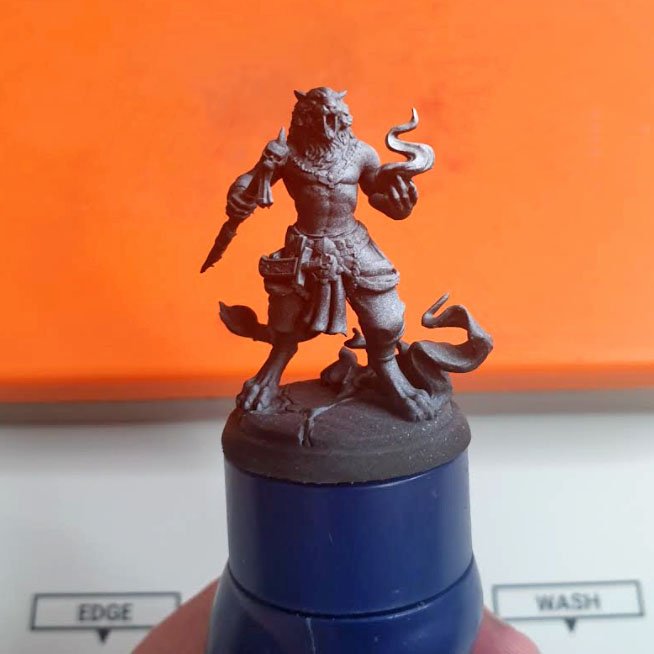 I began by priming the model, placing the white where I thought the light from the flame would hit. This will help with our next steps! As you can see, by angling the spray of white primer, I could easily simulate where light would be cast by the flame in the hand of the model. The closer it is to the source of light, too, dictates how intense or diffused the light is. With the white primer, this is represented by how it diffuses to a grey, and then finally just the black primer where no white hit it. And it doesn't take years of experience or expensive equipment. But this is the essence of 'Object Source Lighting' at work! Try it!
PAINTING MINIATURES OSL FIRE: BASE COATS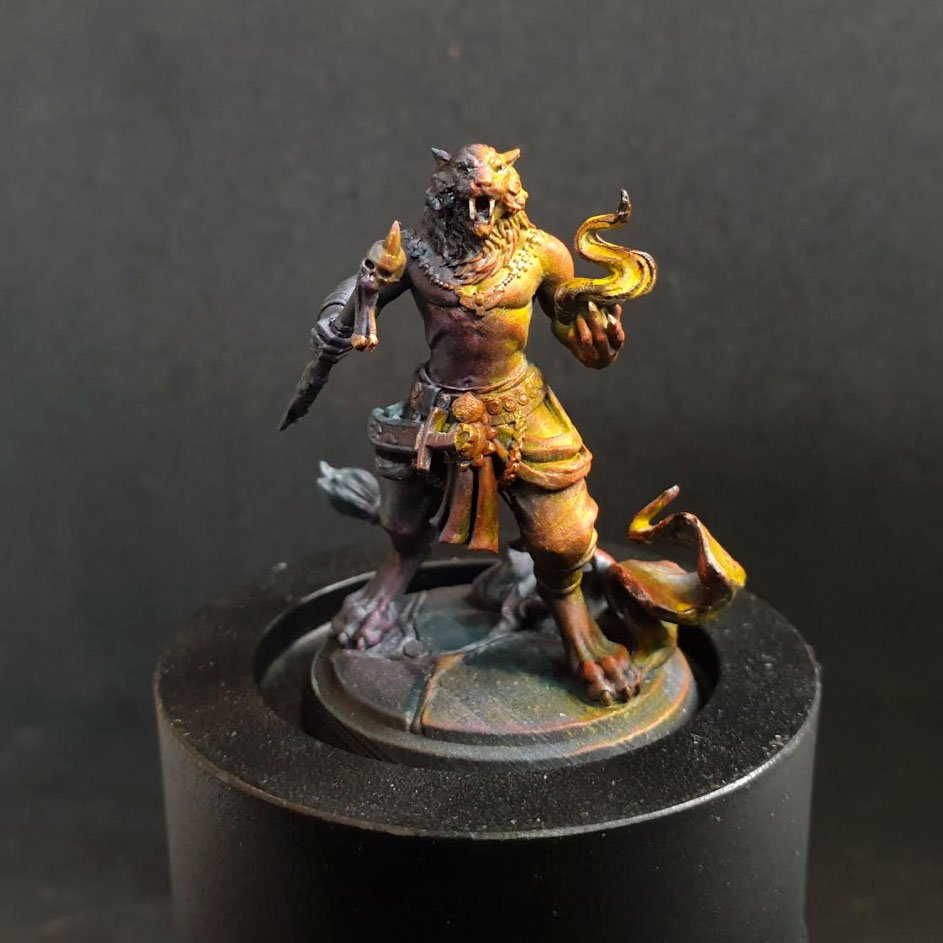 Do you use a dry brush ever? If you don't, maybe it is time to reconsider and invest! Even if you do not use the drybrushing technique, they are still helpful brushes for things like basecoats, feathering, applying pigments, or texturing cloth. Here I used mine for 'overbrushing'.
Next, I painted the base colours. I was inspired by the fantasy artwork of the 1980s & 1990s for this piece, so searching images online can be great inspiration for you too! They also serve as valuable references when you are working and get stuck. Lots of DnD and Heroquest art from this time is available, and lots shows how light interacts with its environment.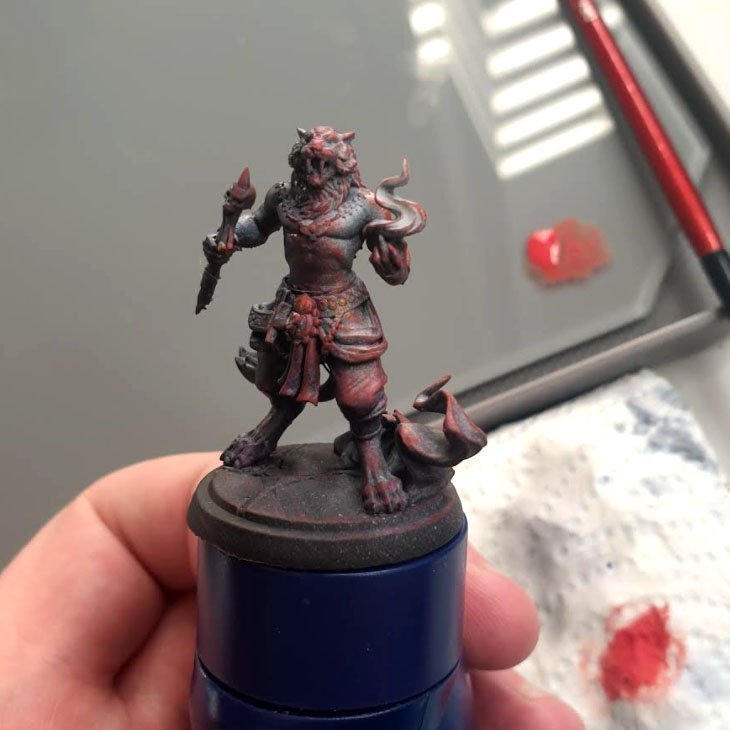 To build up that classic yellow/orange vibe I wanted, I was going to primarily use 'overbrushing', using my RGG dry brush and RGG glass palette as a dry palette. Overbrushing is like dry brushing, except you leave more paint loaded onto your bristles. I used a crimson red to brush over the transition between the grey and the black of the model. This would simulate the furthest diffusion of the flame glow onto the figure. Initially it looks quite messy, but be brave! This process is all about stages. With time you can get quite fast with this method!
Finally for this stage, I used a drybrush to apply a dark purply-blue to the areas of the model which would remain in the darkness. Leaving the black primer on its own would actually look very flat and uninteresting once the lit areas of the model were highlighted, so it is important to get the balance right too. And the cooler colors on the dark side of the mini would make for a better contrast.
PAINTING MINIATURES OSL FIRE: LAYERS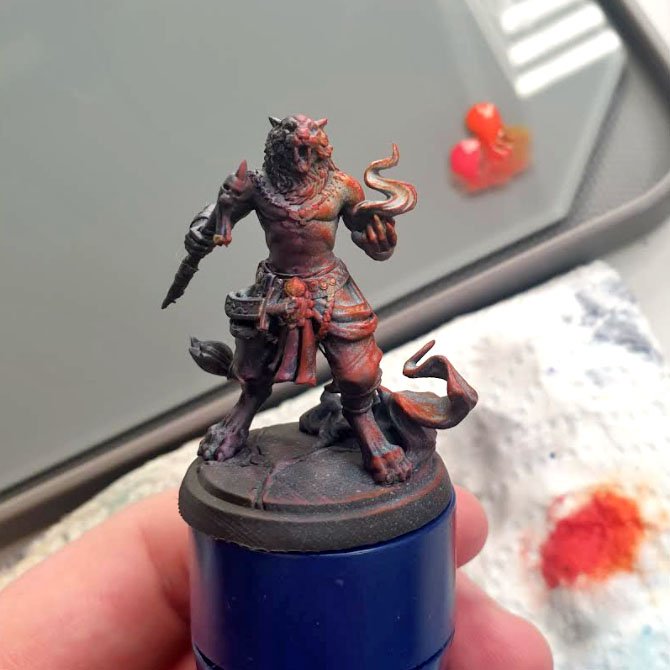 Next, I chose a hot orange. This would be an important midtone for the whole effect. This time, I made sure to overlap the transition between the red and the grey/white prime underneath. The colors underneath, as well as the overbrushing and paint consistency, would help ensure a subtle blend. This is so important for immersing us in the idea that this is a light diffusing naturally over a surface. Because like a good onion, layers are important for this method. But, unlike an onion, we don't necessarily want to see those layers in the final result!
There are many ways to achieve a desired effect in miniature painting, all with their own value and advantages. For me, this technique is a great way to introduce OSL to your painting repetoire, as it is not daunting to try, and is fast to achieve. And with proficiency, you could easily batch paint a whole squad of soldiers with this 'overbrushing' technique. I have since gone on to try other methods to get OSL on my miniatures, but this method is still valuable to me in the right context. And I hope it encourages you!
PAINTING MINIATURES OSL FIRE: CONCENTRATION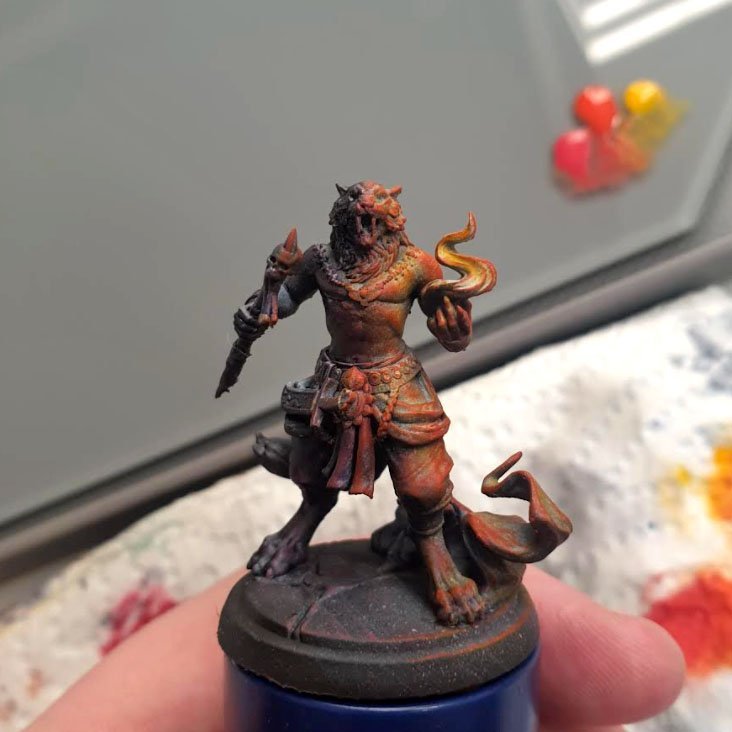 I next started overbrushing straight onto the remaining white/grey areas with a thin golden yellow. Yellow is a rather notoriously difficult color to use, because of difficulty with smooth coverage. However, I used several thin coats, about 4, to build up a consistent yet intense yellow flame effect. As the painting has gotten closer to the light source – the flame in the hand- the smaller yet stronger the color on the surrounding areas has become. This is vital, as it shows we understand how light diffuses over an area. You can also see where I have started to put some of the blends onto the base, too, because the light isn't just hitting the figure.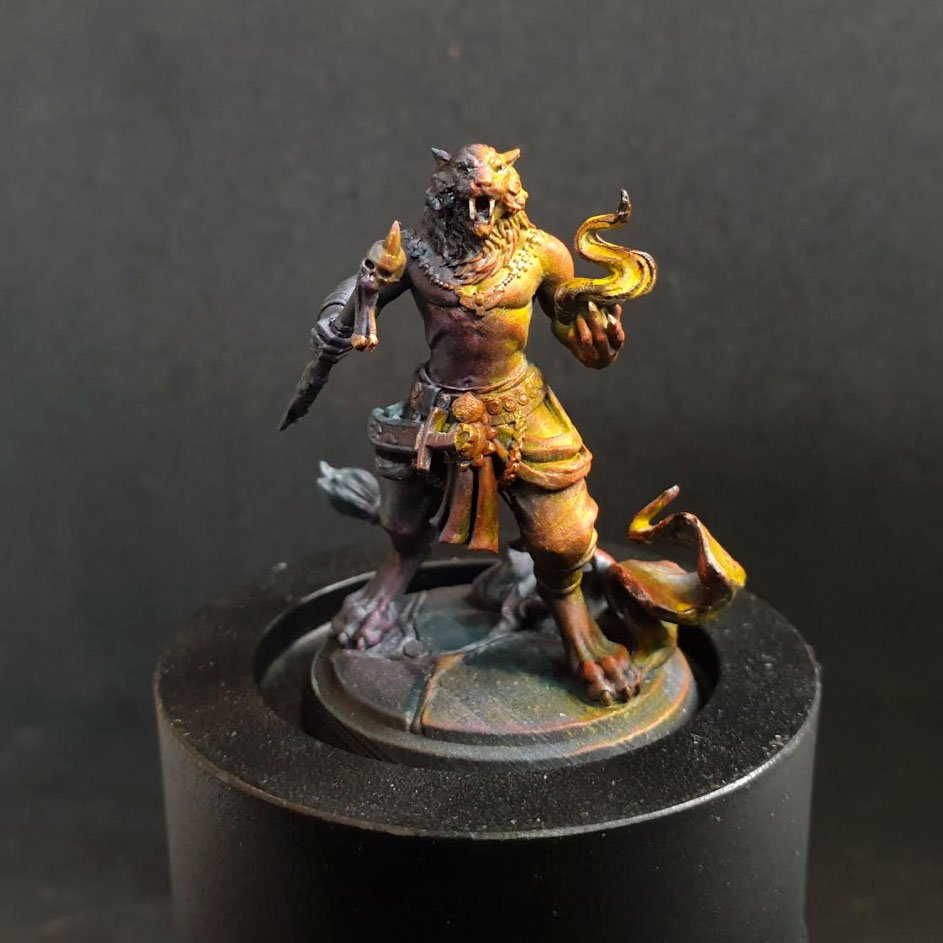 "You can see that as the painting has gotten closer to the light source - the flame in the hand- the smaller yet stronger the color on the surrounding areas has become. This is vital, as it shows we understand how light diffuses over an area."
PAINTING MINIATURES OSL FIRE: UNIFYING GLAZE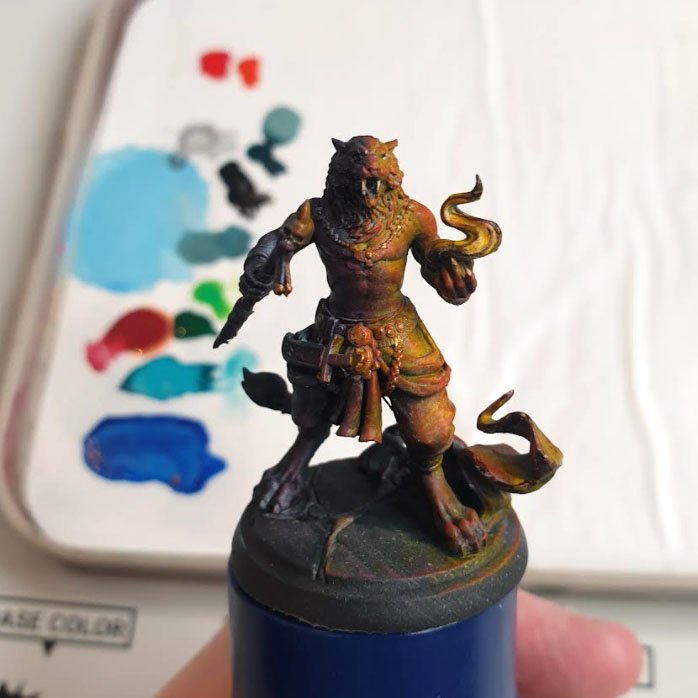 To help 'tidy up' some of the transition areas, I made a glaze of the orange and yellow. A glaze is a thinned paint we can use to help smooth transitions. In this way I was able to 'unify' all the colors together, which helps suggest a natural diffusion of light. I also completed some other touches, but I wouldn't be finishing all the model to the same finish, as this was just to practise the OSL. I added a shadow to the base being cast by the leading leg, and some charcoal grey to the flame to make it look smokey. Finally, on the shadow side of the miniature, I completed the cool highlights using a pale blue, for maximum contrast with the hot OSL colors. Calling this one 'done'! – James