The 4 Golden Rules of Kolinsky Brush Care: #
---
When using acrylic paint
1. NEVER allow paint to dry on your brush.
2. NEVER leave your brush standing in water.
3. ALWAYS rinse your brush regularly and clean it properly after every use.
4. ALWAYS moisten your brush tip before use.
---
Cleaning Sable Hair (and synthetic) Brushes #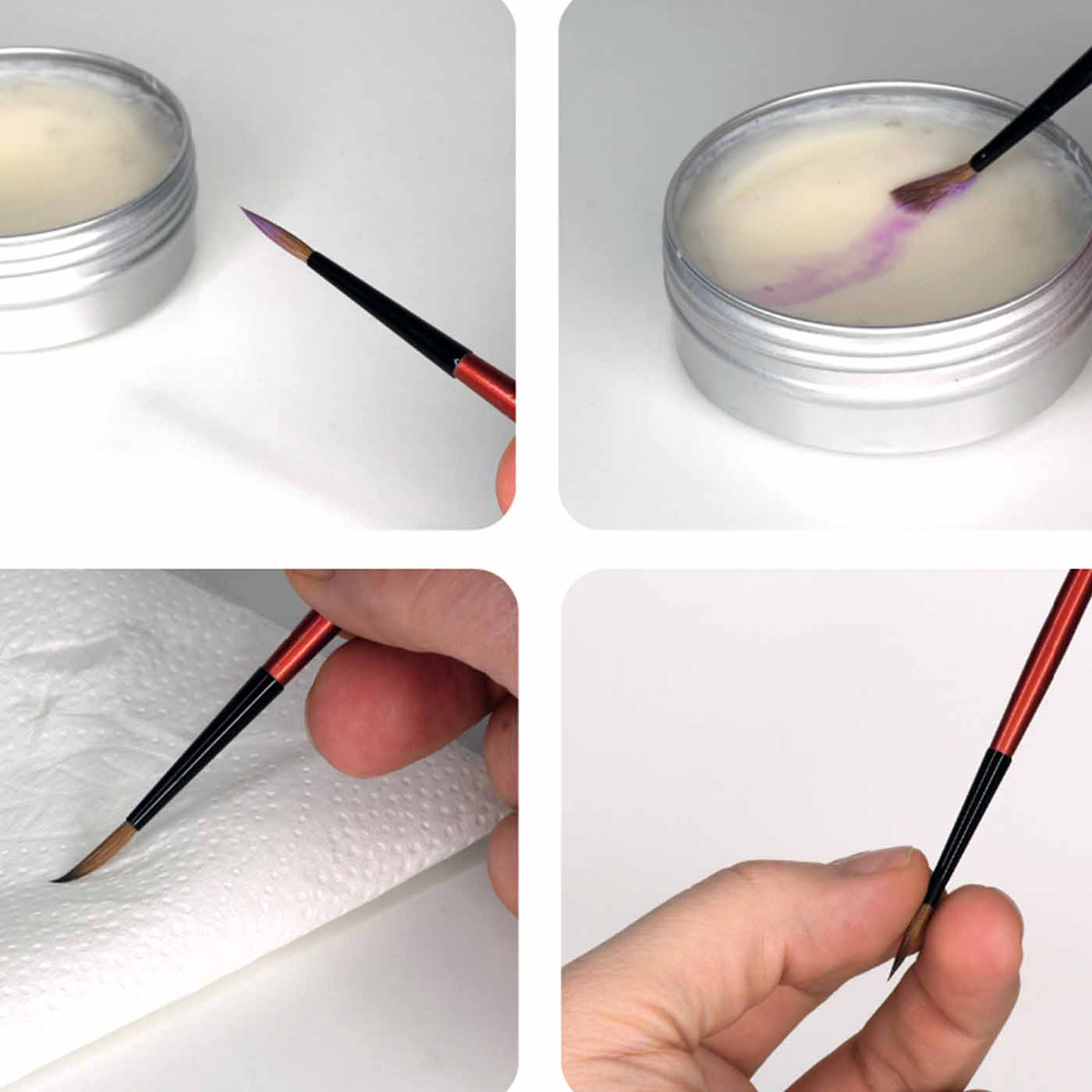 Step 1: Wipe off any excess acrylic paint onto a clean paper towel or lint-free rag.
Step 2: Swirl the brush head in a container of clean water or rinse it under cool running water to remove paint residue. (Never leave a brush standing in water).
Step 3: Regularly clean brushes gently with mild soap, shampoo (remember, paint brushes are made of hair) or a brush cleaner, especially at the end of a painting session. Cold water is best for sable hair brushes, while lukewarm is suitable for hog and synthetic brushes. Massage the bristles against a smooth, shallow surface (you can use the palm of your hand) to allow the soap to penetrate the hair and break down any dried paint in the brush's belly.
Step 4: Rinse and repeat until the water runs clear from the brush and there is no visible residue on the hair. Pay particular attention to cleaning the heel of the brush. Some pigments may stain the brush slightly, but this will not affect the performance or lifespan of the hair.
Step 5: Gently reshape the tip of the brush using a tiny amount of brush cleaner and allow it to air dry. Use the protective cap, if available, especially if the brush will not be used for a while or is to be stored in a drawer or box.
---